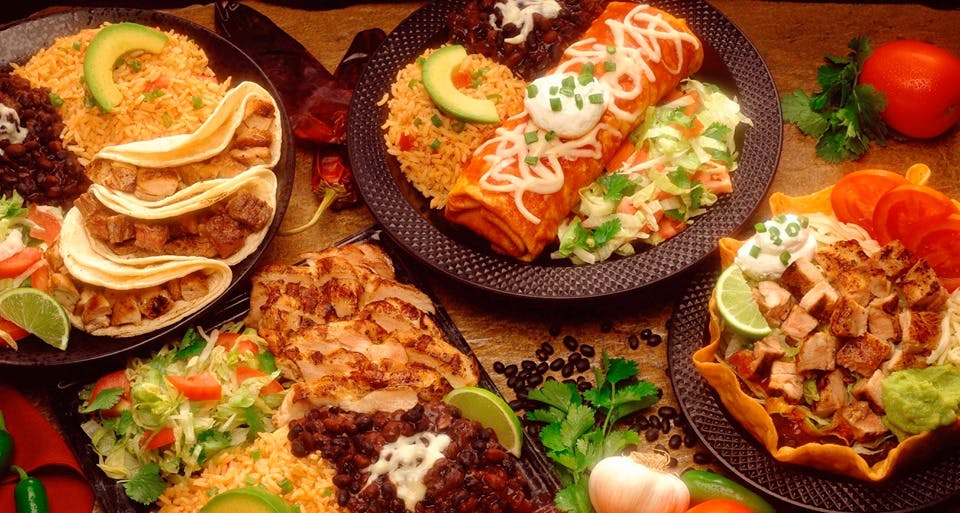 Let's Taco About It: These Places In The City Serve Your Favourite Mexican Dishes
If you wish you were full of tacos instead of emotions or firmly believe that there is no problem a burrito can't solve then keep calm and go to these places in the city to get your Mexican food fix.

Jalapenos
Named after the undisputed favourite chilli of Mexico, Jalapenos, a small joint on Camac Street impresses with its delightful Mexican offerings. Think: Baked Tortillas, Crepes Mexicana, Chimichanga and Enchiladas. True to its name, you will most commonly find Jalapenos either pickled and diced over nachos, or served whole and lightly charred on the grill as a tasty street taco side. Oh and the Quesa Fundido (Mexican cheese fondue with crispy bread) served here is every cheese-lover's dream come true. It comes over an open flame which keeps the cheese warm and melty. If you have any more space for carbs, don't miss out on the family garlic bread - eight pieces of soft garlic bread, served hot, oozing cheese, full of flavour and worth your every bite and buck.
Chili's Grill & Bar
Make Chili's your go-to place for all food Mexican. They serve some of the most delectable and traditional Mexican dishes that are bound to have you coming back for more. You must try the Texas Spicy Chily Wings and Santa Fe Salad (tossed in their special ranch dressing with Tortilla Chips and Pico de Gallo). They have reinvented a classic with their signature sizzling Fajitas. Mix and match from the variety of stuffings on the menu to make your own Fajita - start with a warm flour tortilla, add your favourite meat (grilled chicken, steak or shrimp), add your choice of toppings (mixed cheese, fresh guacamole, sour cream, house-made Pico de Gallo or fresh salsa), throw in some garnishing (sliced bell peppers, caramalised onions or chopped cilantro), fold over left & right sides and you are good to gobble.
Hakuna Matata
Quirky decor and a playful vibe. Hakuna Matata is a child-friendly restaurant that serves delectable Mexican food with an Indian twist. If you've had your share of the traditional Mexican dishes, you might want to try the Mexican Indian fusion served here. Sample the Chickpea Masala Enchilladas or scintillate your taste buds with Pindi Chole Tacos or have fun devouring Guacamole Puchkas. Whatever you do, don't miss out on the popular Hakuna Constructed Gourmet Nacho Chips.
Taco Bell
When talking of Mexican food, how can Taco Bell be far behind. Kolkata has finally got a taste of the iconic Mexican food chain. So the next time you are craving for Loaded Cheesy Chalupas, hit up South City Mall's food court on the fourth floor and make a beeline for the extreme right hand corner. Because that's where Taco Bell stands. The one thing you can't go wrong with is their naked chicken taco. With chicken instead of tortilla shells - this one is every meat lovers' best bet. So, are the crispy spicy cheese topped nachos. Pig out on the chalupa meal, a softer variant of taco (you can choose your filling) that comes with fries and soda. And those who have an appetite to gorge, the seven-layer burrito with flavoured rice filling is the item to pick. Oh and did we mention their iconic Chocodilla? You get the drift.
TGI Fridays
At TGI Fridays you can legit #ChillLikeAVillian with great Tex-Mex food and innovative cocktails in an uber cool ambience, without busting your wallet. Enjoy a casual dining experience with their signature items such as Loaded Potato Skins, Chicken Fingers, Buffalo Wings, Jack Daniel's Grill® and classic concoctions like Signature Margarita and the Ultimate Mudslide. The flips and spins of their ingenius flair bartending have become legendary, not to mention their staff's ever-smiling and helpful service. The Tortilla Crusted Chicken Fingers and Balsamic Bruschetta in the appetizers section is definitely worth a try. Up all night partying? Their Hangover Burger might just be the cure you are looking for. In the mood for a yummy salad? Try the Chipotel Yucatan Chicken Salad - chicken, mixed veggies and crisp Tosadas, all drizzled with lime vinaigrette and Siracha Aioli. Hungry, anyone?
Comments