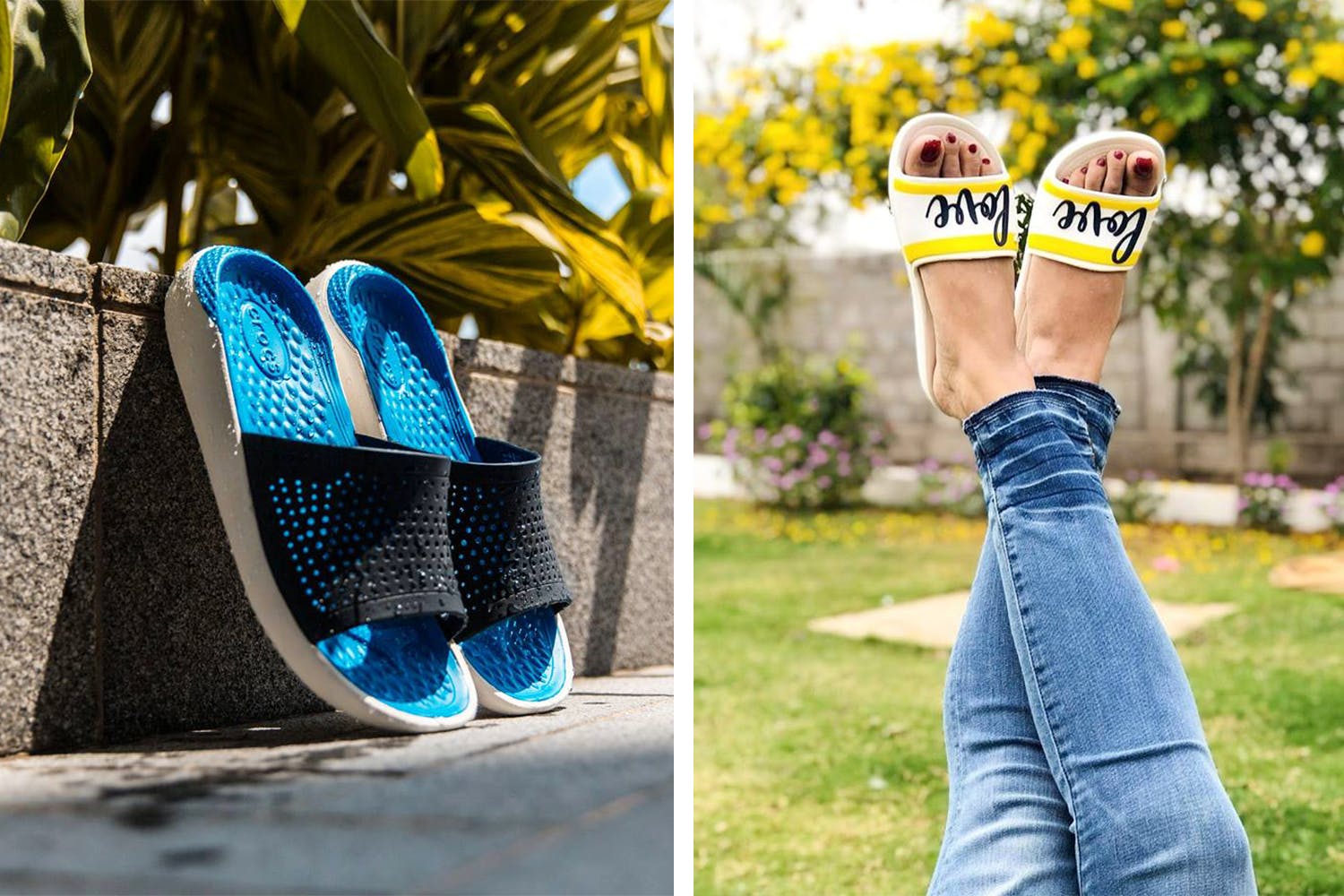 Get Monsoon-Ready With Our Pick Of Trendy Waterproof Shoes
Got ready for the coming downpours yet? Work and play will definitely not stop, so rain-ready shoes are essential to keep you on top of this season. Get your best picks of waterproof shoes at these stores.
Crocs
Nothing beats the rain like a Croc does. They are trendy, waterproof and easily washable. They are best known for their clogs but if you find them too chunky, check out their bellies and colourful sandals. Their swiftwear collection is great for active wear and super light on the feet. Find their collection in city stores or online.
Bata
This good ol' brand has been a fave shoe stop since everyone's childhood days. You'll find a wide range of waterproof rubber shoes at their stores – from thong slippers to colourful rubber and plastic flats (prices are from INR 700 – 1,300). And of course there's the eponymous Power floaters that'll forever remain our rainy day best friends.
Lifestyle
This label is another old fave with plenty of styles to choose from including T-straps, strappy flats, block buckles, slip-ons and gladiators. And the prices won't pinch your pocket (between INR 600 – 1,400).
Westside
The Westside store is another place where we found smart and trendy monsoon shoes that will help you beat the rainy blues. Get the trendy fashionable look with their metallic slip-ons, synthetic mules and bright summery flip flops. You can also check out their fitness and sports section for floaters.
Metro Shoes
If you thought flats and thong slippers are the only sort available for monsoon wear, then Metro's collection of funky bellies, pumps, loafers and strappy sandals will make you think again. Made of rubber and Croslite, the shoes come in bright colours and have trendy detailing to keep up to the latest fashion trend.
Mochi Shoes
Another store where you'll find a good collection of fashionable waterproof shoes is Mochi. Regular sandals to flip flops and ballerinas, Mochi has a good stock of synthetic and rubber shoes that are easy to clean and have a smart summery look to it. Prices of these vary between INR 500 to INR 1,000.
Decathlon
This one is every sportsperson and adventurist's favourite store with a mind-blowing collection of sports and outdoor gear. If rain doesn't stop work, how can it stop play? Decathlon has recently introduced their monsoon collection with a range of waterproof walking sneakers and hiking boots. Besides these, you'll also find a collection of quirky printed rubber flip flops and women's synthetic sandals. And we love their bestseller Quechua floaters. So far, the only store in Kolkata is all the way out in Uluberia. But you can always order online.
Comments