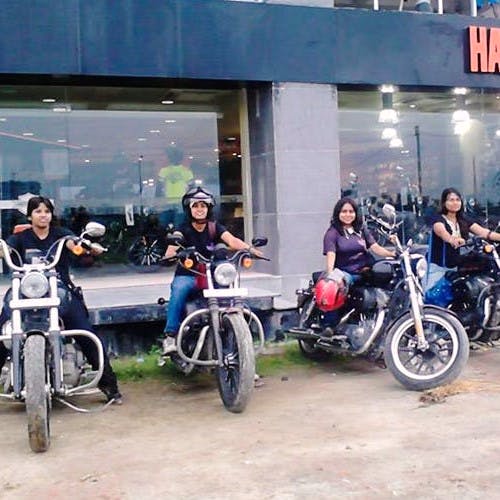 Sunday Rides, Biking Trails & Motovlogging: Join These Groups For Fun On A Bike
Love motorbikes? Join these groups and be a part of Kolkata's community of motorbike riders. There's a women-only biking group too!
MotoNomads
This close-knit circuit of motorcycle enthusiasts celebrates the love for riding. They organise various rides in and around Kolkata and are into sport-touring, motography, motovlogging and travelogues.
Kolkata Bikers Club
These bikers not only share a love for their two-wheeler machines, but they are also quite the good Samaritan and do a lot of charity work in Kolkata. Check out their charity on wheels here.
Rolling Wheels
Rolling Wheels Bikers Club is a motorcycle touring club in Kolkata for people who carry the passion for traveling on their motorcycles. The club was formed in 2005 to unite all motorcycle lovers and touring individuals under a single biking club.
Madhatters 2.0
This bikers' community gets together on Sundays and goes on rides across town. They have a YouTube channel where they share videos of their rides every week.
Kolkata Riders
Kolkata Riders are a motorcycle touring club for motorcycle enthusiasts and bikers to share their experiences with like-minded people all across Bengal. They have conducted rides for different causes, including a 'Respect Women Ride' and social welfare activities for under-privileged children in the Sundarbans and Bhutan.
xKmph Kolkata
This is an online as well as an offline non-profitable motorcycle community for passionate bikers. The members on this forum discuss biking, submit photos of their bike journeys, and also use their classified system to sell or buy biking-related stuff.
Eastern Bulls
Eastern Bulls is a premier Royal Enfield Owners Club of India, a privileged and distinguished part of the Indian Riding Community. They generally meet up on Sundays at Russell Street to discuss various biking related topics as well as plan future rides.
Royal Riders Club
Yet another community exclusively for Royal Enfield riders, this forum encourages its members to share their knowledge, post technical queries or just showcase their passion for their Royal Enfield with like-minded folk. You can be a part of these discussions or browse through debates packed with loads of information, from the experts themselves in their archives.
Lady Biker
A community exclusively for the ladies who love to ride, Lady Biker's women believe that motorcycling is not a lifestyle, it's a way of life. Their motto is to support and encourage all fellow lady bikers around the world. You can write to them at bengalladybiker@gmail.com for membership details.
Comments