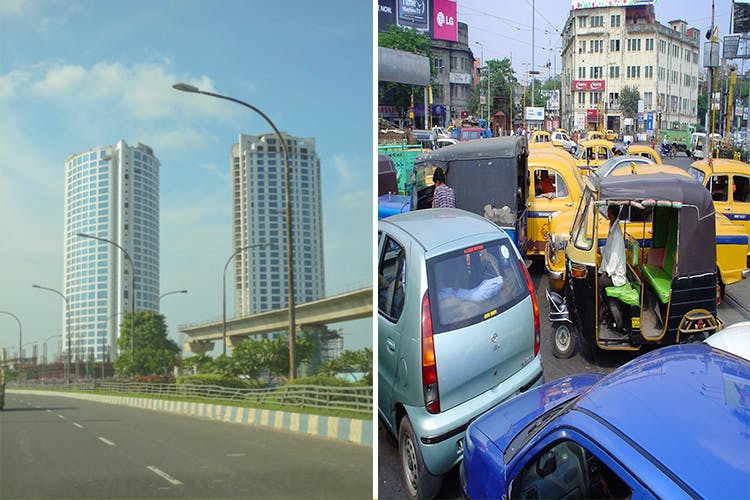 Suburbs Vs The City: 5 Things In Rajarhat That Make It Way Cooler Than Kolkata
The area is still coming up, but it's already upping its cool quotient with green transport options and microbreweries.
Eco Park
New Town-Rajarhat has the largest park in Kolkata packed full of stuff to do. Next time you are looking for something to do with your gang, head to this place and your day will be sorted. The entry fee is just INR 20. You can play on trampolines, go cycling or boating, unwind at an Ayurvedic spa. It has a huge water body on which you can go kayaking (INR 150 for half an hour), or speedboating (INR 50 for one round of the lake for 30 minutes), and land and water zorbing (INR 150 for one person for 200 minutes of land or 15 minutes in water). The place also lets you try your hands at ice-skating, archery and rifle shooting.
Once you are done with all that, head to the Biswa Bangla Haat where you can also pick up handmade goods from Bengal. There are stalls set up by craftspersons and artisans and a designer's enclave with stores by city designers.
The park has two restaurants – lakeside restaurant at Café Ekante (have the nolen gurer ice cream here) and a Japanese restaurant.
Green Transport
New Town-Rajarhat is the place where the state government has been implementing all its ideas on green transport options. For instance, the place has so many e-bikes. The satellite township also launched an app-enabled bike taxi service recently which are GPS-enabled. And then there's the icing on the cake in the form of cycle stations with rented bicycles.
You've seen it New York, Boston, Chicago, London and probably across the globe in many cities, part of an ongoing attempt to reduce our individual carbon footprints. New Town has also implemented the same with bicycles for a monthly rent that starts at just INR 177! They have dedicated cycle lanes for residents stretching from Action Area 1 till the New Town bus stop and another loop from Gate 1 to 4 of Eco Park.
A Wax Museum To Rival Madame Tussauds
The Mothers Wax Museum is Kolkata's own Madame Tussaud's. It's become a popular spot for selfies – next to life-size models of many personalities. You can choose from Mahatma Gandhi, Subhas Chandra Bose, Jagdish Chandra Bose, Rabindranath Tagore, Kazi Nazrul Islam, or singers like Manna Dey, Lata Mangeshkar and Kishore Kumar, actors Suchitra Sen and Uttam Kumar, sports legends like Diego Maradona and Sourav Ganguly or fave movie characters like Harry Potter and Jack Sparrow.
Wide Open Spaces
The satellite township of Rajarhat-New Town was set up to decongest Kolkata. With wide roads, and well-planned open spaces, it looks like Gurgaon without the traffic jams. And it has much cleaner air!
DLF Galleria
Designed by Hafeez Contractor, the DLF Galleria is at the centre of Action Area Phase-I in New Town, Rajarhat. The new-ish space is still filling up – among other things, it has the Country Roads microbrewery and a Bliss Spa.
A Korean Bakery
The city's nomnom factor went up a few notches with kimchi and bibimbap when King's Bakery opened up. They serve Korean breads, buns, donuts, coffee, bowl meals and even pickles to traditional Korean hanbok (a form of Korean clothing). The place is run by Seok Jung, a trained Barista from Korea and his wife, Sojin Lee. Typical Korean breads with toppings like the soboro or the mocha bun are a must-try with a mild brew coffee. Coffee fanatics, you can pick up awesome roasted coffee beans. And do look out for the coffee roaster shaped like R2D2!
Comments