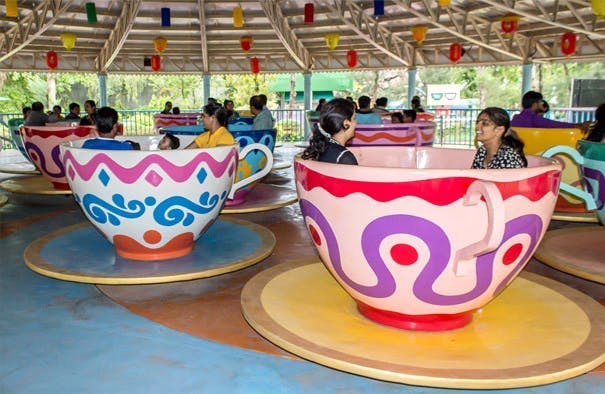 Save This Place As Your Summer Holiday Destination For Fun & Games
Shortcut
The oldest address for outdoor activities has long served as a top pick for city locals to spend their leisure time. Nicco Park in Salt Lake needs no separate introduction since it is the only amusement park in Kolkata.

What Makes It Awesome
Nicco Park has always had a reputation of being one of the most fun places to visit in Kolkata. Parents don't have to worry anymore if they are at an impasse on where to take their children during their summer holidays. Enter the park by paying INR 200, which will include 12 specified rides and attractions in the main park namely, toy train, family carousal, mirror maze, caterpillar, MIG21, Eiffel Tower, merry-go-round, children's corner, pirate ship and crazy tea party ride. If you want to opt for family rides, there are a lot of options to choose from. River Cave is one of the oldest and most iconic rides at Nicco Park and the ticket will cost you no more than INR 80. It is said to be the first dark ride in India and as you venture into the unknown, suddenly you are bombarded with dinosaurs, volcanic eruptions and forest fires.
If you are looking for some light family time, then crazy tea party ride, toy train and cable car are the attractions that will suit your needs. Access the cable car services at INR 50, which has eight gondolas. Each gondola has space for four and you will get a panoramic view of all the rides and attractions from top. If you are the adventurous type, then opt for haunted house (INR 60), flying saucer (INR 40), sky diver ride (INR 100) and roller coaster (INR 80). Sky diver is a 80-feet thrill ride, which can accommodate 16 people at one go. The roller coaster is called The Cyclone, which is India's biggest wooden roller coaster with a 750m-long track, has two trains, each consisting of three cars. The loops, turns and drops are not at all for the light-hearted. Hold on for a spine-chilling experience!
Pro-Tip
If you are thinking of taking a shortcut, avail the park's package for INR 760, which will cover your meal, and all the rides and attractions in the main park. Although the bull shows, games and game zone are not included in this package.
Comments