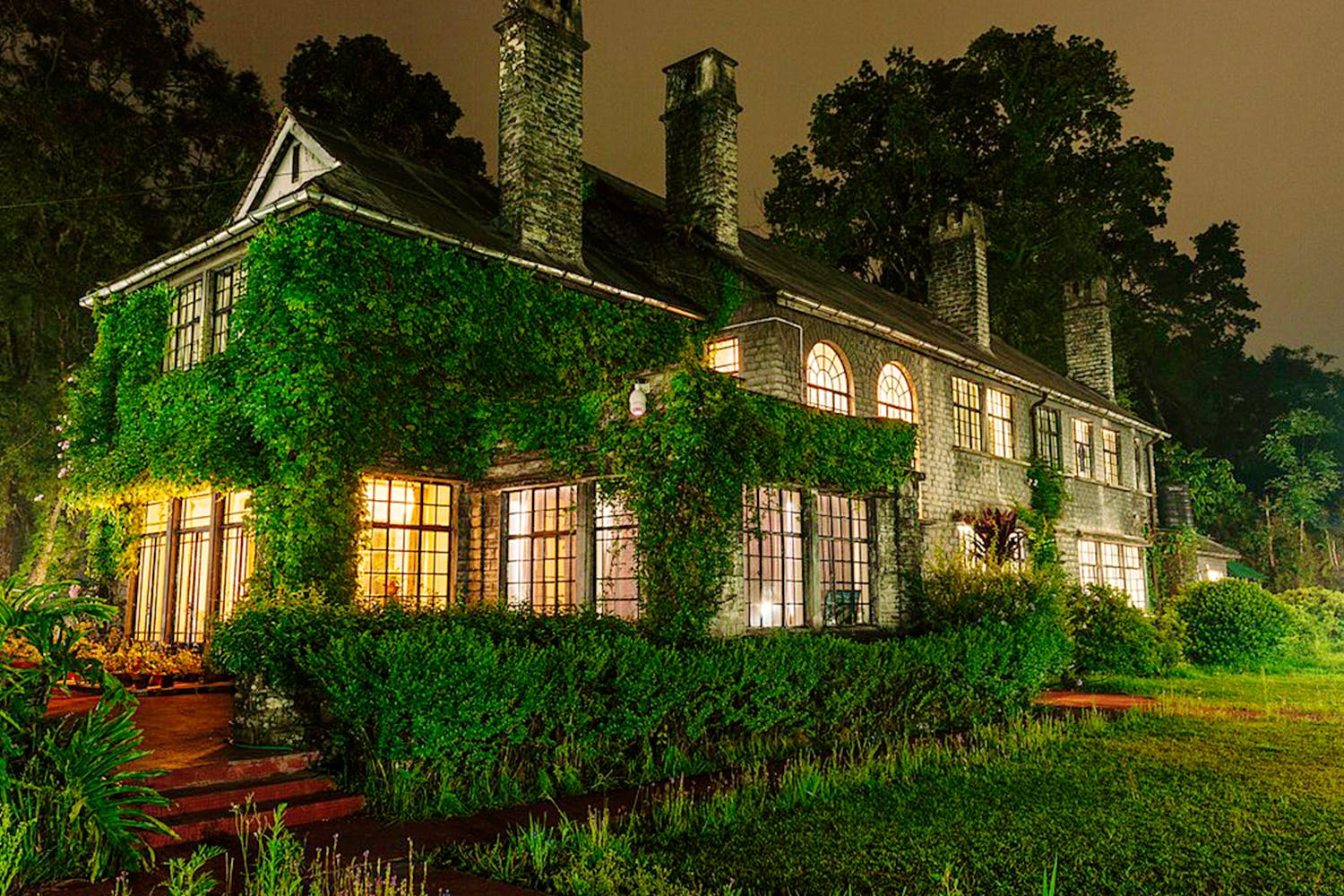 Book These Dak Bungalows In North Bengal For Stunning Mountain Views, Ghost Stories & More
When North Bengal is the answer to all our vacay needs—sanctuary, forests, tea gardens, snow clad mountains, crafts villages and all—then how about adding some vintage charm and spook to take it to roller coaster highs? Hit these British-era dak bungalows (as in 'dak' meaning post, suggesting guesthouses which fell on the postal routes back then) and you'll know just what we are talking of.
Takdah Bungalows
Sitting a few kilometres shy of Darj, the erstwhile British cantonment Takdah boasts of twelve amazing century-old colonial bungalows, built between 1905 and 1915, that have similar British-styled gabled roofs, long porches and fireplaces that will take you back in time.
And when already in a time warp, do visit the hundred-year-old suspension bridge (Barbatey), the Durpin Viewpoint and the nearby monasteries. If lazing around is your thing then enjoy good home-cooked meals and stay holed up in the cosy rooms. Alternately, you can visit the sprawling tea estates.
For booking details, check here.
Martin Park Bungalow
Another British heritage bungalow over a century old, Martin Park (Sai Hridayam) Bungalow in Takdah is charming with its old British antiques, lush tea gardens, orchid blooms and pine and cedar cover. Look through the old British telescope to see the bigger picture or just laze around in the cosy rooms and enjoy the fuzzies with home-cooked meals.
Find more deets here.
Chel Bungalow
When you are in this century-old two-storeyed British bungalow, you are surrounded by River Chel on one side and the tea estates of Gorbuthan and dense woodlands on the other. Dotted with vintage furniture, rustic fireplaces, wall-to-wall windows, this gabled cottage with its large portico overlooking a lush lawn is perfect for a comfortable stay close to the famous Neora Valley Forest and the Chapramari Wildlife Sanctuary.
Check here for more.
Lava Bungalow
Your stay in the hilly hamlet of Lava can't get more cooler than staying in a newly restored Burra Sahib Bungalow (aka the heritage Lava dak bungalow). Spend relaxed afternoons in the solarium or chill with a book on the vintage high-back chairs for a toasty evening with the stone fireplace lit.
With age-stamped wooden interiors, floor-to-ceiling windows and a lush garden dotted with benches, this place is great for a back-in-time vacay.
Get more info here.
Dara Gaon Bungalow
Relish the sounds of silence in the remote village of Dara Gaon and travel back in quaint time staying in this 106-years-old colonial bungalow. Unlike a typical British bungalow, this one charms you with local woodwork and a period kitchen set-up with a mud oven and wood burners. Bet you'd be slack brained with the surrounding lush orange orchards and the absolutely unhindered views of Mt Kanchenjunga.
Get more info here.
Morgan House
The colonial mansion of former English jute baron Mr George Morgan that sits atop Durpindara in Kalimpong is straight out of a history book (or an Enid Blyton one). The stone Victorian mansion with gabled roof, glass windows and towering chimneys, Morgan House is set among undulating hillocks and a sprawling lawn. And to top it all, they say it's haunted.
Book your stay here.
Taljhora Bungalow
Imagine staying at a colonial British bungalow with Bhutan on one side and the Jaldhaka River, Taljhora rivulet and the lush tea gardens of Dooars on the other. Well, dreams do come true and the century-old Taljhora Bungalow with its colonial interiors, landscaped gardens, wooden gazebos and wide open portico makes for a perfect experiential stay. Throw in wildlife safaris in the nearby national park and tea tasting sessions in the tea estates and you have the makings of a perfect vacation.
More details here.
Darjeeling Bungalow
With rooms named after icons like Vivian Leigh and George Mallory, the almost two century old Darjeeling Bungalow has been host to the who's who of the world. This vintage structure with colonial furniture, wooden flooring, antique bric-a-bracs and a garden dotted with tea tables will charm your heart off like no one's business. Visit here.
Comments