Wanna Be The Next Big Thing? Get On Stage At These Places And Show Your Skills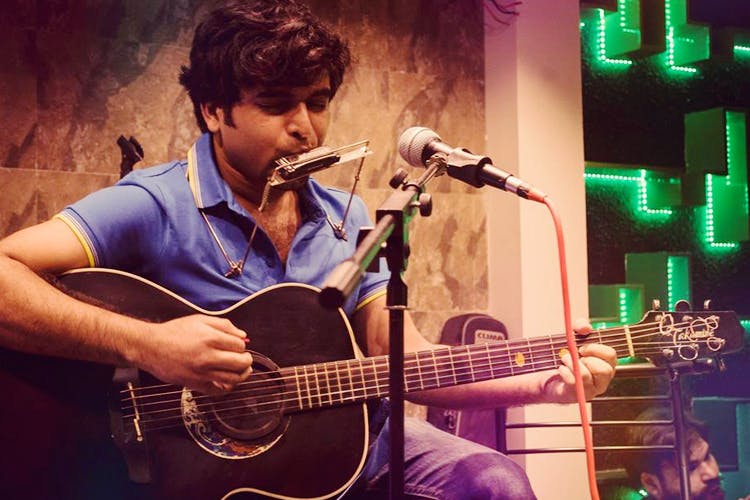 These eight places will give you a platform to show off your talent, and make your squad hangouts great fun!
8th Day Café
Are you a budding comic, a bathroom singer, or a poet with a missing audience? This all-American café hosts open mic nights every month. Be it stand-up comedy, singing, or poetry, that 8th Day is open to all kinds of performances. To participate, you just need to sign up with Chaitown Creatives who manages their gigs. And you will love the extensive American food menu at this cafe.
Country House
The European design aesthetics in this place and the zero-power LED bulbs set the mood for their weekly open-mic nights. Upcoming and fresh city bands like Whale In The Pond as well as individual artists all get a chance to perform here. They also do stand-up where apart from amateur artistes, they host acts by well-known city comedians such as Yashoroop Dey, Sourav Ghosh, and Saurav Goyal. They also have something called On The Wall which lets you exhibit your photos or artworks in their space.
Doodle Room
With a range of open mic events and collaborations with poetry groups like Saintbrush and Papercup, Doodle Room has become a haven of sorts for creative youngsters in Kolkata. Their cosy rooms in a residential house makes for very personal evenings where people connect through, music, poetry and performances!
Terminal 11
Terminal 11 has been hosting some really interesting events since they opened doors. From their creative writing workshops to secret book sales, it has become a fab new place to showcase talent, and to meet new people. Keep tabs on their social media pages for deets!
Whistling Kettle
This tea room-cum-cafe in Golpark is has separate area for live gigs and performance. There are guitars and microphones on stand and stage ever set for you to take the spot and start performing. A fantastic place to try amazing tea and sandwich, this could be your place to showoff your talent to the crowd.
Artsy Cafe
A great place to try good coffee and check fabulous artworks, Artsy is the next best place to reach out to an audience. A well-frequented cafe with regular monthly art showcases and frequent gigs on weekends, Artsy is a good place to launch yourself. With popular faces to amateurs taking up this space for performances, this could also be your ground to network and meet new opportunities.
Cafe Drifter
This cosy cafe near Vivekananda Park is another hotspot for fresh faces and new talent. With young people crowding in mostly during the evening, this place has a chill vibe that's welcoming to performances. Pick up their house accordion or bring in your own guitar and start off without any inhibition. Also, displays art and can make room for stand ups, you just need to get in touch with the cafe before your planned gig.