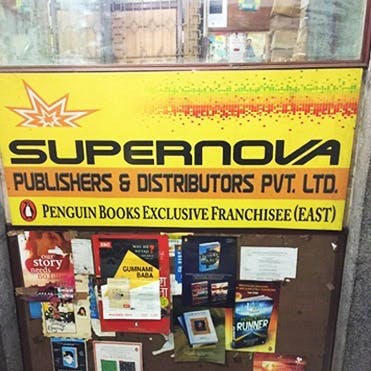 Get Books At A Discount From This Publishing Warehouse In College Street
Shortcut
Kolkata's College Street is all about book stalls, estimable institutions and Coffee House. Supernova is one of newer entrants to the boi paara.
What Makes It Awesome
Supernova is not a bookstore, it's a publishing and distributing house. We stumbled upon their warehouse in College Street where the books are all stocked before they head to to bookstores around the city. But guess what, if yo ask them nicely, they'll let you pick up a few books and give you a nice discount of 25% as well!
We picked up S. Hussain Zaidi and Brijesh Singh's Dangerous Minds, Ravi Subramanian's In The Name of God, Sankar's The Monk As Man, Jojo Moyes' Me Before You, Gabriel García Márquez's One Hundred Years of Solitude and Ramchandra Guha's Democrats And Dissenters — all at a much lesser price than regular stores.
The publishing and distributing house first partnered with Penguin Random House in eastern India in 2005. They embarked on a journey of publishing their own books in 2010 and the endeavor has been quite successful.
At that time, their main focus was to translate renowned Bengali books in English (mainly the ones written by Sunil Gangopadhyay, Asha Purna Devi and Nabaneeta Dev Sen). They started publishing books for schools in 2015. That was also the year that they published Pankaj. Cricketers Sourav Ganguly, Sachin Tendulkar and Mahendra Singh Dhoni were present for the release of the book. Supernova also published The Master and I by Soumitra Chatterjee about working with Satyajit Ray.
Apart from Penguin Random House, the publishing and distributing house also represents Scholastic, Parragon, Hachette and so on.
The store is situated near Bata on College Street.

Pro Tip
We have come across books which you wouldn't easily get in other places — for instance, a series of illustrated maps of cities like New York, Paris and London. And the Everyman series. Watch out for their stall at the Kolkata Boi Mela.

Comments