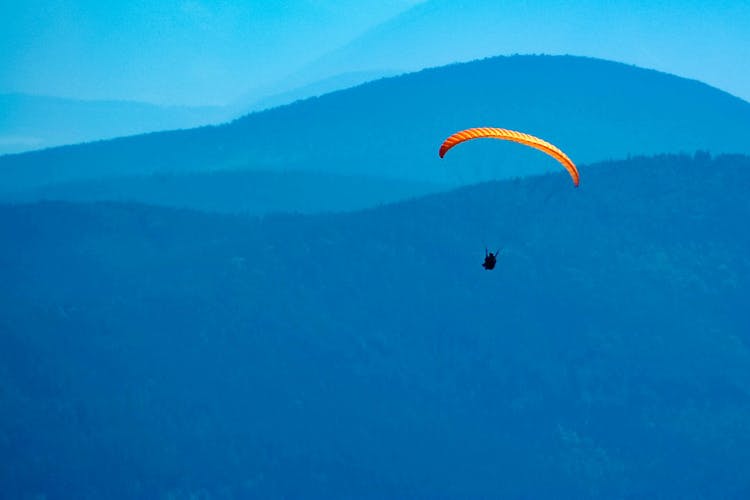 Get Your Adrenaline Fix: Go Paragliding At These Places Near Kolkata
Take a break from hectic work schedules, plan the next weekend getaway with your squad and head to these three places for an adrenaline rush and Insta-worthy views.
Kalimpong
As if exotic flowers, cool temperatures and jaw-dropping views weren't enough reasons to visit Kalimpong, the fact that it has some of the most scenic paragliding experiences in the country should act as the crowning glory. You can para-glide from 9 am to 4:30 pm depending on the weather and wind conditions. You can pick between a medium flight joyride which lasts 15 to 20 minutes and a high flight which will go on for about 30 to 45 minutes. On a clear sunny day, you may luck out and get a view of the Kanchenjunga as well.
The popular take-off point is from the Dello Hills, and you can land wither at Homes Garden near Dr. Graham's Home School or at the Relli River ground further down. Any taxi service will be able to take you to one of the paragliding operators.
So, what are waiting for? Book your tickets now!
Darjeeling
Soar in the sky with the Himalayas in the backdrop, enjoy views of the distant peaks (on a clear day) and the houses sprinkled across terra firma in Bengal's favorite hill-station - Darjeeling. If you can, paraglide yourself. If not, a guide will accompany you.
The common take-off point is near the St. Paul's School, which is an uphill walk from the Mall (which you will fly over while paragliding!) and landing point is at the Lebong Ground. You can also take a 30-minute drive down to Jamuney for a drop dead gorgeous view while paragliding.
The best time to paraglide is between October to April but you may want to avoid January and February because it can get extremely cold.
Gangtok
Paraglide over Gangtok and get Insta-worthy views of Sikkim and Gangtok. Go on a guided flight that will set you back either INR 2,500 (for a medium flight) or INR 4,500 (for a high flight) and can go on for as long as 30 minutes or if you want for 10 minutes. You'll have to take-off from either Baliman Dara and Bulbuley Dara which are the only two certified paragliding take off locations in east Sikkim. You can make an advance booking and can even avail a hotel pick-up and drop-off.
Comments