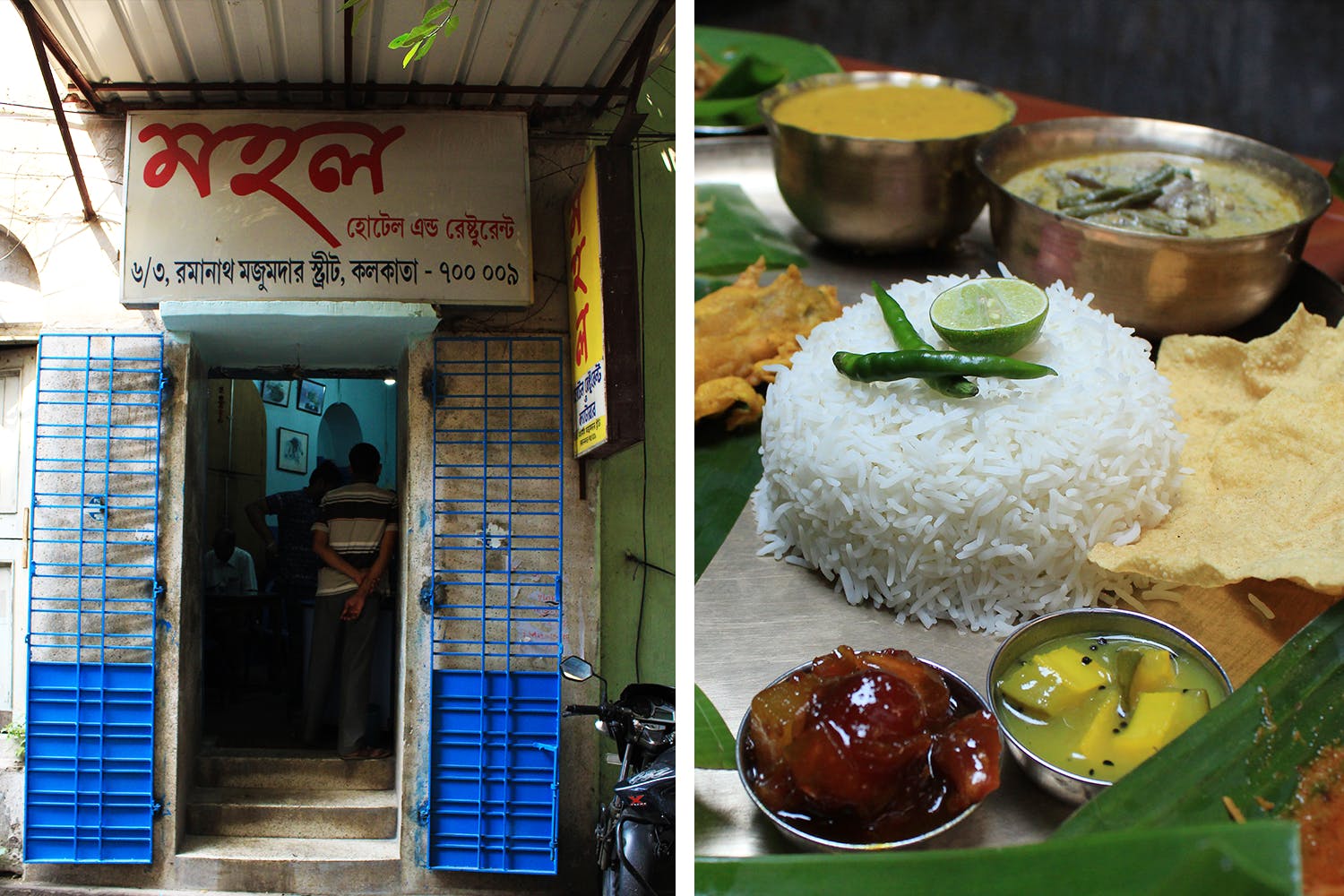 This Pice Hotel In College Street Makes For Authentic Bangali Khabar And Old Kolkata Nostalgia
Shortcut
North Kolkata's full of pice hotels that serve Bengali's comfort food of rice, dal, sabzi and fish (at one point of time all for a 'pice', the smallest monetary unit of those bygone days). Mahal in College Street is one such pice hotel which will take you back to the basics of good Bangali
What Makes It Aweome
One of College Street's most popular pice hotels, Mahal is a great foil to the vibrant energy of 'boipara'. From a regular serve of rice, dal, aloo bhaja, machher jhol, chutney and papad to seasonal serves of sukto and neem begun — Mahal's not-so-spicy comfort food offerings are your best bet for a lunch break between work or classes. But you wouldn't also be off track if you head here for a trip to Bengal's gastronomic world. Think quintessential Bengali fares like mochar dalna to doi chicken and bhetki paturi to hard-to-find old dishes like illish macher matha diye kochu shak (greens mixed with the head of a hilsa fish) and alur khosa bhaja with posto (fried potato peels with poppy seeds).
The menu is handwritten on the chalkboard. A changing menu made of freshest items, Mahal curates a different menu every day (just like at our homes) and depends entirely on local produce and on available fresh products in the markets. So, don't be surprised if you get mushoor dal today and moong dal on the next. Neem begun is available only during season, and so is kumro phool bhaja.
On most days, you will find the place crowded with students, doctors and teachers from nearby colleges, offices, hospitals and shopkeepers all digging into their meals served on a kola paata (banana leaf).
A veg platter of rice, dal and sabzi will cost INR 120 and a non-veg platter will cost around INR 230. It remains open for both lunch and dinner, but shutters downs every day between 4pm and 8pm.

Pro-Tip
It would not be a stretch to say pice hotels of Kolkata are not just the best-kept culinary secrets, but are also cultural storehouses of traditions, habits and nostalgia. Most of these no-frills and low-priced Bengali eating houses were set up 50 to 100 years back for hungry young students and office goers and you will find them featured in old black-and-white films.
Comments