Here's A Guide To Budget Winterwear For Men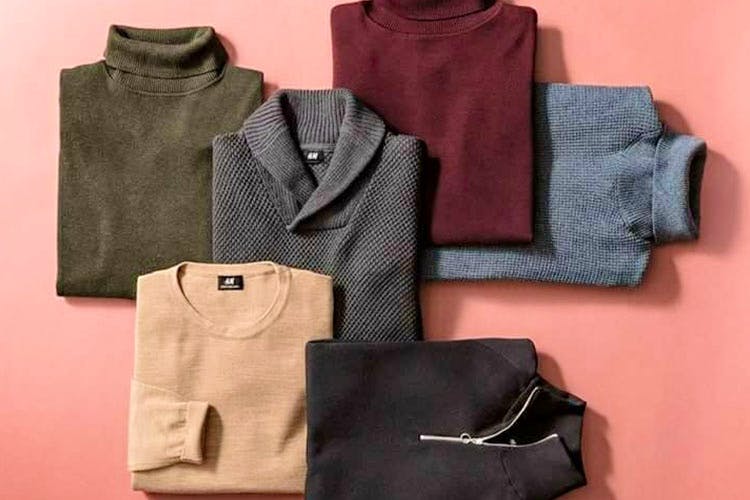 Struggling to look dapper in this monkey cap weather? We will tell you where to look for winterwear that's pocket-friendly.
Bhutanese Market, Wellington Square
By the end of each year, the sidewalks hugging Wellington Square turn into a market selling winterwear for all ages. It's the place to get wow deals on clothes from various kinds of jackets and sweaters to caps and hats, scarves and mufflers that come from Kashmir, Himachal and even Bhutan.
The woollens especially, are of pretty good quality and offer decent value for money. An average jacket costs INR 600 to INR 1,500, while sweaters are INR 300 onwards. We highly recommend the mufflers and scarves here as they can very easily accentuate and jazz up a boring sweater or jacket. Prices begin at INR 70.
The Grand Arcade Stalls At Esplanade
If you have ethical reasons for avoiding chor bazaars, we suggest you dismiss them ASAP and come on over to Esplanade. This ever-busy street market is frequented by customers from across all social strata. What you get is highly affordable non-branded clothing — beanies, cardigans, jackets, hoodies, sweaters, mufflers, gloves and any other accessories you may need. Blazers start at INR 250 and leather jackets are as cheap as INR 550 and go up to INR 3,000.
Metro Plaza In Ho Chi Minh Sarani
This is a popular shopping place for city youngsters. They stock big brands like Wrangler and local manufacturers, and it is the main hub for Bangkok exports in Kolkata. You'll find many stores to cater to all your winter clothing needs (including boots!). We found that Golden Thread had a very fashionable range of warm jackets, priced INR 3,000 onwards.
Brand Factory
If popular brands are what you like to put your money on, Brand Factory brings them all under one roof for you. With regular discounts and offers in multiple outlets across the city, and over 200 brands to choose from, this franchise saves you both time and money so you can easily compare prices between your favourite brands and shop to your heart's content. We found the AJC Bose Road outlet to be particularly well-stocked in winter clothes. Prices vary from brand to brand.
H&M
H&M has half of a floor's space dedicated to men's fashion and their winterwear stocks are selling like hot cakes! They have a great selection of solid sweatshirts, hoodies and cardigans in a pretty reasonable price range (INR 799 onwards) with some items still on sale, left over from the 50 per cent discounts offered during the store's opening. The jackets in their clubwear and formals section are on point and will surely catch your fancy. They don't have too many scarves or mufflers but more than make up for it with neat socks, caps and beanies.
Max Fashion
These guys are doing it right with their quirky and hip collection of urban outfits that come with extremely reasonable price tags. The floor dedicated to men's wear flaunts some very cool sweatshirts that caught our attention, along with good quality cardigans and jackets at knockout prices. You are sure to find your right fit for the winter here, without burning a hole in your pocket. Men's winter wear starts at INR 349.
Central, Rajarhat
Central offers you great brands like Allen Solly, Indian Terrain, Arrow, Bare Denim and so on, at throwaway prices with their buy-1-get-1 offer, and they all come with impressive winterwear selections. You can also redeem the money spent on your first day, with vouchers of equal value! That's almost like shopping for free! But hurry, the offer gets over soon.
Forever 21
If the disparity in the sheer size allocated to the men's section in F21 has you turned off, then the discounts and varieties on winter apparel within that limited collection is sure to get your credit card out and fast! Apart from shrugs and sweaters (starting at INR 900), some very trendy and colourful jackets to be grabbed here, and a lot of them are still on sale! INR 1,200 onwards.