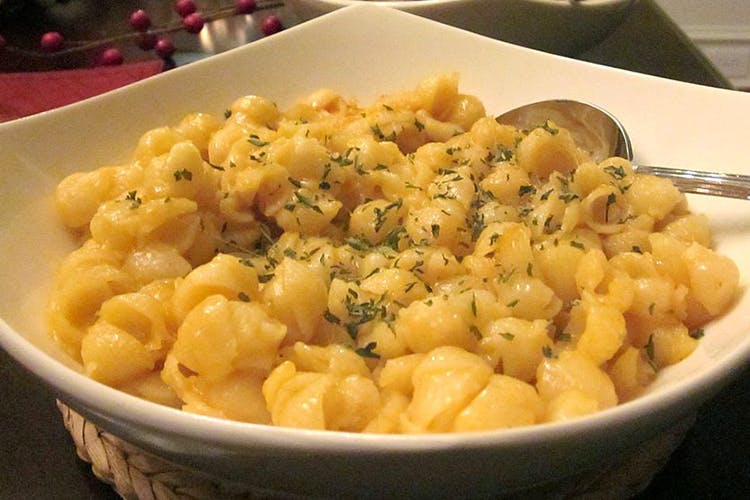 Calling All Cheese Lovers! Hit Up These Places For The Best Mac N Cheese In The City
Cheese has its own loyal fan base. Among all the gooey cheesy dishes that we get in restaurants and cafes, we're sure most of you prefer or rather drool over a simple and comforting hot pot of macaroni smothered in cheese. So, we've picked some of the best places that serve mouth-watering Mac N Cheese in the city. Read on.

Tram Deepo
A casual dining restaurant and lounge located near Quest Mall in Ballygunge, Tram Deepo serves up a delightful bowl of the good ol' Mac N Cheese in a creamy cheesy sauce, baked and served hot with garlic bread on the side. Do not miss out on it on your next visit.
Auda Cafe & Club
Another favourite when it comes to Mac N Cheese is Auda Cafe & Club situated right opposite Saturday Club on Hungerford Street. Get a seat by the window and enjoy this cheesy delight while overlooking the quiet neighbourhood. We only wish the quantity was better.
Hard Rock Cafe
Whenever you go to Hard Rock next, definitely try their Twisted Mac & Cheese that has Cavatappi macaroni smothered in a three-cheese sauce with roasted red peppers. It's topped with Parmesan cheese, parsley, bread crumbs and grilled chicken breast. Vegetarians! Substitute chicken with cottage cheese.
Sayin Cheese
This place in Elgin is, like the name suggests, all about cheese. Sayin Cheese uses a whole range of variations of this much-loved dairy product to prepare cheesy delights, the most comforting of which is obviously their Mac and Cheese with Chicken Sausage, Thyme and Fontina. Definitely try it when you visit next.
My Big Fat Belly
Situated on Sarat Bose Road, My Big Fat Belly is another popular hangout among city folks. Their signature Mac N Cheese Bellifier that has imported macaroni tossed in a blend of imported cheese, creamy white sauce, white wine and fresh herbs is a must-try for all cheese lovers.
Ask Devyani a question