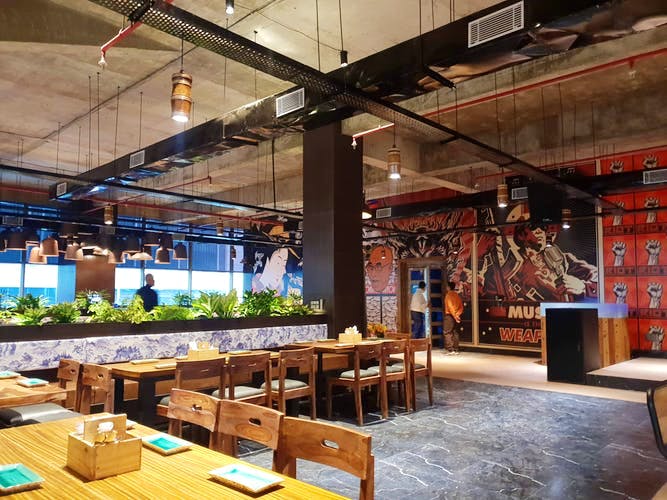 Head To These Restaurants In Salt Lake For A Soul-Satisfying Food Experience
There's no denying that we Kolkatans love our food as much as we love our adda sessions. Our city is known for its food and we sure can't get enough of it. Keeping that in mind, we've curated a list of some of the best restaurants in Salt Lake for a heavenly culinary experience.
Haka
This awesome Chinese restaurant in City Centre 1 serves a scrumptious affair that includes a wide range of soups, appetisers, dim sums and mains. The Vegetable Hakka Soup is soul-satisfying. Try the Grilled Shrimp, their signature Haka Chilli Chicken and the crab cakes. Watch the dim sums being prepared at the live counter. On a budget? Go for the really affordable buffet option.
Jaisalmer
This relatively new restaurant has authentic North Indian cuisine on offer. It serves delicious Chinese food but it's the desi khaana that stands out. It's in Sector 5 right next to Refinery091 in the Globsyn Crystal building. The decor is all vintage-y and will give you royalty feels. Go for their kebab platter and Dal Makhani, Chicken Reshmi Tikka Masala for mains. Chinese lovers must try the Manchow Soup and Spring Rolls.
The Orient
This place has a charming ambience and offers flavourful Oriental, Asian and Seafood cuisines. The food is definitely great but we also loved the stylish and sophisticated ambience and the seating arrangement. Go for their Hong Kong Five Spice Honey Chilli Pepper Pork, Buttered Jasmine Rice and Nasi Goreng that comes with Chicken Satays and Fried Egg on top.
Baati Chokha
Get a feel of rural India with Baati Chokha's village-style setting and traditional food from the holy city of Banaras. The pure veg restaurant will take you back to the days when we would eat food on chokis. Opt for Sattu Parathas with a bowl of Nimona (a seasonal thick green peas curry), Nenua Sabzi made with sponge gourd and Bakheer, which is basically kheer made using gur.

Momo I Am
Let your love for hot steaming momos guide you to Momo I Am in Salt Lake. This is one restaurant you have to visit if you can't get enough of those small balls of awesomeness. They also serve some of the best baos and Tenthuk bowls in the city. The fun and quirky wall art gives a very hip look to the entire space.
Bhojohori Manna
How can we miss out on the iconic Bhojohori Manna when it comes to food. Head to this place for authentic Bengali cuisine. Try their Fish Fry, Kosha Mangsho, Dab Chingri and Dak Bungalow Curry that dates back to the colonial era.
Chennai Square
Head to Chennai Square for soft idlis and paper-thin dosas at affordable rates. And, of course, how can one miss out on the chutney? No South Indian meal is complete without chutney and Chennai Square makes four different versions of it - sweet mango, sambad, coconut and tomato. If you prefer idli, opt for the Mysore Malgapodi Idli topped with ghee and spices.
Zaairah
Zaairah is a fine dine restaurant and a haven for vegetarians. You have to try the colourful mini sliders served with a dip. It's a very elegant and beautifully-lit place. And you just can't leave without having their Gulab Jamun With Rasmalai. It's all kinds of awesome and will melt in your mouth.
Capella - AltAir
Another must-visit place if you are in the mood to splurge a bit. A big, spacious rooftop restaurant on the 20th floor of the AltAir Boutique Hotel in Salt Lake, Capella offers breathtaking panoramic views of the city besides appetizing food, of course. Go for the kebab platter or try the Baileys Murgh Malai Tikka, which is tikka infused with Bailey's Irish Cream!
Comments