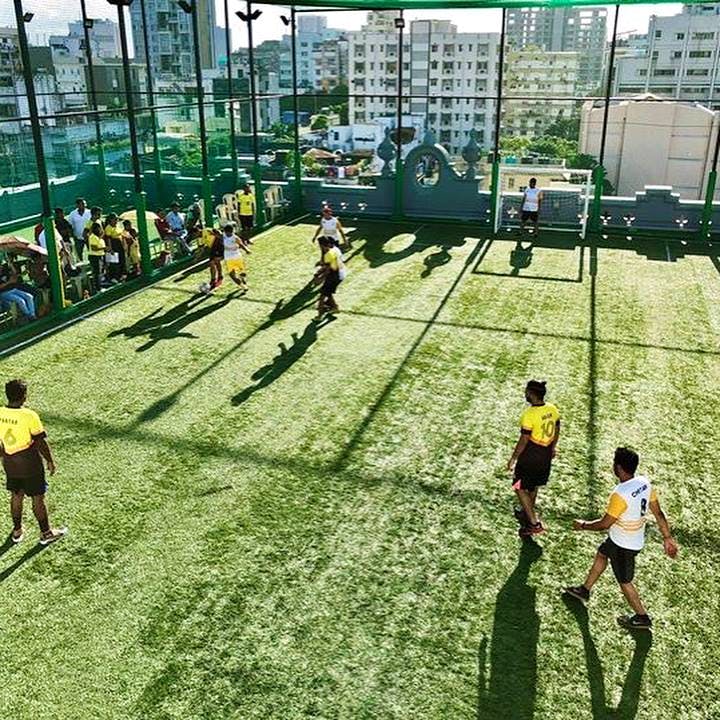 Book This Rooftop Sports Arena For A Game Of Football On A Weekend
Shortcut
If you thought rooftops can only make good eateries or bars, think again. Because the rooftop of Karnani Estate on AJC Bose Road is here give you the feel of a real sports arena where you can practice your game.
What Makes It Awesome
Here's a place to perfect your game, and it's got the actual sports arena vibe! Yes, you read it right because like a real arena, SkyTurf has FIFA-approved AstroTurf, floodlights and bleachers—all put together on the rooftop.
Opened little more than a month back, SkyTurf sits near the Park Street and Theatre Road crossing, and has state-of-the-art facilities to improve your game of football, cricket and badminton. And with age and gender not putting them on a bender, this place is perfect to practice your game, day or night.
You can play a five-a-side football match or can simply practice your dribbling and kicking skills with the goalpost on. And if you are a cricket fan then their box cricket facilities will definitely impress you. Though badminton facilities are yet to start, they have a separate arena for net practice and practising with bowling machines.
Kits for all games are available round the clock, as are the lockers in the changing rooms. So, no bulky bags to worry or heavy kits to lug! Another plus is the café inside that stocks up on healthy snacks, juices and dry fruits to keep you going.
What we liked best of course is the facility to host tournaments on the rooftop. With floodlights available at your disposal and bleachers there for you supporters to cheer, this rooftop is perfect for tournaments—whether it's for the corporate break or fighting it out with your squad of friends.
Pro Tip
Open on all days from 6 in the morning to 10 at night, you can head there any time in the day you want. Bookings for slots can be done over phone or over their site, and charges are made on hourly basis. While day time rates are INR 2,400, during evening the charges are INR 2,900.
Comments