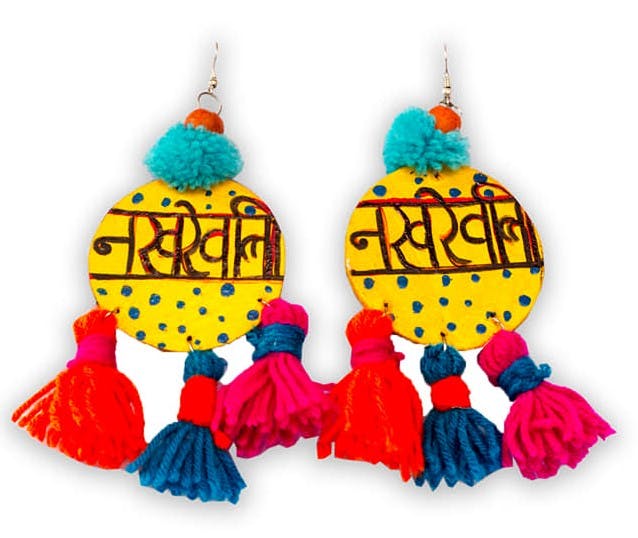 You Have To Buy Earrings From This Brand Famous Among Bollywood and Tollywood Celebrities
What Makes It Awesome
Well if you haven't bought jewellery from Sajjaa yet, we suggest you do it now! A Kolkata-based online shopping site, it is loved by regular customers and celebrities alike. The brand certainly has made its mark with a clientele worth bragging about.
Sajjaa is popular for their oversized earrings, the craziest one being the autorickshaw one! We know you've been thinking about getting a pair for a long time. So why wait?
Your search for chokers ends here. Instead of those heavy metallic ones, try their printed offbeat choker tried by TV star Apoorva Arora. Also, check out their Mugdha collection which is a large abstract shaped earring and has been sported by actor Darshana Banik. Bengali actor Anindita Bose couldn't help but try their Sikkaa collection, which literally has coins embedded on the earrings. A star-studded list of customers including Rachel White, Mimi Chakraborty, Jayaprada, Tina Datta, Trina Saha, Chitrangada Chakraborty, Lagnajita Chakraborty have heaped praises on Sajjaa's collection.
That's not all, Sajjaa has introduced its SaajDa 2019 collection, which is their fabric Bollywood line named after popular Hindi Songs, along with newly designed wooden earrings. You can also get your hands on boho keychains, bookmarks, fridge magnets and pop sockets from this collection. Who knew when you would be singing these songs, you will be thinking about earrings! Some of the unique ones include aankh marey (embroiderd earrings embedded with mirrors) for INR 830, chikni chameli (these are made with figures io fish!) for INR 720 and bhumbro (consisting sea shells) for INR 1,130.
Shop quirky pop sockets for as low as INR 80 and animal shaped bookmarks for INR 160. What's more? Actress Rachel White and TV & YouTube celebrity Apoorva Arora have also ordered from this collection.
Pro-Tip
Sajjaa is going to open its first flagship store in Kolkata by the end of September!
Comments