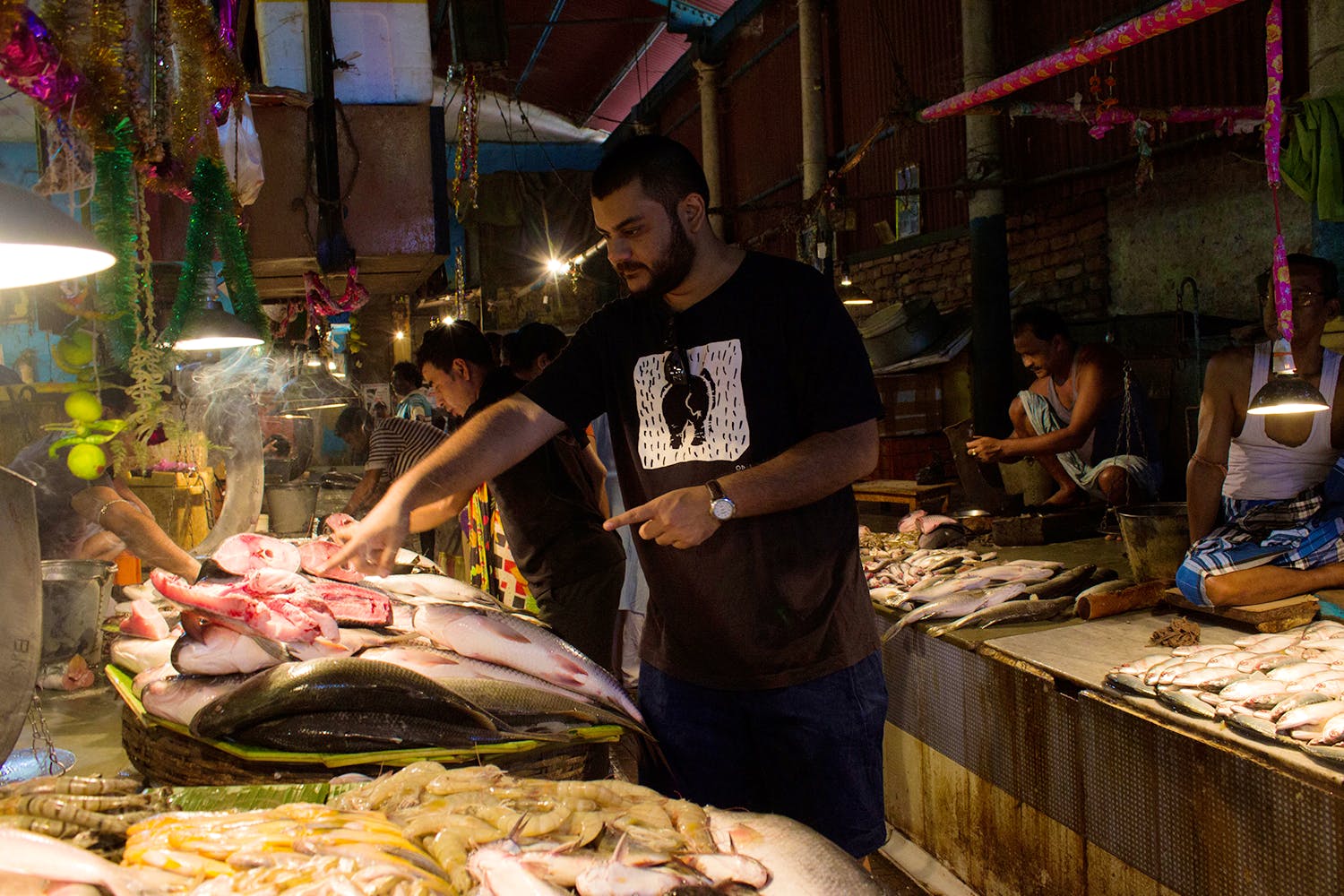 #LBBWalksTheTalk: The Salt House Chef Shows Us Around His Fave Local Market
The new kid on the block Salt House has been wooing our taste buds and blowing our minds with its quirky take on gourmet European dishes. They swear by fresh, local produce. We asked Chef Auroni for a little reveal on where he gets all his ingredients from. He took us to his favourite grocery haunt— the Park Circus Market and gave us a lowdown on where his shops from for his restaurant kitchen.
The Staples
First off, we meandered through a row of grocery stores selling a variety of local produce like pules, rice, oil and condiments.
Auroni gave us this little nugget of reveal that five indigenous rice types (gobindobhog, black, red, brown and bamboo) goes into making Salt House's popular risotto – not the typical arborio rice! He insists that local unpolished varieties of cereals and grains are way better than polished ones.
Go Fish
The chef took us to this one stall that stood out from the rest of the fish market. It was selling dry salt-cured fish (aka sutki, as the Bengalis call it). Cured fish is a delicacy in many parts of the world and  they are great for making broths or stock for several seafood dishes. Chef bagged some fresh tiger prawns (as filler for tortellinis), dry prawns (to make broth for a pasta) and Bombay duck for his kitchen.
We were also given a crash course in choosing fresh fish: look for shiny scales, firm stomach, bright eyes and pink gills. Then he picked some bhetki for the restaurant's popular pan-roasted bhetki, and bagged some local magur (an alternate to catfish) for making fish tacos! Who knew magur machh could be used for Mexican food?
The Veggies & Fruits
The chef picked up some juicy jamrul (Java apples) for his salsa dip, and raw mango for his cold brew mango tea. Next up was a huge bunch of coriander – because he uses coriander, green chillies and garlic to make his pesto (shown here). Look for vendor Sanathan Ghosh for fresh veggies and greens.
He uses micro greens (grown in small pots in the restaurant rooftop) of pui (Malabar spinach), kolmi (morning glory or Kankun) and lal saag as fresh toppings for his dishes.
The Meats
Chef Auroni says slow cooking country rooster makes for a very flavoursome broth for main dishes like chicken tortellini in broth. His go-to meat store, however, is the one just outside the Park Circus market, Kohinoor Meat Shop (No 52, Beck Bagan Row) which has a variety of cuts.
#LBBTip
Local markets are rich in fresh local produce and are also known to transact only in cash. So, keep your card at bay and carry enough cash, and be sure to be there by 8 am because fresh stock gets sold out fast.
Comments