The information in this post might be outdated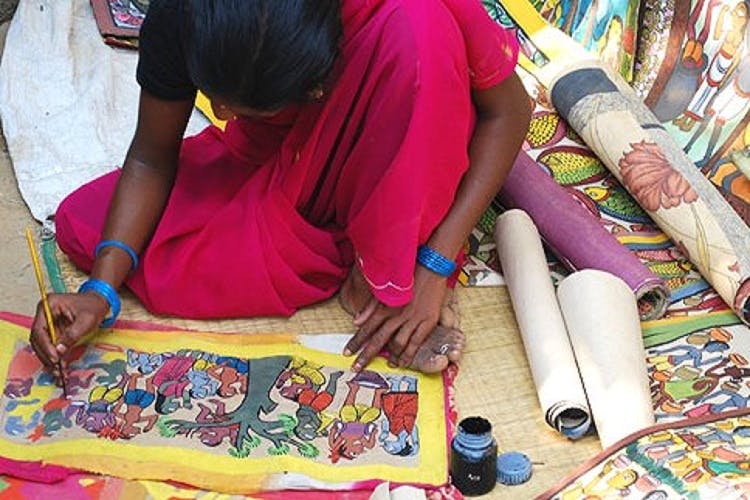 Save The Date: This Art Village's Three-Day Fair Will Showcase Rare Art & Award Winning Artists
16 Nov 2018 - 18 Nov 2018
16 Nov 5:30 AM - 18 Nov 11:30 AM
What's Happening
Forget stuffy art galleries with even stuffier artists. Head to Pingla's Naya, a village of award-winning artists who have jet-set around the world with their paintings, and attend their annual festival Pot Maya this November. Naya, near Medinipur, is a village of patachitrakars, artists who make patchitra. An ancient Indian folk art form, patachitra dates back to several thousand years and have mentions in ancient literature. Cultural outfit Bangla Natok along with the artisans of Naya have organised the annual art festival, Pot Maya, which will showcase this dying art form and their diverse artworks. Head here to check the patuas (artists) paint the scrolls and narrate the stories of their ancestors and of their community through the pater gaan (folk songs). You can pick up painted clothes (sarees, stoles, T-shirts etc) and décor items like lampshades, curtains, wall hangings. A three-day annual festival that translates the rich oral tradition of a community into colourful artworks and soulful music, Pot Maya (November 16-18) is a must-attend if art stirs you mind and soul.
How's The Venue
An artists's village for generations, you will be stunned by the flashes of bright colour on mud walls – two tigers in luminescent yellow and vivid red tongues sticking out, a brown crocodile swallowing a green tortoise, sunny flowers, owls with gigantic eyes, birds, and planes. It's like you are in a giant public art space.
Price Includes
You could visit Naya with Bangla Natok for a day-long visit (this could be your hassle-free option since they will take care of everything, from transport to food) at INR 2,500 per head. Bangla Natok has also made arrangements for stays at Naya too (INR 4,000 per head).

Make A Note
If you're an adventurous traveller the option to travel alone is always there, though finding a stay could be a challenge since there aren't any hotels there.

Comments