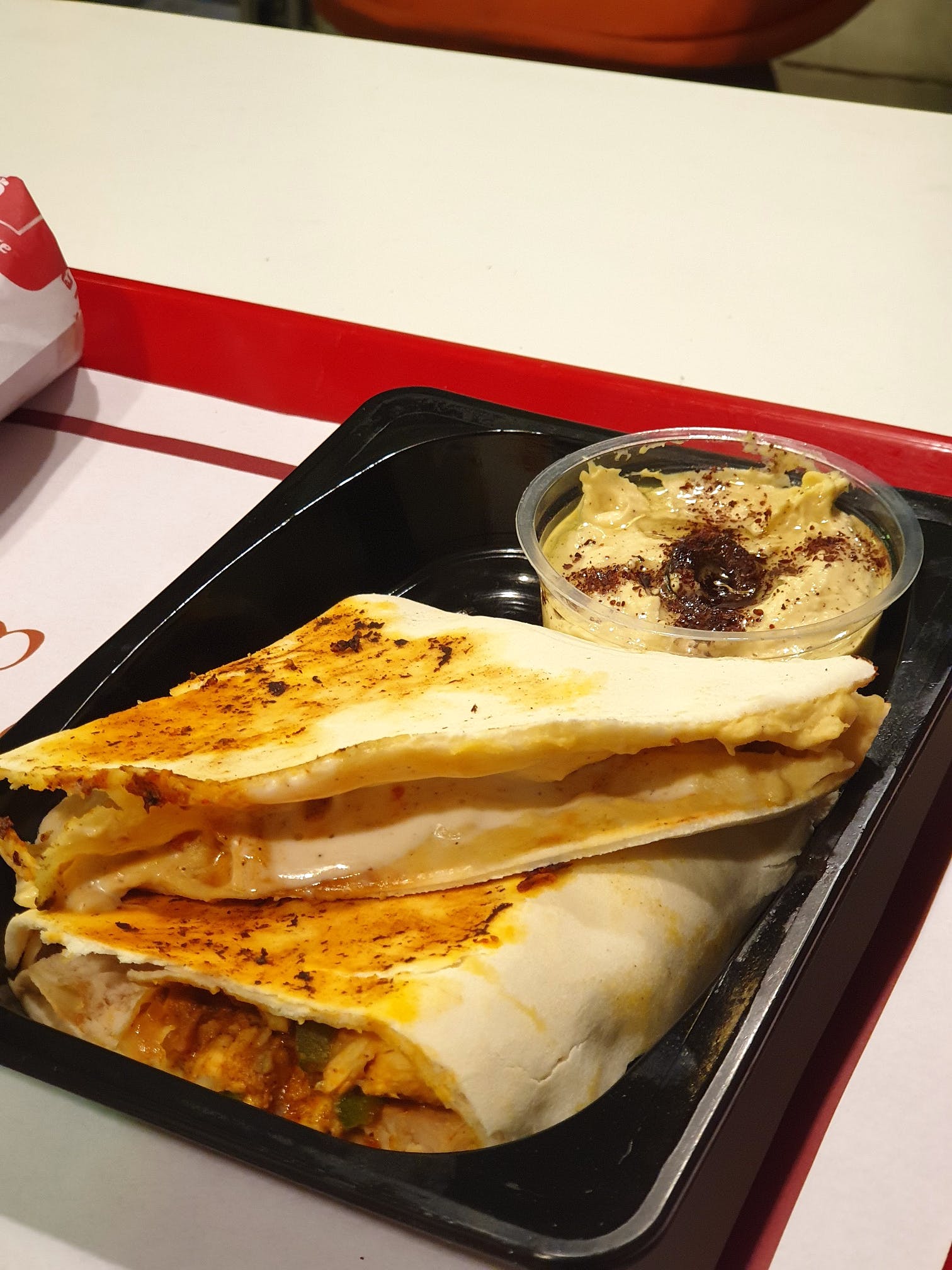 Popular Gurgaon-Based Shawarma Joint Re-Invents The Shawarma in Many Forms
Shortcut
Who doesn't love a good, meaty shawarma? Sometimes you can over-think food. These tasty tummy-fillers stuffed with kebabs can be found at streetside kiosks and restaurants across town. Kolkata people may be crazy about their kathi rolls but the shawarma roll comes close in the popularity stakes. We found a small joint (with branches in Gurgaon) who are rolling out some of the best shawarma-based dishes in the city.
What Makes It Awesome
Shawarma House has elevated the humble shawarma to an art. A cut above your typical shawarma joints, this small restaurant with branches in Gurgaon and Varanasi does both chicken and lamb wraps. Stuffed with a thick dressing in a thin, housemade flatbread and served with piquant vinegar-drenched veggies, these are soft and succulent. The marinated chicken used in the shawarma is carried over to the quesadillas - two generous triangles stuffed with meat and vegetables with a garlicky dressing and small bowl of hummus (topped with black olives). Moist and nicely charred, the addition of the satay sauce gives the dish extra oomph. Have a dish of fattoush salad on the side with fresh chunks of cucumber, tomatoes, mint and olive oil with pita. It comes in both veg and non-veg versions.
They also do kafta kebabs with lamb and chicken which you can have with fries and salad on the side or try them in the burger form - the succulent patties are smoky and flavoured with garlicky lusciousness. Make a beeline for the falafel roll - herby and delicious, this chickpea dish will make even hardcore non-vegetarians salivate. If you are really hungry, have the hashweh chicken (or lamb) rice, the shawarma and falafel platters or the non-veg special platter. Finish it off with a serving of umali - bread pudding with nuts and a hint of rose water.
They also do grilled fish and fish & chips.
A meal for two would cost around INR 400-500.
What Could Be Better
We couldn't get any drinks on the side (though the menu lists a few) when we visited, except for ice tea which was much too sweet. Also, we suggest that it's best to get takeaway from here. The consistent blast from the exhaust laden with the smell of the dishes being cooked is a put-off. But factor in the terrific food, and you'll forgive the cramped, basic surroundings. And the fries in Arabic spices are highly avoidable.
Pro-Tip
If you plan to sit and eat, come here before the peak traffic hour hits - it is located on a very busy road and tends to get noisy.
Comments