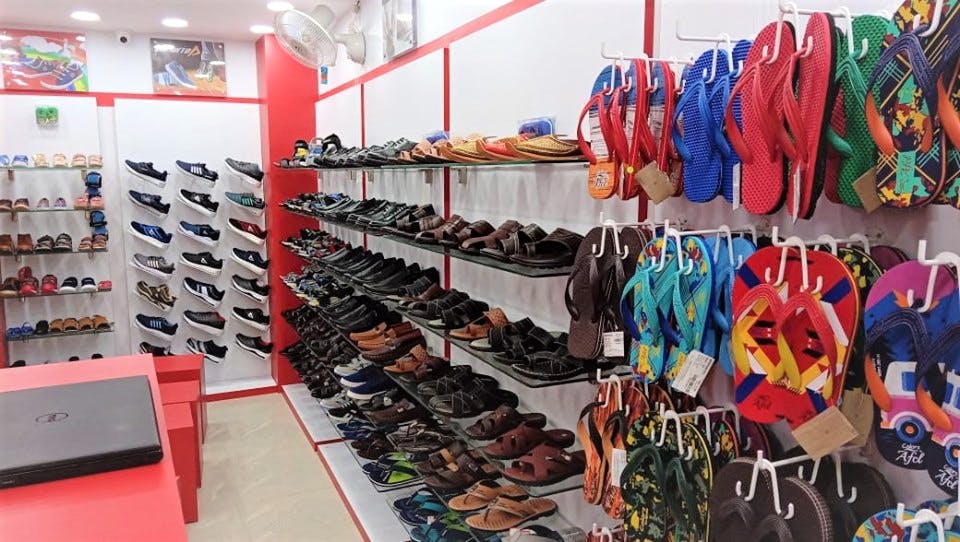 Looking For Quality Shoes In Gariahat? Hit Up These Places
Gariahat is one of our favourite shopping destinations in the city. Kolkata people say that you can get everything under the sun on this crazy crowded stretch of shops and stalls. We have been covering this stretch for a while guiding you on what all you can pick up here (check out our earlier recommendations on stalls selling totes, jewellery, and lingerie). This time, we have put together a list of stores where you can get the right pair of shoes on a budget.

Half & Half Shoes
From kid's to women's, they also have men's footwear. Their collection of leather shoes are mostly for men whereas one can find colourful slippers and flip flops for both men and women. Love colours? you will find every shade of your choice here. They also have cool sneakers and handbags which looks good for everyday usage.
Bata Shoe Store
Bata has been synonymous with quality shoes and chappals for generations. This is a relatively compact outlet which has a display of their men's, women's and kid's footwear. Ladies, check out their belly shoes or wooden wedges and men, the loafers are quite good here. They also stock some belts and socks, mostly for men. The display of their handbags are limited compared to other stores.
The Elite Shoe Company
The Elite Shoe Company is one the foremost shoe brands to have a store in Gariahat. Don't expert trendy shoes - one can get decent old-style shoes and comfy slip-ons here. Men can find really affordable formal shoes here. They have quite a large variety - from running shoes to pattern sneakers, and cute Kitto sandals for toddlers. They also have belts and accessories of decent quality.
Kolapuri Centre
Kolapuri Centre presents an assortment of shoe items for men and women. You can pick from chappals, sandals, leather shoes, Rajasthani boots, Rajasthani ladies chappals, lbags, belts, flip-flop, and other items. From classic to the peppy, they have many styles in their store.
Ajanta Footcare
This is a cosy outlet with a smart display of women's and men's collection. We recommend their leather slip-on shoes and boots for men. They have a good range of sandals for women. One can also pick up a pair for kids here.
Khadim's
Want to do some extra saving? Visit Khadim where you will always find a discount on something or the other. They have classic closed-toe heels and some pretty good looking sandals for your 5 to 9 day. Their waterproof rubber bellies and flip flops are not only stylish but also come with colour and print options to choose from. They men's collection has sneakers, leather boots to even chappals. They also stock socks and belts at this outlet but mostly for men. Look out for the handbags and messenger bags at the counter.
Sreeleathers - House Of SL
Be it women's footwear or men's or even toddler's, Sreeleathers is one of the trusted brands when it comes to leather. We recommend anyone with a tight budget to go for it. This is one of their biggest outlet in the city which has launched recently under the name of House of SL (Sreeleathers). From everyday flats, chappals, sneakers to few ethnic one, this place offers standard shoes. You can also check out their range of accessories and bags.
Ask sneha a question