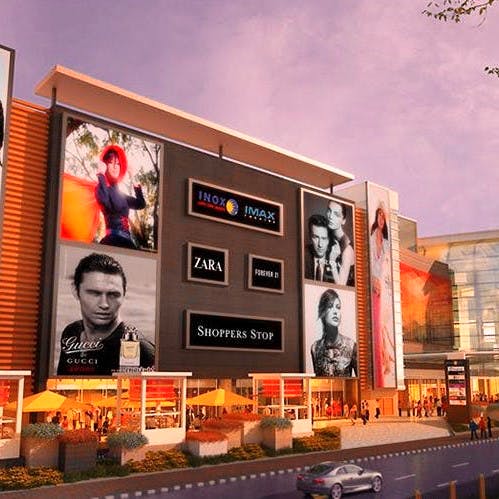 South City Is As New As 2019 And Here's What We're Loving About It
South City is one of Kolkata's fave hangouts for mall rats. After a complete revamp in 2018, it's become even better. It is now a self-contained space where you can find a good mix of clothing stores to fit, different budgets, a food court, a bookstore, restaurants, a multiplex and grocery stores to take care of all your all your needs in one shot.
Starmark
Starmark is just as we've always loved it, filled from front to back with things we can hardly not buy. Books, stationary, decor, accessories, and even chocolates. They also have a collection of vinyls on the racks now. We're always ready to attack the wooden bookshelves and load up on brand new stationery.
Sephora
Make-up haven Sephora is every stylista's go-to shop. Packed with brands like Bobbi Brown and Smashbox, which weren't available earlier, you'll find every popular brand under it's roof. No more online shopping for your favourite brand anymore. Try it on, see if it suits you and then pick it up.
Zara
We're ready to take on 2019 in style with iconic Spanish fashion retail brand Zara. The spacious store on South City's ground floor is your best place to head to pick couture-like fashion that fits just just within your budget. From on-trend dresses, blouses and tops and super gorgeous shoes to perfumes, hats and other accessories - you'll find everything for a complete look here. Remember to check Zara's Trafaluc (Zara TRF) collection that comes with louder cuts for the young and bold you!
Forever 21
Forever 21 is every college-goer's life saver when it comes to affordable casual wear. You can pick up tops, t-shirts, jeans, jackets and more for as low as INR 400. They also have a range of accessories, shoes and other trinkets that'll leave you stoked. Guys, there's great news for you as well. Forever 21 has comfy shirts and funky denims that'll take your wardrobe to the next level.
Hunkemöller
New and updated South City is also taking after our heart with some real good boutique lingerie stores dotting the space. Hit up Dutch brand Hunkemöller for alluring suspenders and garters to pretty bras, gorgeous stockings, fancy swimwear, comfortable teddies, chemises and shape wear. With its cup sizes going as far as H, we're digging this brand for believing that sexy and happy comes in all shapes, sizes and colours.
Chumbak
Chumbak at South City is probably the brightest store and you just can't not go in there. Bags, footwear, mugs or bracelets for besties - they have it all and they have it well. Pick up some super quirky clothing from here or go mad with the phone (iPhones only) cover options. They also have some cutesy wallets, witty fridge-magnets and trunks. We love their skincare collection, too.

Comments