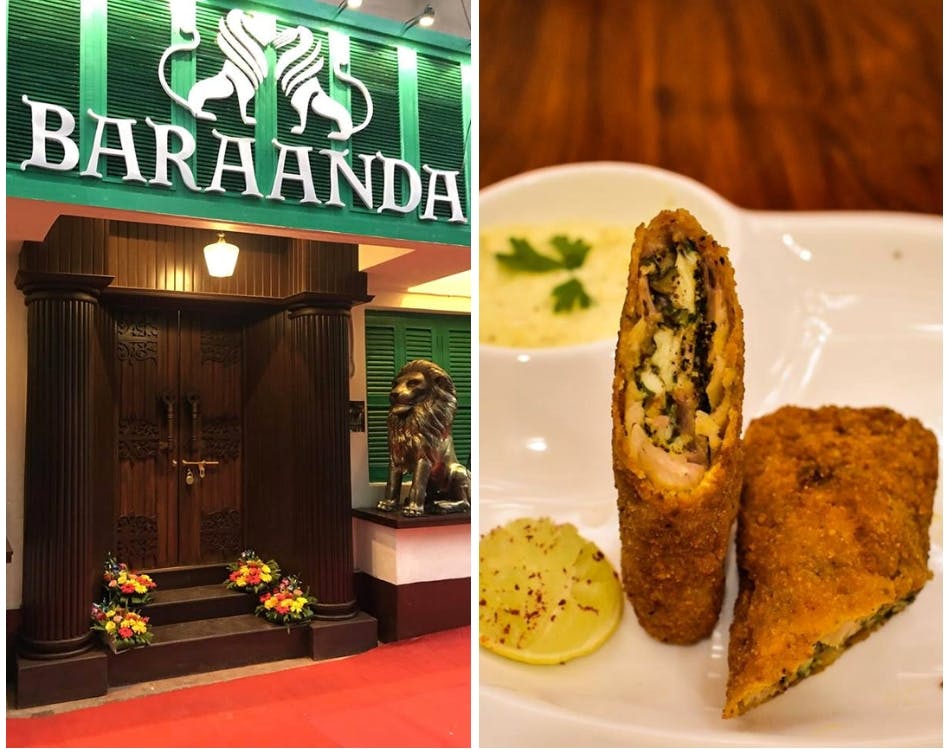 Southern Avenue Just Got A New Bangla Restaurant And They Have Anglo Indian Food Too!
Shortcut
This is the time of the year when brand new eateries pop up hoping to capitalise. Baraanda is one such new kid on the block in Southern Avenue specialising in Bengali cuisine.
What Makes It Awesome
Petuk folks, a brand new Bangla cuisine joint has been added to the thriving food scene around the Southern Avenue neighbourhood. Walk in past the pair of shiny metal lions (and green louvre windows) into an understated space with nostalgic touches from zamindari Bengal (colonial-style furniture, old B&W photos, punkhas, typewriters and giant mirrors). There's touch of the folksy as well with the use of patachitra (folk art form).
Coming to the food, Baraanda (that's verandah or balcony in Bengali) does the usual Bengali faves and some unusual ones. The Sahebiaana section is filled with dishes derived from Bengal's Anglo Indian heritage. So you can begin with Naarkel Mochar Chop (coconut and banana flowers fritters) or choose a plate of Suknofoler Chop (dry fruits and vegetable fritters) for INR 125. If you prefer non-veg, they have Rajbarir Chingrir Cutlet (prawn cutlets prepped Bengali style with the state's famous mustard sauce). It's on the steeper side - INR 380 for one piece. Or have the Morola Macher Piyazi (crisply fried morola) for INR 150.
The starters section is quite big and included interestingly items such as Dhania-crsuted Chicken Cutlet (INR 200) and Macher Tukri (a basket of different kinds of dry fish preparations) - INR 600. We are happy to report that these guys have a variety of veg and non-veg dishes on the menu. We can't list them all, obviously, but we'd recommend the very Bangali baati chorchori (INR 140) or coconut-infused grilled vegetables (INR 150) for vegetarians and the Fried Fish Fort William (INR 250), the Gola Ruti (INR 80) with Kosha Mangsho (INR 350).
Pro-Tip
Finish off your Bangla meal with the crowd fave, Aamsotto Khejurer Chutney - made with mango papad and dates (INR 60) or be adventurous and try the Daber Bhapa Sondesh (INR 80 for two).