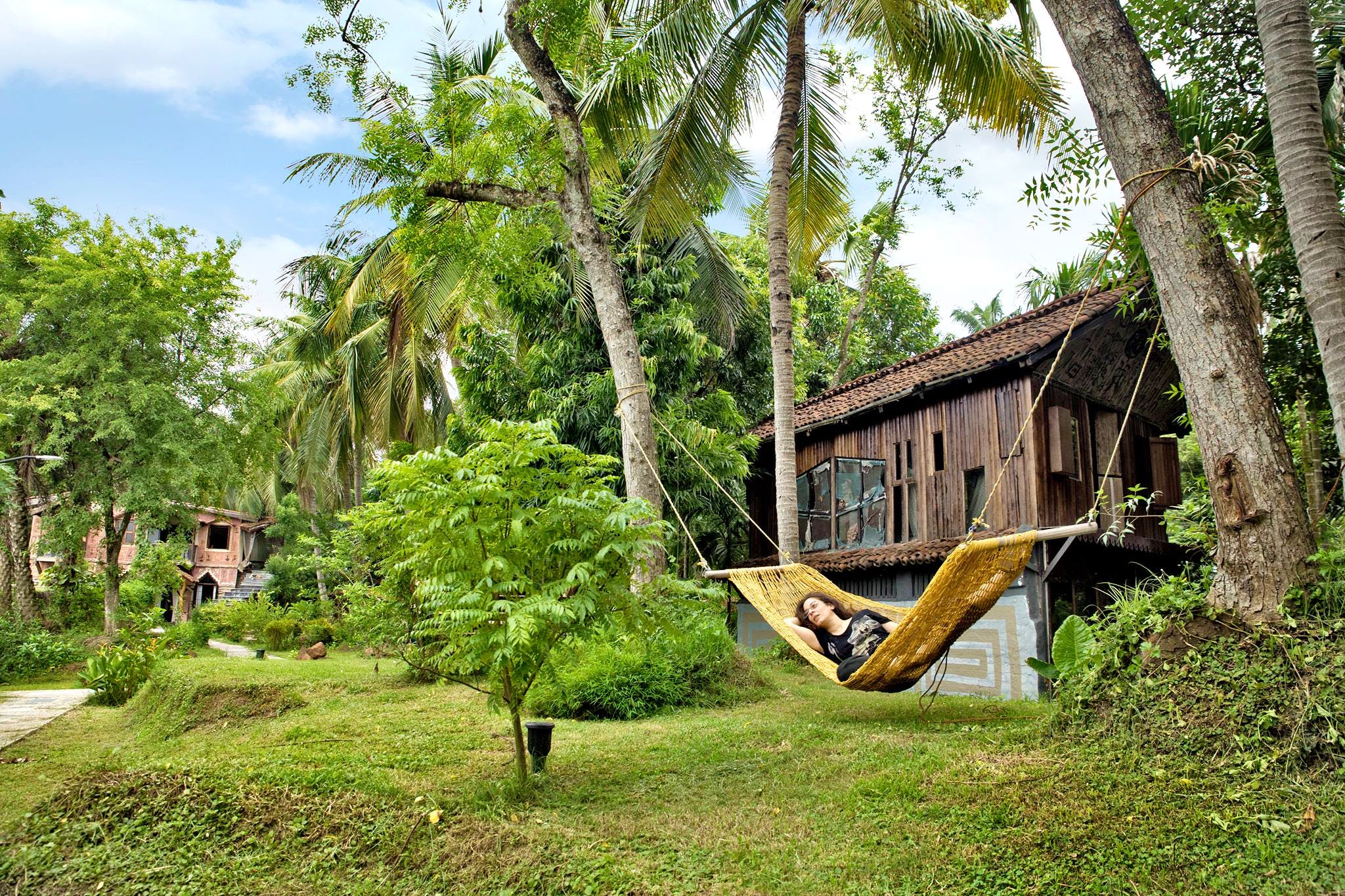 These Villas Under 100 Kms From Kolkata Are Perfect For A Getaway, Starting At INR 200
These villas are less than 100 kilometres away from Kolkata and are perfect for chilling with your squad. And they won;t pinch your wallet either - rooms start at just INR 200 a night.
Cottages & Open-Air Huts
Just a 24-km drive away, Palm Villages has cottages and open-air huts that are great to chill with your squad. Extremely quiet and peaceful, this is where you go when you want undisturbed endless poker-playing and beer pong sessions. It's surrounded by lush greenery and sparkling waters and even has a swimming pool to chill by the water. The resort has an open-air restaurant which is a fun place to spend an evening with your gang, snacking and drinking. Prices start at INR 2,455 for four (which works out to an extremely affordable INR 600 per person per night)!
Luxe Resort Villas
Embrace luxury, relaxation and ultimate fun – overnight stays in Vedic Village are known for being insanely entertaining. Make memories that will last you a lifetime at their fully furnished villas with access to indoor and outdoor sports facilities (you cannot miss out on their swimming pool which has an artificial waterfall), air hockey and pool tables, archery and more. The bungalow-style villas start at INR 10,000 for the night with breakfast. You also can get an Aqua cottage which has a personal swimming pool!
Traditional Bengali Bungalow
Want to hang with the squad without leaving the city? Need to book a place for the pujos so you can pandal hop all night without stressing about your parents cribbing about you coming home late? This bungalow near South City can house up to six people and is perfect if you want to stay where the action is but still want to relax. It has a giant bedroom where everyone can crash together after a fun night out. The home is also extremely comfortable and the traditional Bengali flavour makes it a treat for anyone who enjoys art and culture. The best part? Get the whole bungalow for less than INR 1,000 for six people – that's less than INR 200 a night per head!
An Entire Mud Villa
Book the entire property of this quaint bungalow which includes an outside seating area and a tasteful low-seating dining area. There are two rooms up for grabs which you can get at a steal deal of INR 7,000 for the whole property. They have an attached kitchen if you're in the mood to whip up some culinary treats. Plan the perfect weekend for your family and friends to have some alone time without the hassle of travelling far out of Kolkata. It's so lush and green, it'll give you the illusion of being inside a secret garden.
A Villa In The Sunderbans
Say hello to greenery at Solitary Nook, enveloped in the Sundarban forests and only 100 km away from the airport, you can plan day trips to the Sudhanyakhali Tiger Reserve, Sajnekhali Bird Sanctuary and Sudhanyakhali Watch Tower from the hotel. Spend quality time with the squad on the balcony, chatting into the wee hours of the morning. Get a villa for four people at just INR 2,000 – if you're on a double date then that's only INR 500 a head.
Comments