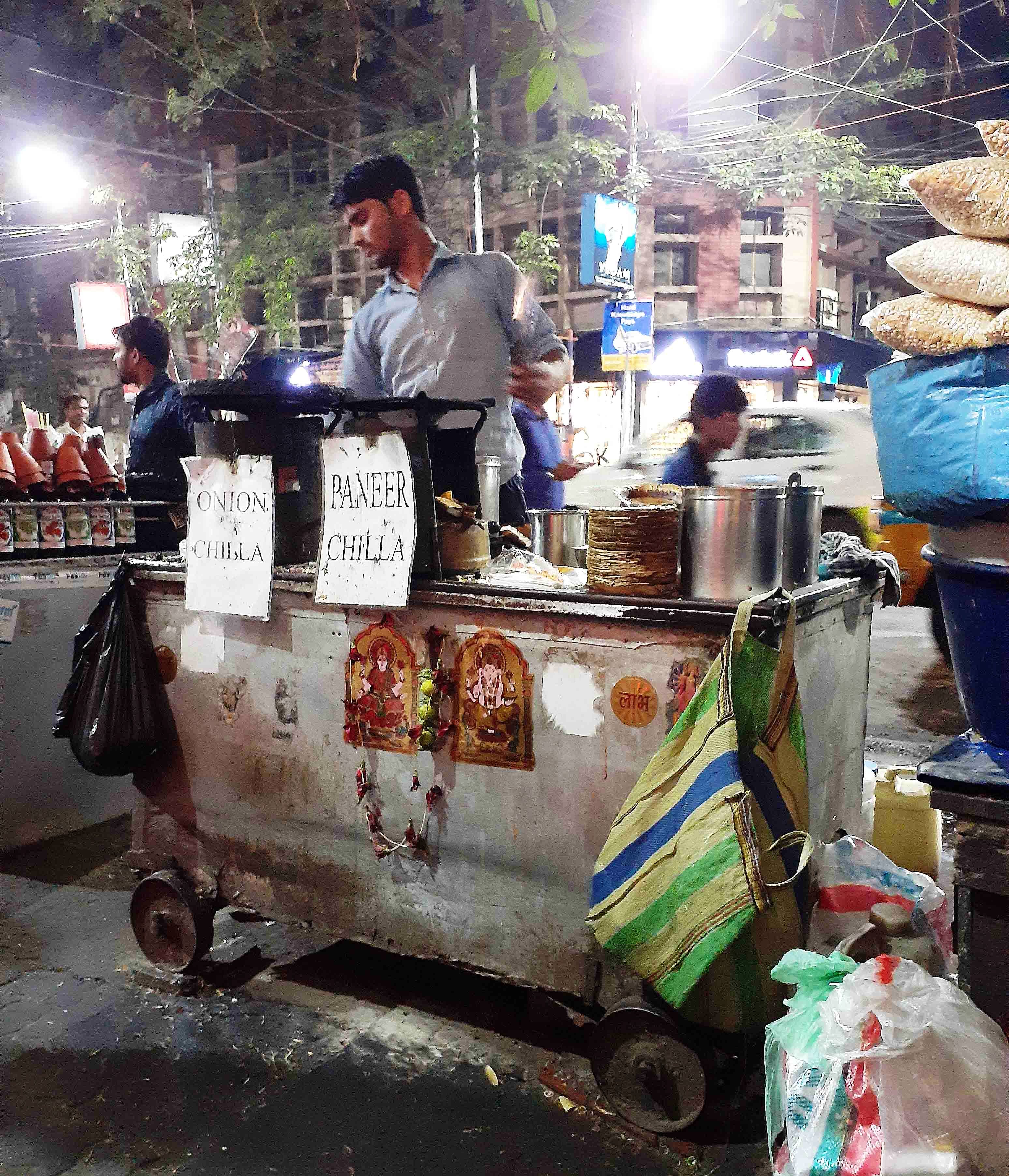 Vardaan Market Is Not Just About Shopping But Also Mouth-Watering Street Food
Nothing beats Kolkata when it comes to street food. And if you've visited Vardaan Market in Camac Street before, you would know that there are several roadside vendors outside the market selling typical Kolkata delicacies. If you've not been there yet, worry not because we've made a list of all that you have to try there.
Puchka
This is probably every Calcuttan's favourite street food. It's the first thing that comes to our mind when we think about street food. And the vendors outside Vardaan Market, without a doubt, serve some of the best puchkas in the city. They give five pieces for INR 20. Definitely worth it, though slightly pricey as we usually get 8 for that price!
Chilla
This is another street food that you have to try. The guy serves dal chillas with a couple of chutneys made of coriander and garlic. If you like paneer, then definitely try the paneer chilla priced at INR 70. He serves one with onions as well at INR 50.
Wow Momo
Yes guys! There's a Wow Momo stall as well just outside the market. They serve only vegetarian options though. Try the Veggie Pan-Fried Momos is Tomato Garlic Sauce or any of the woks that they have. Opt for wheat noodles if you want a slightly healthier option.
House Of Cone Pizza
Cone pizzas! We are craving for it already. Try the Mac and Cheese one - it has lots of cheese with a little bit of veggies and costs INR 160. They also serve a variety of wraps, sandwiches, lemonades, mojitos and milkshakes.
Jhal Mudi
Mudi (puffed rice) is probably our go-to snack for those mini hunger cravings. You'll find quite a few mudiwallahs outside Vardaan and in the lane adjacent to it. If you are someone who prefers the roasted version, you'll find a vendor right next to the chilla stall selling roasted puffed rice. It starts at INR 30.
Yum Tum
Located right next to House of Cone Pizza, Yum Tum serves momos, sandwiches, fries, pasta, garlic bread, noodles and brownies. try the Veg Steamed Momo or any of the pastas. The food starts at INR 95.
Gupta Brothers
If you are a samosa, kachori and mithai person, then stop by the good ol' Gupta Brothers that has also put up a stall outside the market. Gulab jamun, kaju katli, motichoor laddoo, dilkasar, besan laddoo, imarti - you'll find it all here! You get motichoor laddoo at just INR 2 per piece!
Victoria Vada
Welcome to the stall that gained international fame after former British Prime Minister David Cameron visited and ate the soft yet crispy vadas. The guy still has a picture of that put up at his stall. He serves plain vada and kanji vada starting at INR 40.
Shibuji
Craving for pav bhaji? Shibuji located inside the lane next to Vardaan is where you should be. There's one just outside the market as well but we suggest you try the ones served here because it's delicious. The price starts at INR 70. They serve a few versions, all of which are must-haves!
They also serve sandwiches, juices and paan. The Ice Paan and Chocolate Paan are worth a try.
Ghugni
Made with dried yellow peas and different spices, ghugni is another popular street food in Kolkata. And the vendor outside Vardaan sure serves one of the best in town. Do not forget to try it the next time you visit the market. It costs about INR 30.
Ralli's
This scorching heat driving you crazy? Cool off with some sharbat, shakes, fizzers and coolers at Ralli's located right next to Gupta Brothers. You also get tea, coffee, flavoured milk and ice-cream here.
Ice Cream & Kulfi
No meal is complete without having your favourite ice-cream or, even better, kulfi. If you prefer ice-cream, there's a Kwality Walls guy selling different flavours. But if you like kulfi, then you'll find a vendor selling the same right next to the Victoria Vada stall. He serves three varieties - kesar pista, sitaphal, and orange kulfi.
Comments