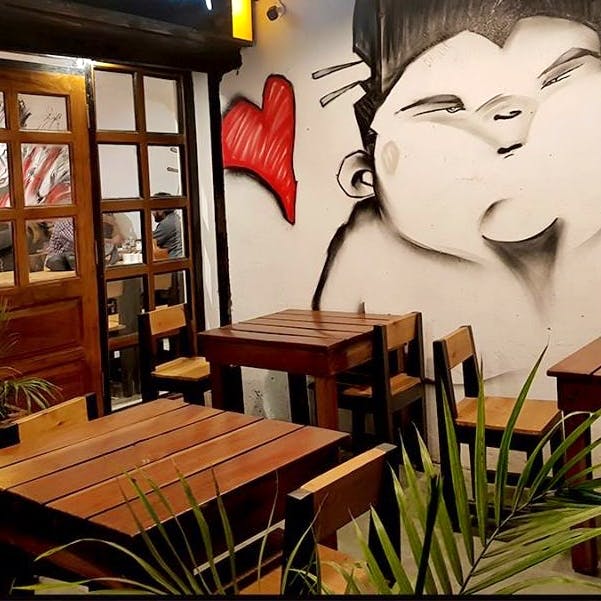 Hungarian, Thai, Tibetan: This One Street Is Like A World Tour For Your Belly
Let's get real, around the world in 80 days is not a possibility. But we have found a street for you where your plate goes 'round the world in 80 minutes. And that's not it. Believe it or not, two people can feast at most of these places for under INR 800. On the stretch from Lords More Junction to Gobindapur Road, you can find all of them.
Finom
Hungry for Hungary? Here's your fix. Finom, located in Lake Gardens is a little bakery cum cafe, with very little items on the menu. But don't let that discourage you from visiting this place with a little influence from Hungary. They serve their dishes in a cone made out of kürtőskalács If that's Greek to you. we'll explain. Kürtőskalács is made from sweet yeast dough, rolled on granulated sugar and roasted on charcoal. In Hungary, it's a cake. However, Finom will bring you your savouries and sweets in this cone. Try almost anything on their menu, from Mac And Cheese to Oreo Cone. Grab a bud and split a bill of about INR 350. They are momentarily closed for redoing. But keep an eye out, they reopen this week.
Momo I Am
Tibetan food, especially thenthuk, mothuk and momos are a crowd fave. Here is where to binge on those dishes. Momo I Am has a sweet, cozy setting, tucked inside Lake Gardens. Don't be fooled by the name, they serve far more than just momos. Their menu includes dishes like bao bowls and soups with homemade pulled noodles. And they serve excellent homemade pickles. Also known for their extremely courteous service, this place will be your all time go-to for cosy meals. Pocket pinch: INR 550 for two.
Tai Chien Village
Who doesn't enjoy a smokin' hot roadside Chinese meal? Tai Chien Village in Lake Gardens is the perfect place to satisfy your noodle-cravings. An elaborate menu of soups, dim sums, noodles and more, this place will make your meal within INR 300. They keep Bengali food, too. So, for all those mood-swing-y sort of days, head to Tai Chien Village.
Siam Cafe
You might almost miss this little Thai eatery on Prince Anwar Shah Road, and that is why we are making sure you don't. It doesn't have any seating space and will cater to only take-aways and deliveries. Just reading the descriptions of their dishes had us drooling. Invest in one of their Thai-style Chicken BBQ Wings or Rangoon Noodles for a scrumptious meal. Also, for dessert, they will give you fruity jello cakes (you know you won't be able to resist that!). Spend around INR 250 only.
Hotel Rani
If by the end of the day, all you want is Indian ghar-ka-khana (home-made food), we got you covered. Sit at a table at Hotel Rani on Prince Anwar Shah Road and order for yourself a plate of tadka dal and roomali roti and a Thums Up for the perfect end to an already perfect day. Spend about INR 150 only.
Chai Adda
No day is complete without a cup or tea (or coffee), and no eatery list is complete without a cafe. Chai Adda is a small, dimly lit place without an outdoor seating arrangement, near Lords Bakery. Head to this space for a cuppa and some small eats on the side. They do a variety of cakes, fries, and snacks like samosas.
Comments