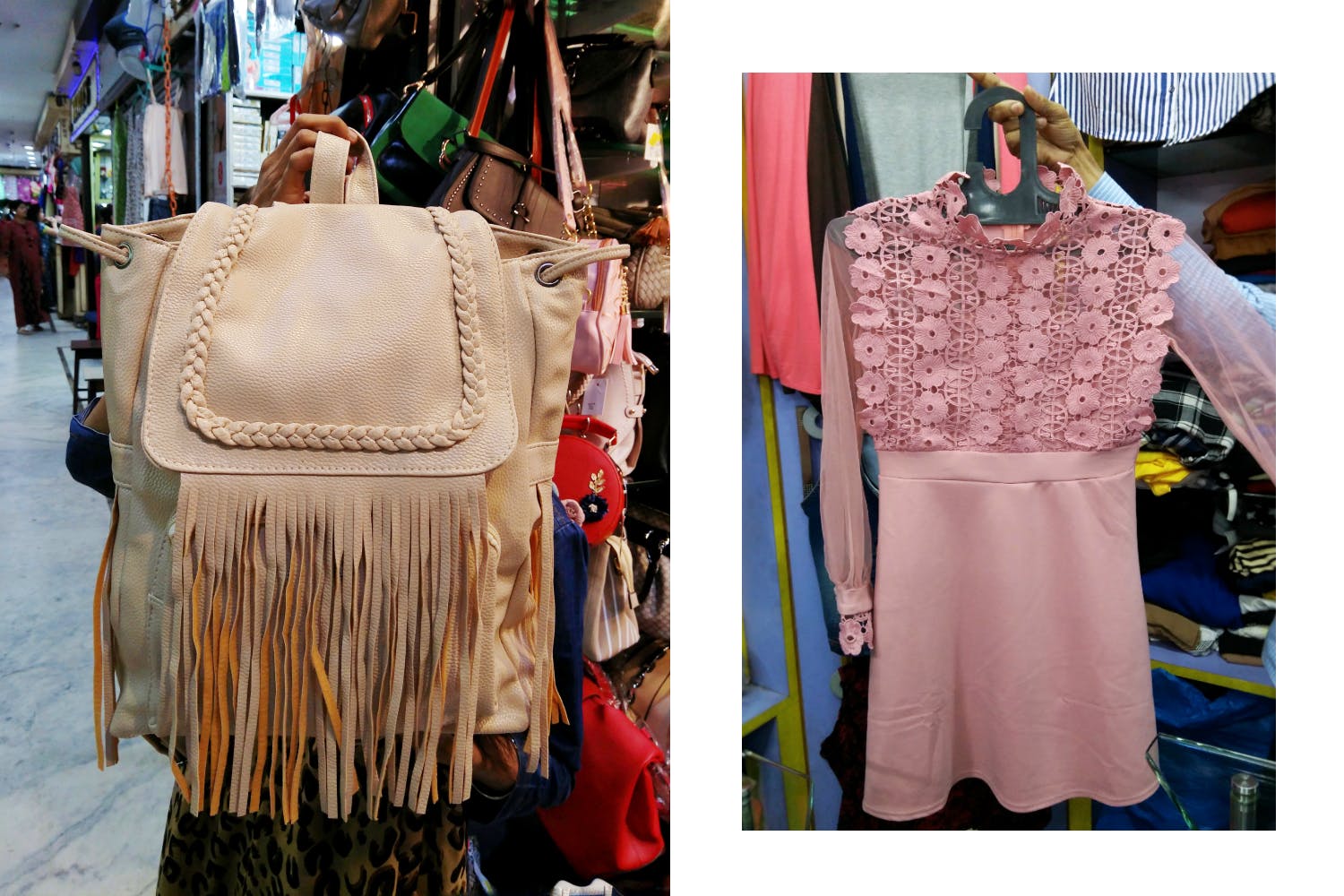 These Summer Trends Will Make You Runway-Ready (And They Won't Bust Your Wallet)
Whether it's Versace, Gucci or Tom Ford, runway trends are as hot as your Google weather update. We found several stores in Vardaan Market selling clothes similar to those featured in the latest fashion mags. You will have to browse a bit – they are in tiny shops with hillocks of clothes – but it's all worth it. Here's what caught our eye at the market.
Fringed, Pastel & Bold
No, it's not the hairstyle we are talking about but this spacious backpack in beige with fun fringes (INR 750) to add a touch of boho chic to your outfit. Choose a pastel dress to go with this. We found one with a floral bodice and sheer sleeves (the quoted price was INR 1,600 – but you can bargain). It's perfect for date night.
What Lies Beneath
If transparent plastic is extreme, sheer is what you're looking for. Caught between demure and sexy, we found a store on the top floor that stocks up on dresses with sheer details from INR 1,000. For those who are colour shy, we got your covered with this scarlet handbag for INR 700. Pair it up with a LBD to add some pizzazz to your outfit.
Rubber & Plastic
Let's not forget how the weather can dampen our fashionista spirits. Lucky for us, these uber cute rubber shoes in pastel shades (INR 250) are perfect for Kolkata Monsoons. Skip the fabric bag and take this neon, transparent pouch (INR 250) out on your next luncheon. It'll help you clean out those crumpled receipts.
Dazzle Me
It's easy to be taken aback by sequins this Summer. Although we rock head-to-toe sparkle every wedding season, one shies away in case of daily wear. We picked up these comfy Cinderella shoes for INR 250, a controlled glitter show. Find spiral earrings in gold – just like the ones Marie Clare was raving about in their April issue – for INR 200 at the corner jewellery shop on the first floor.
So, We're Saying...
You don't need to spend a million bucks to be runway ready. Just drop in to Vardaan and let your eyes seek out the treasure.
Comments