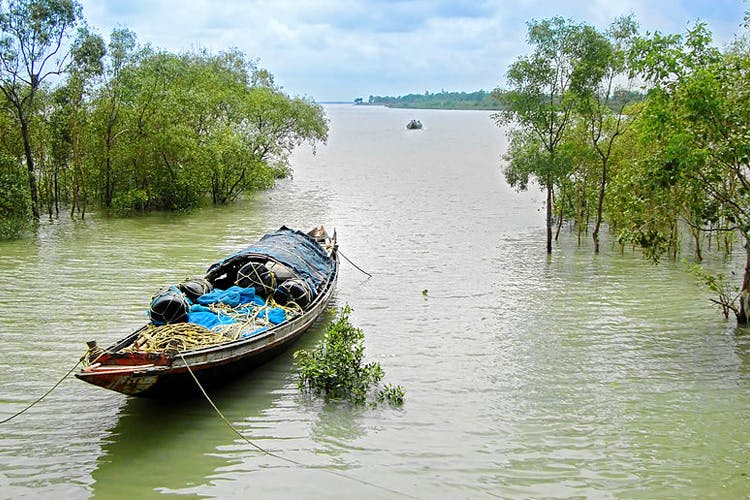 Explore The Sundarbans With These 5 Tours Starting From INR 2,500
One of the most unique locations in our country, the mangrove forests of the Sundarbans (and the most noble resident of the area, the Royal Bengal Tiger) are well known worldwide. Explore this UNESCO World Heritage site covering over 10,000 square kilometres of rich ecological diversity with these tour operators.
West Bengal Tourism Development Corporation Ltd
The Sundarban packages offered by the state's tourism department are a tad more affordable than the others, and reliable. They offer three packages (one night/two days, two nights/three days, two nights/three days and a safari tour for two nights/three days). Prices range from INR 5,280 to INR 6,600, and it is inclusive of food and refreshments, lodging, guide and permits. You get to experience a jungle safari, watch tower lookouts, and a cruise on a boat.
Tour de Sundarbans
These guys are three-time winners of TripAdvisor's Certificate of Excellence (in 2012, 2013 and 2014). They promise to give you "experiences" rather than ordinary "sightseeing". Their backpacker-style tours include various activities like interactions with villagers, dips in local ponds, and wildlife watching. They have three packages: one-day, one day/two nights, and two day/three nights. Prices range from INR 4,000 to INR 10,500, inclusive of permits, vehicle, food, guide, and lodging. You can book at their office at 4 Tottee Lane, near Sudder Street.
Sundarban Chalo
Another three-time winner of Trip Advisor's Certificate of Excellence, these guys are well-recommended by travellers. The tour prices range from INR 2,500 to INR 6,500. The special package also includes adventure boat rides and drama shows during the tour. Bookings can be made at the office (9, Chowringhee Lane, Inside Garib Nawaz Hotel, near the Indian Museum).
CrossIndia
They are known for funky and psychedelic boat and cruise parties. You can choose from two tour packages – the tour of the Sundarban National Park which is a one night/two day package priced at INR 3,800 per person (includes boat safari, visits to sanctuaries, local village tour and food, lodging, and permits); and the Pirates Party Sail, a one night/ two day package ideal for adventure addicts. For INR 3,500, you can enjoy a cruise upon a pirate-themed rustic boat, walk through CrossIndia's Barren Island, stargaze, listen to music, start a bonfire, go for nature walks and creek explorations.
Vivada Cruises
This upscale cruise offers a more luxurious vacation. You can opt for a three nights/ four days or a seven nights/ eight days package. The former is priced at INR 40,500 per person (deluxe room) and INR 45,000 (luxury room) and the latter is INR 81,000 and INR 90,000 for deluxe and luxury rooms respectively. The cruise sails through a number of beautiful, nature-surplus villages of the Bay of Bengal archipelago. You get a gym, library, an Ayurvedic treatment centre, a bar, and conference rooms with internet and fax facilities, and even an art gallery on board. Reservations can be done over phone, e-mail or at their office at 14, Southern Avenue.
Comments