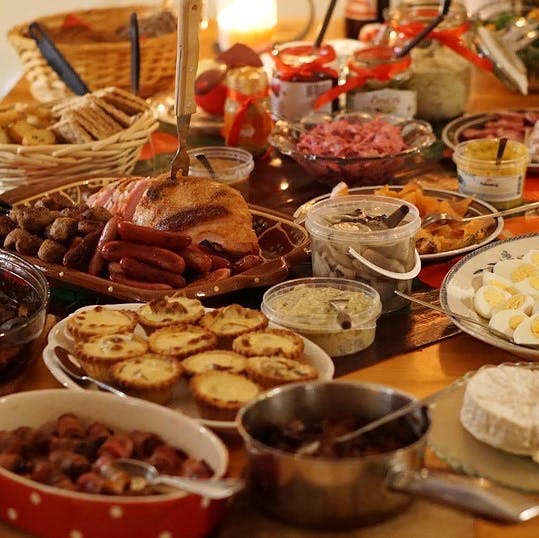 Jazz Up Your Weekend With These 10 Sunday Brunches
Trying to figure out how to have the perfect beginnings to your Sundays? Here's a list of Sunday brunches that you don't want to miss.
Ozora
It can't get any better than to bask under the sun with a panoramic view of the city skyline in front of you and enjoy a mouth-watering meal. Well, Ozora is offering you all of that. Head to this rooftop lounge to experience a lavish brunch with elaborate options such as a live Mongolian counter, a DIY salad stand, an array of starters from jacket potatoes to pan-fried garlic fish. The main course boasts of veggie pie and roast chili pork and much more. Then load up on sinful desserts like baked Alaska, choco pots and more. Get it all for INR 1,200. Start the alcohol supply to pair with your drink at an additional INR 800. The brunch will be available between 12 pm and 5 pm.
The Parking Lot
If the Saturday night's hangover is taking a toll on your Sunday, then head over to The Parking Lot for a special Hangover Brunch. Laze your way to this Park Street eatery, to binge on inviting dishes like mini burgers, TPL special chicken biryani, olive-stuffed chicken and much more. Good thing, the menu is wide in range, but not so wide in rate. In INR 1,500, you get to enjoy dishes from starters to dessert. Oh, and also sip on boozy drink without any extra charges. All of this is available between 12pm to 4 pm.
Afraa
Afraa is hosting Sunday brunches that is spread across two floors. This newly revamped eatery in Salt Lake is placing its starter section on the 6th floor with an array of mezze platters, salads, cured meat platters and more with drinks. The main course is set out on at the 7th floor, where you can choose from the likes of Dukka Spiced Fish and Persian rice, Moroccon Lamb Tangine and several more dishes. Desserts include tiramisu, apple crumble tart and more. At an unbelievable INR 1,399 you'll enjoy a lavish meal and unlimited spirits. Just remember to be there between 12pm to 3:30 pm
Deck 88
Right at the heart of the city, rooftop lounge restro Deck 88 at Astor Hotel is hosting Sunday brunches and its going to be one of those where you over-eat. At INR 999, they are providing an array of options starting from appetisers till dessert. They start off with three kinds of mocktails and the rest of your meal will include salads, grilled choices, pasta and Chinese faves and end with a dessert. They don't provide alcohol in this package, however, you can buy your alcohol, independent of the brunch cost. If you're coming with a large group (about 8-10 people), make sure to call one day in advance and book your tables.
Aura Sky Bar and Brewhouse
Sit in the open, enjoy a glass of bubbly and make your Sunday a better one. One of the latest addition to Kolkata's night scene, the Aura Skybar is a trendy new hot spot for the party people of Kolkata. But come Sunday this sprawling rooftop space opens up to host you for a sumptuous brunch. It's not any other randomly put together spread we are talking about. Aura will help you kick off your Sundays with bae or buds in the laziest and chill way with a spread that's complemented with boozy drinks. Load up on food that pairs well with your bubbly and soak up the sun on the rooftop terrace that also affords a stellar view. The spread is available between 12 pm to 3:45 pm and is priced at INR 2,399 ++
Novotel
Inform your family of a perfect family brunch plan and just take them to Novotel. At The Square in Novotel, enjoy a meal of multi-cuisine buffet, a separate buffet for kids and a range of specially-made cocktails. While you're at it, occupy yourself in their magic shows, play station, activities for kids and a live band. The spread is available between 12pm and 4 pm, and is priced at INR 1,449 (without alcohol) and INR 1,649 (with alcohol). The kids brunch is priced at INR 634 (plus taxes).
JW Marriott
JW Marriott is hosting an elaborate Sunday brunch with more options than you can eat at one go. The menu is multicuisine, and you'll get to stuff yourself on a humongous spread of veg and non-veg dishes. Soups, salads, starters, main course and dessert, you won't want to leave out anything. They also have fruits on their buffet menu. The brunch is priced at INR 1,699 without alcohol, INR 1,999 with alcohol (sparkling wine) and INR 2,999 with champagne. The brunch will be open from 12:30 pm onwards.

The Westin
If you can't decide what you want to eat this Sunday, go to Westin - they'll surprise you. With a altering menu for their brunches, they have a different dish assortment for each week. It ranges from Bengali to Asian, continental and others. Choose from a lavish spread of various live counters, a score of veg and non-veg appetizers, around similar numbers of main course options, salads, soups, chaats etc. Every brunch has a special roast or turkey on the menu. The brunch is priced at INR 1,599 (plus taxes) without alcohol. An additional INR 999 will open you to the free flow of alcohol from selected spirits. The buffet wil start from 12:30 pm onwards.
The Fatty Bao
The town favourite is hosting Sunday brunches, obviously it'll be sinful to miss out on this one. The Fatty Bao is having Sunday brunches and its everything we expected and more. Choose from sushis, baos, dimsums, soups and salads. Though their Sunday brunch menu will have their signature cuisine and style, there are certain new additions that you wouldn't want to miss. Start with their cocktails 'Beat The Heat' and 'Call Me Rose' (they are just so tasty!) and then go on to steamed tofu with crispy sesame lentils, prawn tempura sushi, California rolls and much more. This five-hour long brunch is priced at INR 1,400 (without alcohol) and INR 2,600 (with alcohol). The brunch is available 12 pm to 3:30 pm.
The Salt House
It may have a focus on healthy food, but The Salt House's spread works out for a wonderful indulgent Sunday brunch. Besides the marv rooftop to soak up the sun, there are truffled eggs, cream-cheese akuri on toast, avocado, spicy salsa tartine and meaty club sandwiches on the menu to make it a swell weekend. And if you accidentally pig out a lot, balance it out with their fresh fruits and fruit smoothies. Prices of the dishes start at INR 325, and the spread is available from 8 am to 12 pm.
Comments