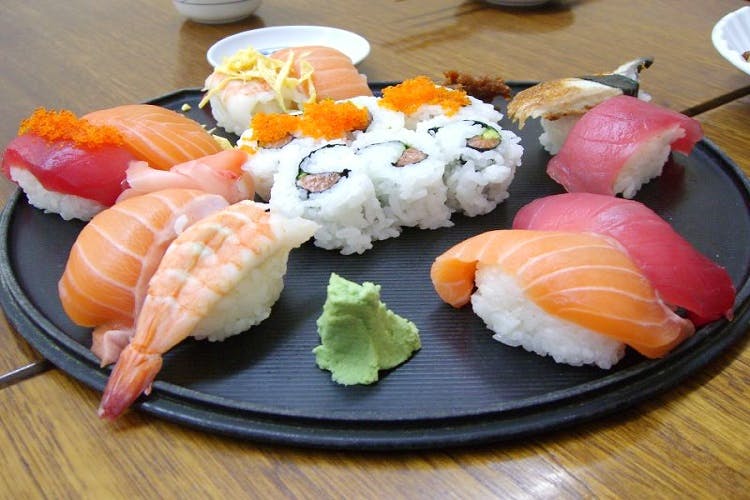 Love Sushi? Head To These 5 Restaurants In Kolkata
Love sushi? We've rounded up a list of the city's restaurants where you can get your hands on great sushi that are good for all kinds of budget.
Fuji at The Japanese Restaurant and Garden
This restaurant in Eco Park has flora, sculptures and even fragrance that will remind you of Japan. Our favourite is the hand-rolled Temaki. We love the pagoda and 'wishing bowl' where you can drop a coin and make a wish. Hunt out the Moon Gate – it's considered auspicious for newly-weds to walk under it. The veggie sushi starts at INR 180 and the seafood ones are INR 225 plus taxes.
The Sushi Oke
Expect cheap sushi that is made for the Indian palette at the Sushi Oke. It's located well – bang opposite the back gate of St Xavier's College – so the college crowd can pop in for a quick lunch/snack on a student budget. Try the Philadelphia roll which has smoked salmon, cucumber and cream cheese. They also have a variety of veggie sushi options starting at INR 250 a portion.
Zen
Park Hotel's Zen serves up Japanese food in a luxury dining set up. Enjoy your weekend with the Sunday Brunch that has extensive platters and choice from the Sushi Bazaar and Dimsum Market. Grab a seat near the open kitchen and watch your sushi being rolled and your noodles being stir-fried. This authentic gourmet sushi starts at INR 795 for one plate.
Fuji
Seafood lovers alert! This hidden gem is a haven for sushi fans. Try the sashimi platters to taste a variety of their best pieces. Pick one of the cozy corners and settle down. They have low seating areas so you get the traditional Japanese experience. Grab your sushi at just INR 200. And you cannot miss the power-packed Wasabi ice cream.
Aajisai
Kolkata's first sushi conveyor belt restaurant Aajisai has a sushi bar that is all automatic. They have a lot of variety in sushi that you can and must try. All you vegetarians out ther, opt for the Avocado Sushi or the Spicy Cheese Roll. Non-vegetarians can go for the Spicy Salmon or the Rainbow Roll. Watch out for their Nilgiri Hand-Made Sushi options. It's a must-try.
Comments