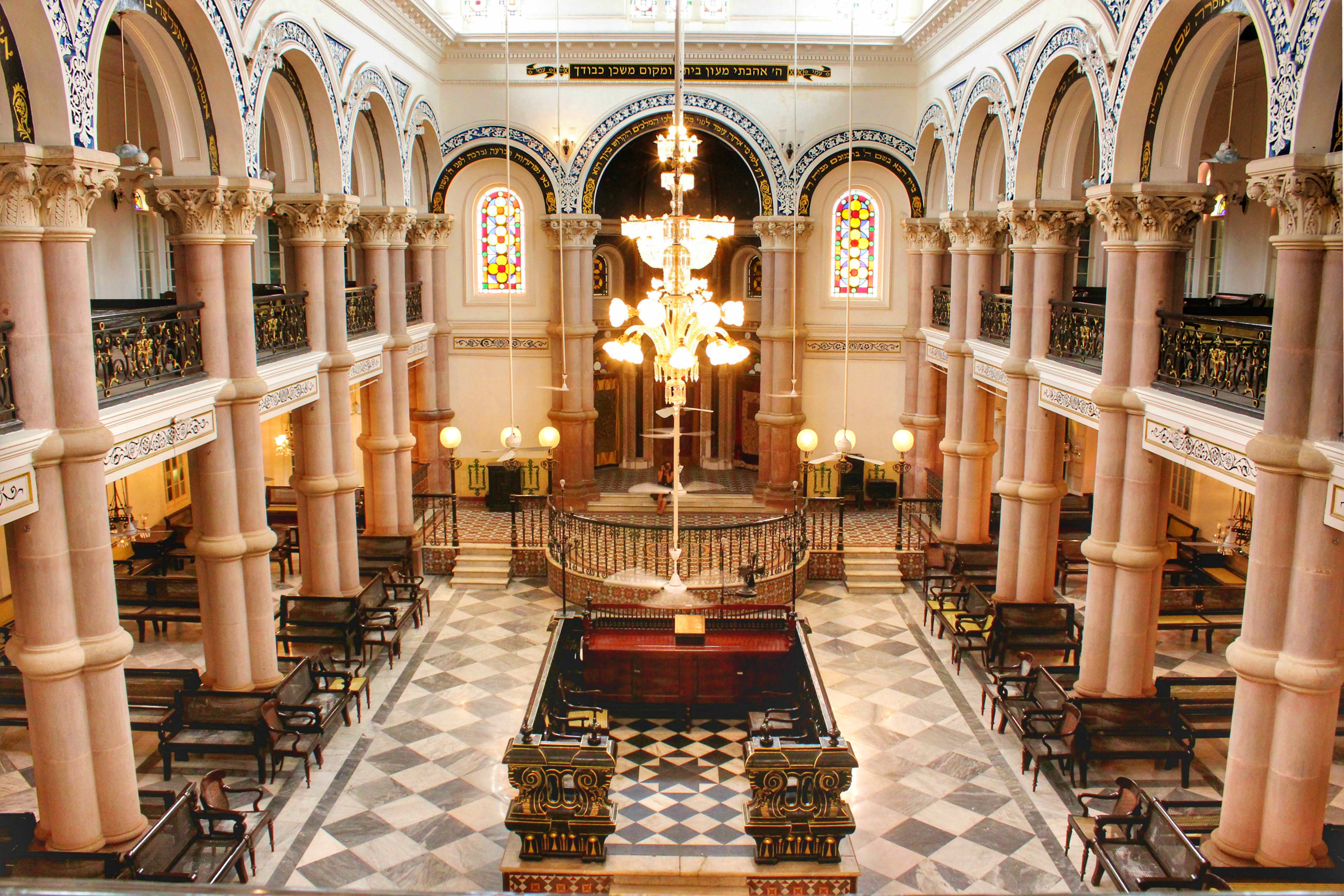 All Kosher: Get Floored By The Beauty Of Kolkata's Stunning Synagogues
When taking stock of our city's different architectural heirlooms from the colonial period, did you count our  synagogues? If not, then put it down on your must-visit list right away! And read on to know more about Kolkata's cultural diversity and of the historical significance of these last remaining synagogues.
Maghen David Synagogue
Right on the main road of Canning Street stands a Calcutta Renaissance style red building with a soaring clock tower. Many dismiss it as an old church, but this heritage building is in fact one of India's grandest and largest synagogue whose architectural brilliance will mesmerise you, once inside. Built in 1884 by EDJ Ezra, the Star of David above the imposing wooden doors leads into the sanctuary of Maghen David Synagogue (Hebrew for Shield of David). The black-and-white chequered nave opens up to an ornate interior that's lined with floriated columns and curved arches that bear Hebrew inscriptions. The stained-glass windows, the colourful tiles of the raised alter, the painted deep-blue and gold stars dotted apse and the vintage Belgian-glass chandeliers—all make for a gorgeous scene that is both awe-inspiring and difficult to forget.
Neveh Shalome Synagogue
As records say, the first Jewish immigrant in Calcutta was Shalome Cohen, who came to Calcutta in the 1790s, and with him came other Jews from the Middle East. With the Jews growing in number, there rose the need of a prayer house, and Naveh Shalome, the first Baghdadi prayer house in India was formed out of a converted residence. Built in 1831 by Shalom Obaidah Ha Cohen, Naveh Shalome stood in Canning Street until it was demolished in 1883 to make room for a bigger synagogue (Maghen David). But in 1912 the synagogue was rebuilt again, with fairly simple interiors. The heavy wooden doors open up to a simple rectangular synagogue sanctuary that leads up to the tebah (raised platform to read the torah) and the alter behind it. Now restored after several years of neglect owing to the dwindling Jewish community, the synagogue now houses a small museum in its gallery.
Beth-El Synagogue
This pale-yellow synagogue with exterior appliques of the Star of David and the menorah, stands opposite the Pollock Street Post Office. Though smaller than Maghen David, Beth-El's impressive blue and white interior is lined with tall columns, decorated with stained-glass clerestories, intricate wood work and antique glass chandeliers. The vintage free-standing wooden mesh benches and the large louvre windows add to the charm of the place.
Anything Else?
You can buy paintings and posters of these beautiful heritage places at the synagogues. Also, do remember to take prior permission before you plan a visit. You can write to Ms Cohen at amc1946@gmail.com.
Comments