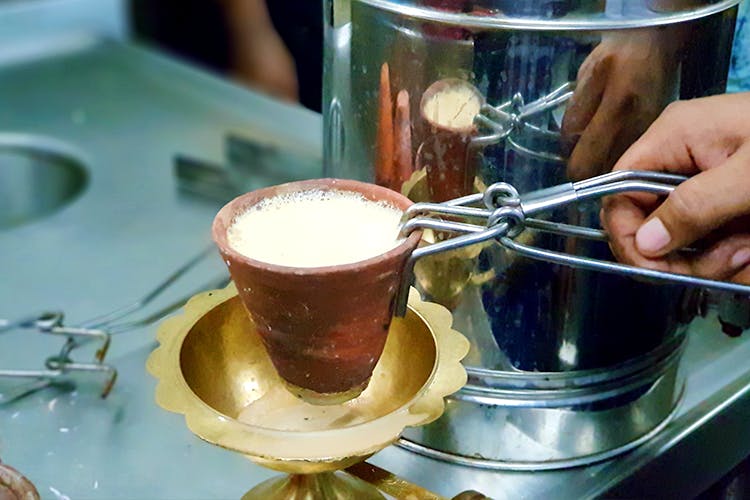 Chaiholics, Head To These Places To Add Some Tandoori Tadka To Your Chai
Have you riden this steamy hype train yet? This is a unique tea-making process where clay pots or kulhads are roasted in a pre-heated tandoor oven. The semi-cooked tea is then poured into the extremely hot kulhads to bubble over which lends the chai its smoky flavor. It is then served in another clean clay pot. Nuff of process detailing, time to take a look at these places serving the best tandoori chai in town.
Eighty8+ Kafe
Bhowanipore's Eighty8+ Kafe is known for serving steamy, earthy and yummy tandoori chai in town. Located just next to Rabindra Sadan Metro Gate no. 4, this quaint café is always flocked with youngsters enjoying their piping hot cuppa. Their tandoori chai has a good smoky flavour which is served in an earthen kulhad with the right amount of desi swag.
Desi Thela - Tandoori Chai & Street Food
A unique shop, Desi Thela serves delicious traditional style chai and variety of street foods. With their couple of outlets, one in Triangular Park and another in New Alipore, this joint has won over many hearts with their sizzling tandoori chai. On a good note, they are open every day from 5am to 10pm.
Kafe 9
If you are looking for some luscious kebabs and tandoori chai combo, then there's no better place than Kafe 9 opposite Acropolis Mall. Priced at just INR 15, their tandoori chai is heavenly and can be your perfect companion over a late night adda with your squad.
Tandoori Chai And Snacks
It's a proper chai ki tapri known for serving garma garam chai with snacks. Their main attraction of pouring tea in tandoor roasted kulhad shouldn't be missed at any cost. Priced at INR 20, this is an ideal spot for all chai-vinists amid some evening adda and gossip.
Comments