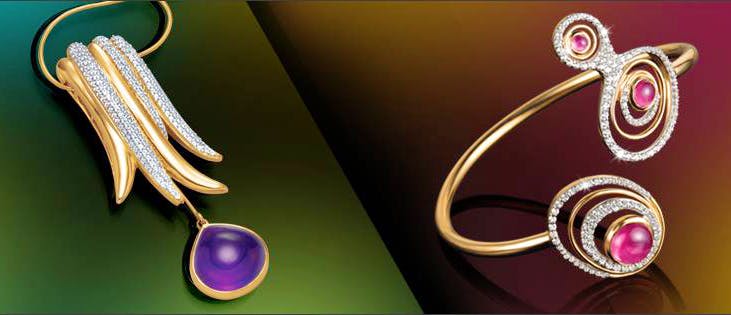 Head To Tanishq In Camac Street For The Best Gold And Platinum Jewellery
Shortcut
Whatever be the occasion – wedding, party or event – Tanishq always has some of the best jewellery available to suit your needs.
What Makes It Awesome
Known for its craftsmanship, innovative designs and excellent product quality, Tanishq's collections are unique and reflect their understanding of the changing needs of a woman.
They offer a varied range of gold and platinum jewellery collections – rings, nose pins, bracelets, necklaces, neckwear sets and pendants among other things. These collections are in gold, diamonds, kundan, polki and precious stones and cater to all kinds of occasions and requirements. The three differentiated sub brands – Rivaah, Mia and Aveer – also offer a variety of options in bridal, contemporary jewellery as well as different options for men.
Rivaah has an exclusive range of bridal diamond and studded creations catering to every community in India to make you look like a dream on your D-Day. Mia is the perfect sub brand for women who are looking for contemporary designs and office/party/event friendly jewellery options. It recently unveiled the Birthstone collection inspired by individual zodiac signs.
They also launched Aveer - an exclusive range of jewellery for men - a couple of years ago. It offers a classy range of rings, bracelets, chains, ear studs in gold, platinum and diamonds at Tanishq stores across India.
A blend of traditional values combined with a modern approach, Tanishq exudes creative brilliance to suit the jewellery needs of every woman. They have exclusive collections as well like the Gulnaaz (jewellery in the shape of petals), Mirayah (gen stones combined with the beauty of diamonds of pearls), and Lavanyam (jewellery catering to South India) collections.
They also have exclusive Jodha Akbar and Padmaavat collections – celebrating the Mughal's appreciation for the finer things in life and the Rajput's love of beauty, elegance and details. Featuring precious and semi-precious stones like uncut diamonds, emeralds, rubies, pearls, onyx, turquoise and garnet, the collection has been crafted by kaarigars familiar the ancient art of Kundan and Meenakari that has been passed down through centuries.
Prices for earrings start at INR 1500, nose pins at INR 1,100, pendants at INR 3,700, bracelets start at INR 21,000 and can go up to INR 92,000, and neckpieces start at INR 20,000 and can go up to over a lakh. Prices for Aveer's collection starts at INR 20,000
Pro-Tip
You can exchange non-Tanishq gold at all their stores across India.
Ask Devyani a question