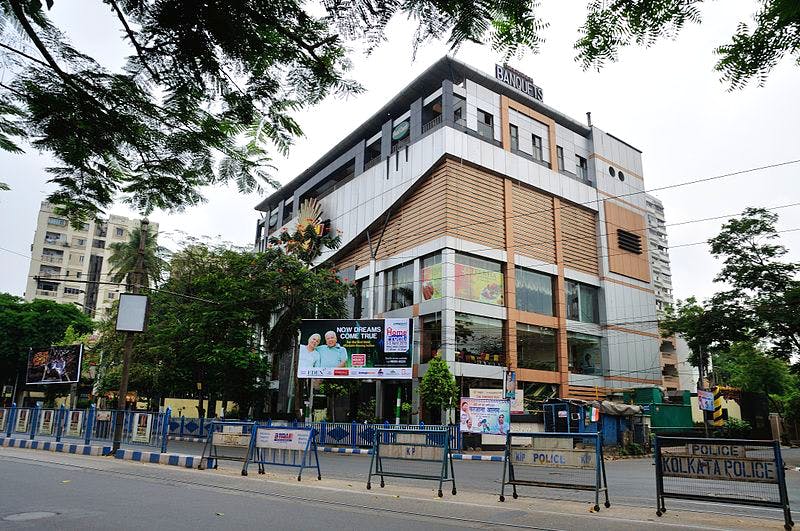 Visiting Ballygunge Anytime Soon? Here's Our Guide To Some Fun Things That You Can Do In The Area
Live in and around Ballygunge or planning to visit the area anytime soon? Then check our guide to what you should do whenever you visit the area. Be it shopping, food, art galleries, spa sessions or any other activity, there's mots in Ballygunge that you can do. Read on to know more.
Visit Quest Mall
Head to Quest Mall if you're in the mood to splurge a little. The mall hosts most of the luxury brands that you can think of. From Gucci and Burberry to Jimmy Choo and Michael Kors, this mall has it all. Satiate your hunger at the food court (we specially recommend the Chinese counter!) or coffee shops (Q33 is where you should be) or restaurants here serving a wide selection of cuisines or just party the night away at The Irish House. There's Bombay Brasserie that serves delish Indian food. Head to Serafina for Italian or Chili's for Mexican. Pamper yourself at AN John or get nail art done at Inksignia. Wanna watch a film? Worry not. There's INOX to satisfy the movie buff in you!
Shop Till You Drop
There are loads of other shopping stores and boutiques in the area that will please the shopaholic in you. Whether its clothes, shoes, accessories or home decor, the area offers something for everyone. Plus, there's the famous Ice Skating Rink that hosts exhibitions every now and then. Head to Weavers Studio for sarees, scarves and fabrics or Rohan Arora for embroidered shoes. You'll also find a lot of small, old shops selling stunning shawls, fabrics and accessories. There's also Deshaj Store & Cafe that we think you must drop by.
Time To Eat!
No outing or shopping spree is complete without food and there's more than enough places that Ballygunge offers to satiate those crazy hunger pangs. For traditional Bengali food, head to the iconic Bhojohori Manna or 6 Ballygunge Place. Nawarrah, Mumbai Local are great for Indian. Let your hair down at Tram Deepo or head to Zee's Coffeeshop or Paris Cafe for excellent coffee and mouth-watering desserts.
GD Birla Sabhaghar
For all you theatre lovers, there's the iconic GD Birla Sabhaghar that, time and again, plays host to wonderful plays, musicals and stand-up shows. From Naseeruddin Shah and Ratna Pathak Shah to Rajat Kapoor and Vinay Pathak, all have performed here. They also host the Sabhaghar Theatre Festival every year where theatre stalwarts like Lilette Dubey and Kalki Koechlin have performed. The fest also includes street plays, musicals, flash mobs, university productions and lots of other fun stuff.
For All You Science Nerds
All you science geeks, head to the Birla Industrial and Technological Museum for man-made marvels and huge machines. They also organise a lot of shows, exhibitions and educational programmes and activities throughout the year. All of it is specially curated to cover all topics related to science and technology.
Calling All Art Lovers!
If art is your happy place, then check out Chitrakoot Art Gallery or the Centre for International Modern Art (CIMA Art Gallery, silly!) for works of renowned artists from across the country and world. The latter holds several art exhibitions, seminars and interactions with nationally and internationally renowned artists, scholars and directors throughout the year. Chitrakoot displays artworks of modern artists as well as a lot of Bengali art.
Gariahat Market
Shopaholics cannot leave the area without exploring Gariahat Market. This place is a shopping paradise. There's nothing that you won't find here and, that too, at really cheap rates. Looking for something that's sasta, sundar, tikau? Your search ends here. Whether it's menswear, womens wear, jewellery, shoes, accessories, bags, you'll find it all in this market.
How About A Spa Session?
Switch off that phone, get into a robe and get yourself pampered with a relaxing spa session at Solace Day Spa & Wellness Centre. They offer gym facilities and self-defense training courses as well. All you fitness freaks! Solace holds pilates sessions as well if you wanna work on strengthening your core area and muscles. Located in a quiet lane, this is the best place to re-energise yourself. The studio is basically in a bungalow that has been revamped into a fitness centre and spa.
Get Inked At Mapui's
Looking to get that tattoo for a long time but just not being able to? Well, get it done now at Mapui's in Ballygunge. It's completely hygienic and safe, we are told, and are among the best tattoo parlours in the city. They also do hair and skin treatments and offer salon services. Make sure you book in advance.
Birla Mandir
A visit to Ballygunge is incomplete without dropping by this architectural marvel. Birla Mandir is synonymous with the city's cultural heritage. With towering domes and intricate artwork, this white marble temple took 26 years to complete. We suggest you visit during dusk as the place is lit with diyas and chandeliers with chanting of hymns and soft music to give you company. If you're looking for some peace, this is where you should go.
Comments