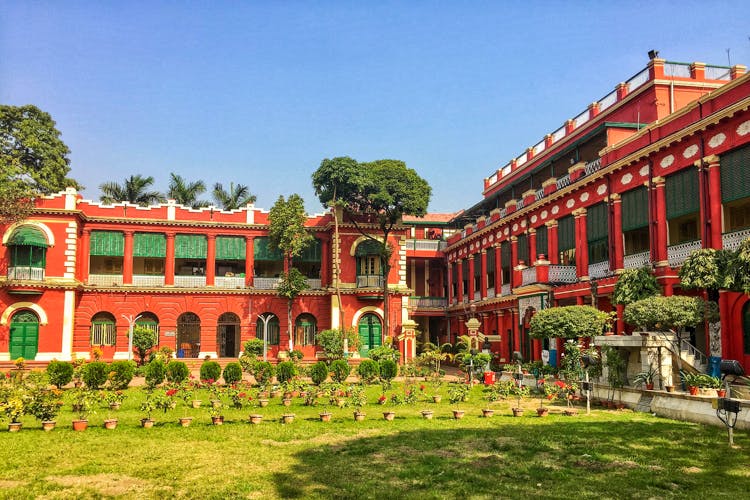 Move Over Popular Tourist Spots! Check Out These Top Heritage Buildings In Kolkata
Kolkata was initially the capital of the British Raj, which means that several structures constructed by them during the pre-Independence era still stand strong along with other iconic ones in the city. From rajbaris and museums to churches and palaces, our City of Joy boasts of many beautiful heritage sites that you must check them out.
Writer's Building
This iconic structure built in late 1770s has stood witness to the changing times (and rulers) of the city and continues to do so. It's currently the Secretariat building of the state government but was earlier home to junior clerks or 'writers' of the East India Company. With a Greco-Roman exterior, the building has a 128-ft long verandah with columns, iron staircases, porticoes, statues of Greek gods, sculpture of Roman goddess Minerva and a cluster of other statues atop the structure.
Sovabazar Rajbari
Sovabazar Rajbari is another iconic heritage building that deserves a visit especially during Durga Pujo. It's one of the oldest royal houses in Bengal. Built by Raja Nabakrishna, the building is famous for its grand Durga Pujo celebrations and also for retaining Bengali culture and tradition at a time when European culture dominated the country and city.
Putul Bari
Ever heard of Putul Bari? No? It is considered to be one of the haunted houses in Kolkata! Located close to the Sovabazar Jetty, Putul Bari was once a stunning aristocratic building with archaic statues that was eventually converted into a warehouse during the British era. It is said that the affluent owners would rape women and murder them here to cover up for their evil deeds, which is why there's a rumour that the place is haunted by the souls of these tortured women.
National Library
The largest library in India in terms of volume, the National Library in Alipore boasts of over 21,00,000 books including digitised books, maps, periodicals, manuscripts etc. Best part? Membership is free of cost. Even if you aren't a reader, just drop by to take a stroll at the 30-acre lush green gardens. The area is also believed to be haunted after Archaeological Survey of India discovered a hidden area rumored to have served as a torture chamber during the colonial era.
Indian Museum
Did you know that the country's largest and most-visited museum is in Kolkata? Yes. The Indian Museum is a popular attraction and also boasts of a 4,000-year-old Egyptian Mummy, believed to be a girl. You'll find it in the hall where Egyptian artefacts are kept. History buffs! Watch out for the relics from the Indus Valley Civilisation.
Fort William
Fort William was one of the first buildings to be constructed by the British in the city. Located on the eastern banks of the Hooghly River, Fort William was named after King William III and is spread over 70 acres with buildings overlooking lush green gardens. It was initially used to house prisoners but now belongs to the Indian Army and is also the headquarters of the Eastern Command.
Raja Rammohan Roy Memorial Museum
Raja Rammohan Roy's house on 85A Amherst Street was earlier known as the Simla House. It has now been restored by Rammohan College and turned into a museum, definitely worth a visit. Dive into history with the rich collection of books (it's got a library too!), pictures, panels, sketches, paintings and other memorabilia. They also have a replica of his death mask that was originally bought by Shivnath Sastri from Bristol. There's lots to see and learn here.
Jorasanko Thakurbari
No trip to Kolkata is complete without visiting Nobel laureate Rabindra Nath Tagore's house. The Jorasanko Thakurbari is a must-visit for tourists and city folks alike. You can also visit the room where he breathed his last. Most of the house has been turned into a museum and is quite well-maintained. You'll find artifacts related to Tagore from across the world as well as memoirs, paintings, photographs, handwritten letters, books and a lot of other valuable belongings.
Ramakrishna Mission Swami Vivekananda's Ancestral House and Cultural Centre
Swami Vivekananda's house located on Vivekananda Road is a museum and cultural centre. It boasts of a research centre, memorial shrine, library, an English centre, a computer training centre, and a charitable dispensary. The Ramakrishna Mission also hosts seminars and conventions on a regular basis. Those of you who've admired Swami Vivekananda since childhood or grew up listening to his stories must visit this place.
Toong On Church
The two-storied Toong On Church located in Tiretta Bazaar Street - the city's very own Chinatown - is a must-visit for all those interested in history and even otherwise to get a glimpse into the city's rich and diverse cultural heritage. With brick red exteriors, the Toong On Church is an architectural marvel dedicated to the Chinese War God Kwang Ti. The heritage building was also home to the city's first Chinese restaurant called Nanking on the ground floor but that sadly, shut down.
Comments