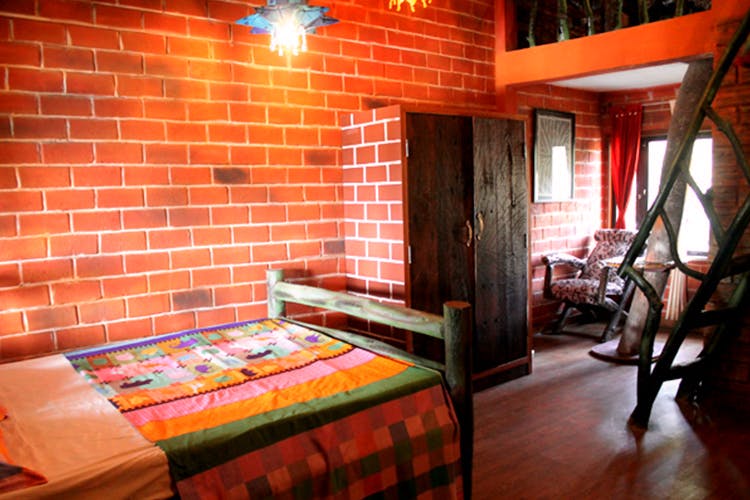 Spend A Romantic Day Hiding Out In A Tree House Just 1.5 Hours Away From Kolkata
Shortcut
Nine bighas of land, ponds, green fields, gardens, cottages and treehouses — Bawali Farmhouse in Budge Budge is where you need to spend the weekend.
Great For
Solitude, Nature Immersion,
What Makes It Awesome
Live your childhood fantasy about spending a couple of days camped out in a treehouse at the Bawali Farmhouse. Surrounded by greenery from every angle, it has four ethnic cottages and three gaachhbari cottages (aka tree houses)! Perched on trees, the tree house cottages give you a stunning view of the surrounding water bodies. There's even a pretty little balcony attached to the room which overlooks the lush gardens – perfect spot for cuddling up with a book. Some of the trees even pass through rooms and balconies. There are three tree house cottages you can choose from — Bonobithika, Bonobitan and Bonochhaya. What's awesome is you don't have to disconnect from modern life completely. Watch TV and snooze on comfy beds in AC rooms in the tree house! The three-bed cottages come for INR 2,700 per night with an AC mode and INR 2,200 per night without. Budge Budge is pretty accessible from the city – it's less than an hour and a half drive away. The 25km distance is best covered on road although there are some trains available.
Bawali is steeped in history. The origin of the name "Bawali" is usually traced to a local tribe of the same name residing in this area around 500 years ago. Thea earliest residents of the area, the tribesman were honey-collectors and wood cutters.
Pro Tip
Don't want to check in? You can even head to Bawali Farmhouse to enjoy a day outdoors with the fam and have a picnic. They have a picnic package inclusive of meals that lets you spend over 8 hours relaxing in the greenery. Fishing, bird watching, take a walk through nearby villages or find a secluded spot and cuddle down with a book — there's plenty and more to do here.

Comments