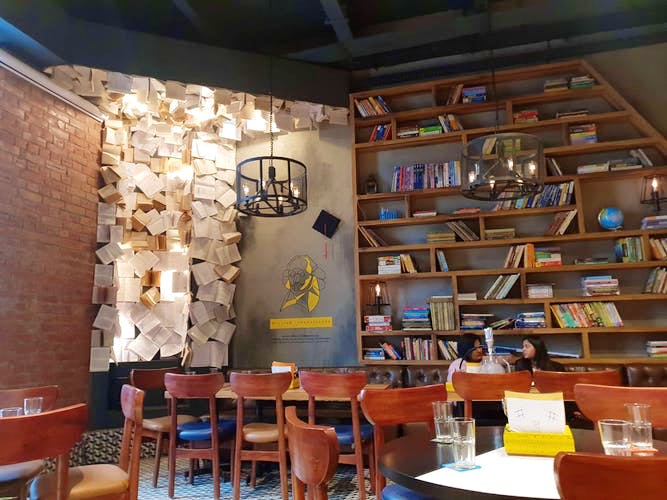 Eat Inside A Prison Or On Board An Aircraft At These Unique Restaurants In The City
Bored of the run-of-the-mill restaurants with normal, dull interiors and food? Check out our guide on a unique, unusual ones in the city for a slightly different kind of dining experience. From prison like settings to in-flight experiences, these places offer it all.
Kaidi Kitchen
Head to this vegetarian restaurant on Camac Street for full prison-like feels. It's a luxurious fine-dining jail. Take a seat inside one of their jail cells and enjoy your meal surrounded by jailors and prisoners (the staff is dressed in prison attire) under dim lights with handcuffs hanging from the ceiling. There's also a jail cabin for a more private dining experience.
The Royal Bengal Tiger Cafe
We found an unusual tiger-themed cafe in Tollygunge that we think you must visit. It's a vibrant and colourful space with walls filled with paintings and pictures of the big endangered cat aimed at raising awareness on them. There's also a vast collection of books on tigers that you can browse while munching on sandwiches and fries.
Please Don't Talk
This place in Hungerford Street will literally take you back to your school days with its faux library, huge chalk board, a glowing notice board, the smoking zone infirmary and staff dressed in school uniform. This is the place to go to with your loud gang and relive childhood memories. There's graffiti done on walls. The drinks are all molecular gastronomy inspired while tables are topped with peppermint cigarettes and origami.
Fly Kouzina
If, like us, you hate flight food,then your woes end here at Fly Kouzina in Salt Lake. Welcome aboard the all-vegetarian restaurant Fly Kouzina that's gonna take you on a culinary flight journey like no other. Go for the Tandoori Malai Brocolli or the Subz Dum Biryani. And, of course, how can you board a flight without collecting your boarding pass with your seat number mentioned on it?
Fusion Fantasea
This place will give you those pirate feels with the walls painted with huge portraits of Jack Sparrow and Davy Jones from Pirates of the Caribbean - Dead Man's Chest. The menu is also full of tribal and coastal cuisines. They also serve Goan, Mangalorean and Maharshtrian dishes. Try the delish Murgh Ghee Roast or the Bamboo Chicken for a sheer gastronomic delight.
Blue Nile
Dine with the pharaohs of Egypt at this restaurant in Rajarhat. You'll find a giant mural of Tutankhamun, hieroglyphics on the walls, frescoes depicting Egyptian gods and goddesses and golden decor across the length and breadth of the restaurant. Get treated like an Egyptian royalty as you savour a scrumptious meal here.
Comments