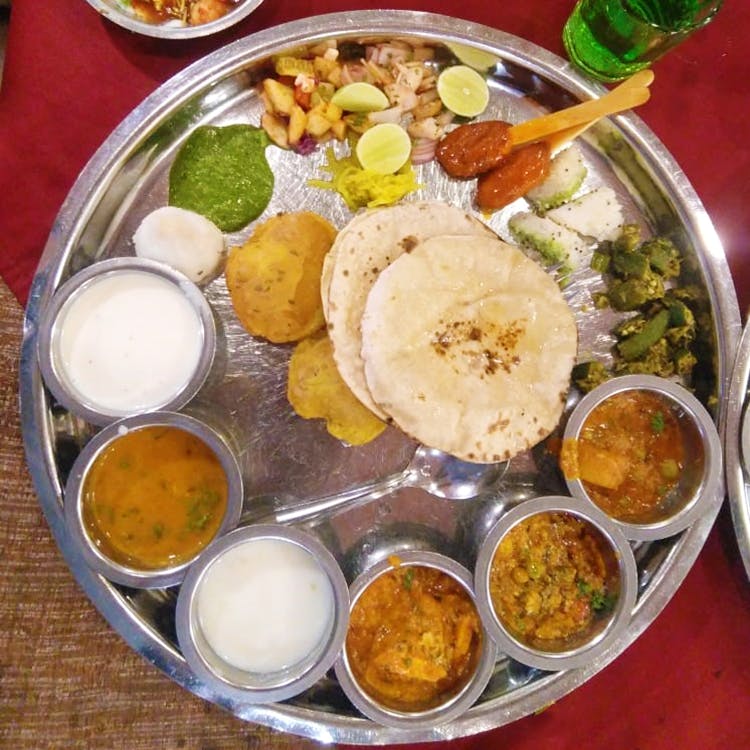 Molecular Dhoklas To Truffle Cheese Dosas: 7 Must-Try Vegetarian Restaurants in Kolkata
Vegetarian restaurants were not so popular in the city till a few years ago. But the city which enjoys its maachh-bhaat, biryani and Tangra Chinese, has slowly made room for vegetarian fare. Keeping in mind the classics and some newbies, here are seven restaurants that are a must-visit.
Rajdhani Thali
This is the best option if you are looking for a complete meal without wasting time choosing. They serve authentic Rajasthani and Gujarati thalis at affordable prices. There's a Jain option available as well. On Tuesdays, these thalis are on offer for only INR 250 (plus taxes), which is a steal deal for those who have a big appetite but also want to watch their wallet. From chaas, dhokla, dal baati churma, to colourful chutney, pulao and desserts Rajdhani Thali is for a wholesome meal.
SpiceKlub
With over a 100 items in the menu, SpiceKlub is popular as the destination if you want to experience molecular cuisine. The place serves fusion North-Indian food. The otherwise mundane, everyday recipes and street food items are given a complete makeover to make it appealing not only to the tongue but also to the eyes. Be it the Bombay Pav Bhaji Fondue, the Gujarati Deconstructed Dhokla, the Delhi Papdi Chaat or the Northern Chole Kulcha, each creation is not to be missed.
Crave Foodworks
Aptly named, Crave Foodworks makes you crave for more. It's a perfect place to go for a family meal. Offering a plethora of cuisines – Chinese, Thai, Italian, Mediterranean, Mexican, all under the same roof. The Papaya Salad and the Pad Thai Noodles are to die for if you are looking for vegetarian Thai food which is rarely found in this city. Conveniently located on Southern Avenue away from the always-honking zones, try this multi-cuisine restaurant.
Jyoti Vihar
This place is all about nostalgia. While the food scene is fast changing in the city, time has stood still at Jyoti Vihar. And that's what we love about this place. The same look and feel, menu, prompt service and of course, the quality of food. It is a must-visit for people who visit Calcutta on a holiday as well. Apart from the authentic South-India dishes, the variety of flavourful chutneys draw all and sundry (even hardcore non-veg lovers) to Jyoti Vihar.
Kaidi Kitchen
The first veg restaurant that had a theme – a prison! Walk into this restaurant and you are immediately put behind bars. They even have handcuffs ready. Here you are greeted by jailers and the prisoners serve food. On offer is flavours from across the globe – India, Italy, Mexico and China. Go for their Kaidiyon ke pasand ka laddoo (litti chokha), Dahi ke Sholay (available in Jain option too), Mexican Sizzling Steak & Salsa, Cannelloni Florentine, to name a few of the must-haves.
Nawarrah Fine Dine & Lounge
Located bang opposite Quest Mall in Ballygunge, Nawarrah serves Indian, Chinese, Italian, Continental and Mexican cuisines. It's a fine dine restaurant with vintage-y decor and courteous staff. If you're visiting, don't miss out on the Chilli Garlic Noodles, Spring Rolls and Amritsari Chole Kulche. It's to-die-for!
Balwant Singh Eating House
How can we possibly leave out this gem of a place when it comes to tasty vegetarian food? This wonder located in Bhowanipore serves up a delish Punjabi fare and is open until wee hours of the morning. Try the Paneer TIkka, Dal Makhani, Kachori-Sabzi. We're hungry already!
Bombay Shiv Sagar
This pure vegetarian place on Camac Street is almost always crowded. It's the perfect place for a fun family lunch or dinner. They serve Jain food too. Choose from South Indian, North Indian and Chinese cuisines. They serve fast food as well (think chaat, pav bhaji, chola bhatura!).
Anand
Another gem of a place in Chandni Chowk serving an amazing South Indian affair (majorly). This has been a crowd favourite for decades with large queues outside even today. Their dosas and chola bhatura are must haves. Try the Upma and Pav Bhaji as well and don't miss out on the Filter Coffee.
Comments