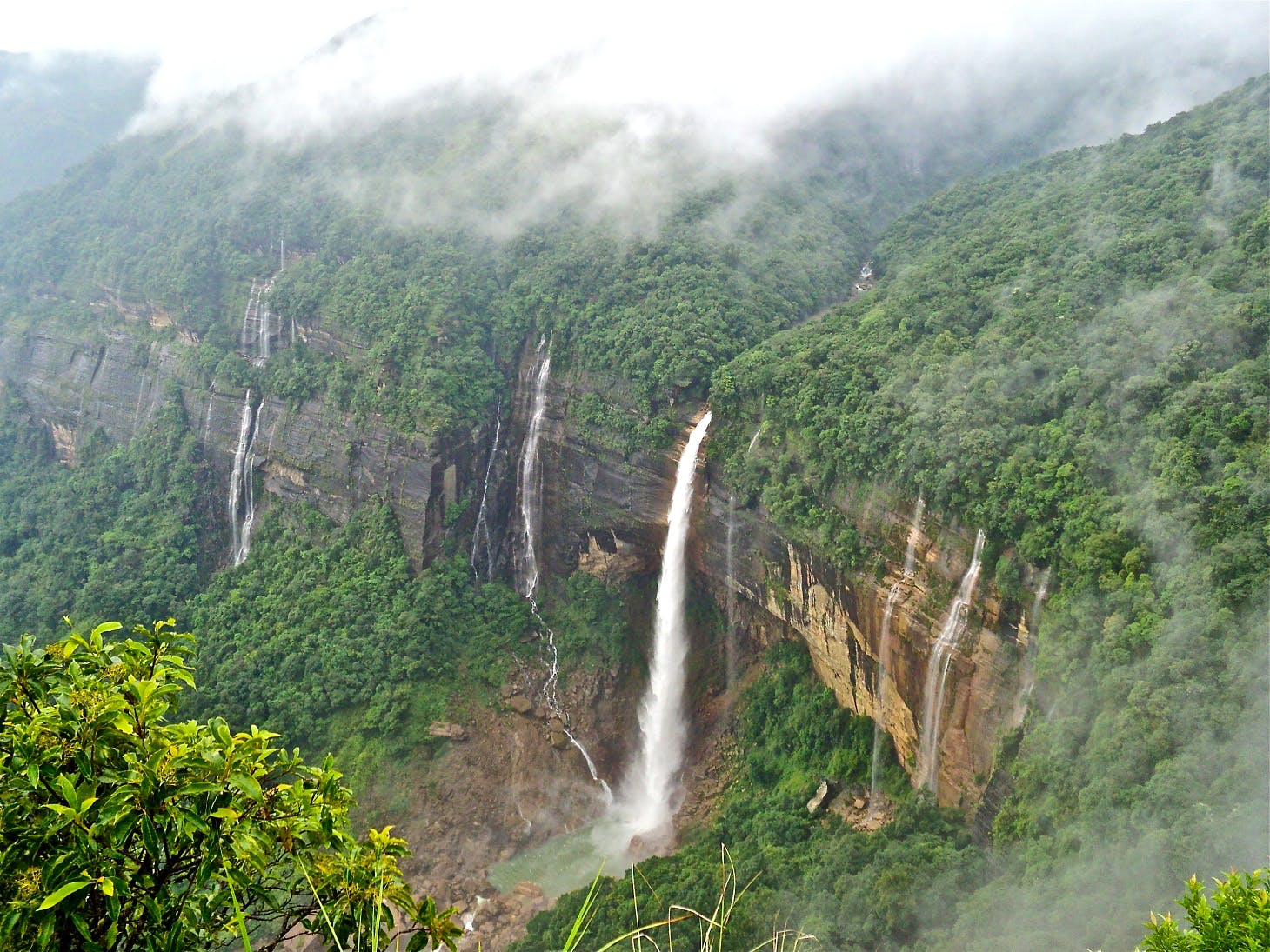 Take A Break And Head To These Stunning Waterfalls In The Northeast
We all know how beautiful Northeast is. A lot of us who have visited can vouch for it. It's a paradise for those looking to get away from the chaos of the city. Besides mountains, dense forests, lush green valleys, Northeast is also known for its majestic waterfalls that are a treat to the eyes. We've made you a list of some of the best ones that you have to visit. Read on to know more.
Elephant Falls
Located on the outskirts of Shillong, Elephant Falls is a must-visit if you plan on travelling to Meghalaya. It was named by a British officer after a rock that resembled the shape of an elephant. It's a three-step waterfall that was initially named 'Ka Kshaid Lai Pateng Khohsiew' by the locals representing the same but was changed to Elephant by the officer because he found it difficult to pronounce it. It's a photographer's paradise with gushing waters and picturesque views.
Seven Sister Falls
The Seven Sisters Waterfalls is one of the highest in India and really captivating during rains. Located in East Khasi Hills district, this waterfall comprises seven different falls arranged side by side and looks breathtaking even if you see it from a distance. Also known as Nohsngithiang Falls, it plunges down in seven stages through lush greenery and rugged cliffs. All you photographers, take a spot on the footbridge to click that perfect picture.
Akashiganga Waterfall
Akashiganga Waterfalls is apparently the largest in Asia and also a popular picnic and pilgrimage spot among tourists and locals alike. The view will blow your mind and you can also take a dip in the holy waters here. Legend says that when Shiva's wife Sati set herself on fire, Vishnu used his Chakra to cut open her head and body. Locals believe that her head fell on this spot which is why Shiva built a small temple there!
Vantawng Falls
Located amidst dense forests of Serchipp district in Mizoram, this waterfall plunges down through bamboo groves and falls into a gorge, which is why you can't get too close to it. It is the highest (we are told) in the state. There's also a vantage point from where you can get a good view of the falls.
Triple Falls
You just cannot miss the Triple Falls in Nagaland if you're visiting the place. It has got three waterfalls that form a natural swimming pool. So you can actually get into the waters and enjoy a nice swim instead of just viewing it from a distance. The dense forest, surrounding the falls, is a haven for birdwatchers and trekkers.
Kakochang Falls
These falls in Assam are located just half an hour away from Kaziranga National Park and cannot be missed. The path to the falls is a dream for all adventure junkies. You go up to a point and then start trekking towards the falls. It's a long one so make sure you carry all your necessary supplies.
Kanchenjunga Falls
The Kanchenjunga Falls in Sikkim originates from the mighty glaciers of the Kanchenjunga peak and offers views that are sure to leave you stunned. It also offers a lot of rope activities for adventure junkies.
Nohkalikai Falls
Nohkalikai Falls is believed to be one of the tallest waterfalls in India located close to Cherrapunji in Meghalaya. The gushing waters emerge from the lush greenery around and fall off a cliff on to rocky terrain below. Legend says that a widow named Likhai was a single mother until she remarried. The husband cooked her child and fed her (bizarre right!). When she found out about the same, she jumped off this cliff.
Dainthlen Falls
Don't be fooled into thinking that the Dainthlen Falls is just a small cascade. The beauty of the sunken waterbed can do that to you. The streams meet and form a thunderous and majestic waterfall that's sure to make your heart skip a beat. You can also walk around and dip your feet into the water if you want.
Nuranang Falls
Also known as Bong Bong Falls or Jung Falls, Nuranang is situated about 40km from Tawang and consists of steep slopes that give form to the falls that finally go and meet the Tawang River. It's a multi-tier waterfall named after a tribal girl who apparently helped a solider during the Indo-China war.
Comments