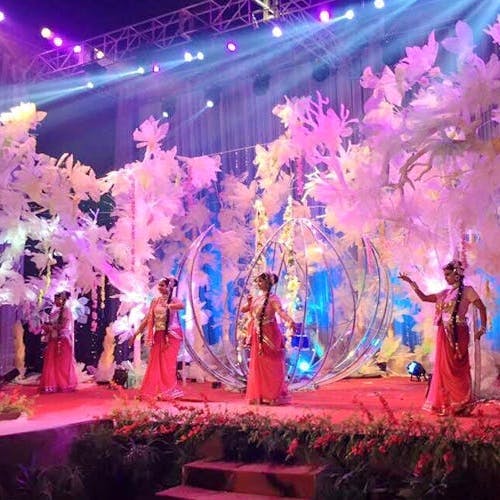 These Wedding Choreographers Will Make Sure You Dance Like A Pro
It's wedding season time. Think sangeets and countless awkward first dances. These contemporary choreographers make sure you kill it on the dance floor.
Beat Busters
These are your go-to guys if you want something elaborate and filmy. Founded by Soujit Das, Beat Busters is one of the well-known dance troupes in the city. They will choreograph everything for the sangeet, and can also take care of the big day and reception — they do a varmala dance thing on the wedding day and have themes such as Padmavati, Kathakali Laxmi and so on.
Beat Busters take twenty days to choreograph all the dance performances, and prefer giving the lessons at their studio in Haltu. Their prices start at INR 50,000.
Hipnotix Dance Troupe
You should definitely opt for Hipnotix Dance Troupe if you want the theme of your sangeet to be Bollywood, or want your love story to be portrayed through a dance. They will help you do that. And they'll also take care of props required during the dance. The troupe is headed by trained classical dancer, Bonani Sen. They'll do the lessons at your place, if you prefer that (make sure to keep speakers).
Their studio is located at Sealdah. They charge INR 40,000 and above.
Twist N Turns
Book these people right away if you'd prefer non-Bollywood moves and would rather go for locking popping, hip hop, etc. The founder of Twist N Turns, Tapas Das, is trained in jazz and hip hop. They pay special attention to the bride and the groom as their performance is choreographed by senior instructors. You can either go to their studio or call them home for practice.
They have five studios in the city which are situated at Salt Lake, Ruby, Ballygunge, Dum Dum Park and New Alipore and another one is coming up at New Town. Prices start at INR 40,000.
Diksha Dance Troupe
Diksha Dance Troupe was founded by Vinod Magar in 2000. They believe in the magic of visualisation and focus on themes like Bollywood, Krishna, Bajirao Mastani and Bahubaali. You can call them over to your place in order to practice for the sangeet. You need to shell out a minimum of INR 15,000 to book them.
Impulse Studio
You can totally vouch on these guys if you are confused regarding which song or theme to choose for the wedding or sangeet — from Salsa to contemporary, they have mastered almost every dance form. You will need to go to their studio in New Alipore to take the lessons. They charge INR 20,000+.
Fusion Step
If you wish to show off some Bollywood moves on your wedding but budget is a constraint, then Fusion Step is here at your rescue. From popular Bollywood numbers to even offbeat ones, their choreography is bound to gather hoots and whistles from your loved ones. While you can call the dance instructor at your place, you can even practice the steps at their studio opposite South City Mall. Also they have instructors catering to different dance genres.
For a six-minute dance session, they charge INR 3000 (That's a steal we say!).
Comments