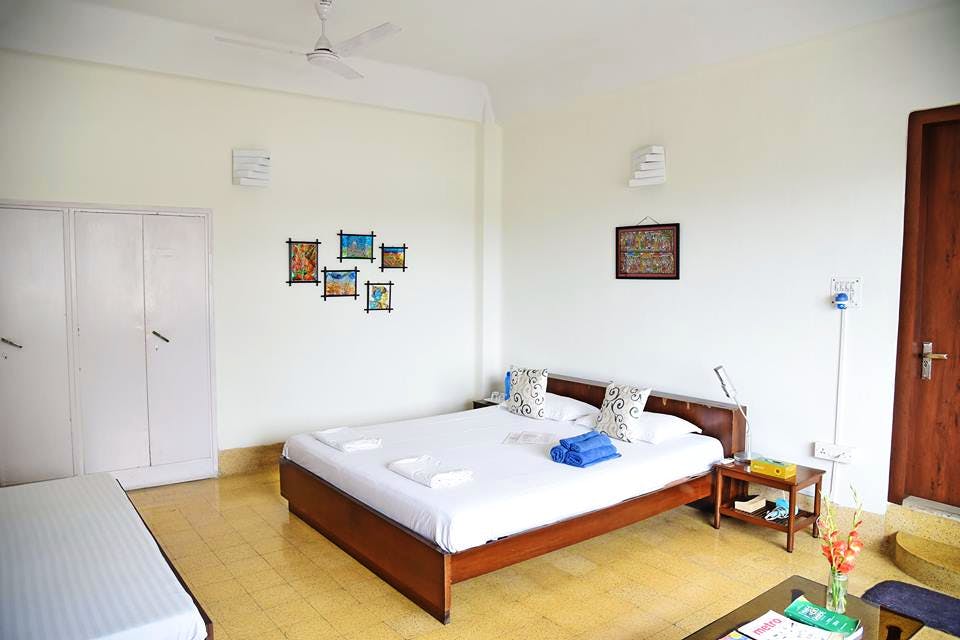 Vintage Hotels To Boutique Homes: Here's Where To Stay At, Around The Legendary Park Street
If you are planning on a visit to Kolkata this festive season, ditch the boring hotels and instead try these atmospheric stay options right in the heart of the city. These are not only comfortable but easy on the pocket as well.
Chowdhury's Estates
A unique mix of heritage with the comforts of contemporary furnishing and facilities. If you are new to the city, you will love the location as it is close to landmarks such as Maidan, Victoria Memorial, St Paul's cathedral, Park Street, shopping malls, clubs and business areas. Not in a mood for outdoors? Just book yourself in one of their presidential suites that command an uninterrupted view of the St Paul's Cathedral, Vidyasagar Setu and the majestic Victoria Memorial. All rooms have AC, Wi-Fi access, cable TV and an EPABX for business travelers. Don't miss indulging your palate at their classic multi-cuisine Dans La Maison restaurant. You'll love the ancient elevator!
Aster Guest House
Smart service apartments combining Kolkata's cultural diversity with warm Bengali hospitality, at reasonably affordable prices, located in Park Street (heart of downtown Kolkata) - need we say more? A great stay option for both leisure-seekers and commercial travellers, offering numerous benefits like complimentary breakfast, 24 hours room service, laundry, travel and ticketing, and car rental services. They also have an in-house catering service, offering delicious, hygienic, homemade meals.
Hotel 233
A vintage boutique hotel, located on the seven point crossing in Park Circus, where the old world, with all its ways and charms, rests sheltered within its walls. Offering the best in comfort and amenities with a slice of the city's cultural history to make your stay in Kolkata a memorable one. Revel in the unique decor, right from the copper-lined brass canopy above the front door to the dome shaped lobby and reception area, history comes alive within these walls unlike any other hotel in Kolkata. Furnished with a variety of antique furniture (think: poster beds with tapestry), ranging from mahogany to Burma teak, it is a melange of zamindari with nawabi and colonial styles. The rooms are spacious with all modern amenities (mini bar, WiFi, shower cubicles) adorned with paintings of the city depicting various slices of life from old Calcutta.
Sunflower Guest House
Billed as "one of Kolkata's best kept secrets hiding unexpectedly excellent rooms" by the Lonely Planet - this guest house is the most sought-after place to stay in for tourists and business travellers alike. Located in the central business district of Kolkata (Park Street), it is surrounded by some of the best restaurants and landmarks of the city. The rooms are simple but packed with all the necessary amenities. If you are looking for a budget stay option yet something that isn't too basic then head over to Sunflower for a fulfilling experience.
Golani's
Offering a range of service apartments in some of the most premium and upmarket localities of Kolkata. If you are looking for a temporary stay during this festive season that combines the convenience of a hotel with the privacy and warmth of home, then Golani's is your answer. They specialise in the business of hunting comfortable and affordable flats for business executive and tourists for short term stays (one week - 11 months). Fully furnished flats with laundry and catering services that will have you feeling right at home.
Central B&B
Be prepared to be greeted by the friendly hosts duo of Jayant and Vidushi at this 4-bedroom apartment with hotel grade amenities (air conditioning, plasma TV, WiFi, electric kettle, tea/coffee sachets, fresh sheets, towels, hair dryer, hot water geyser, and toiletries). Each of the rooms can accommodate at least 2 extra beds for twin, triple, or quadruple occupancy. The master bedroom can fit 6 adults comfortably - a great option for large families on a holiday. Centrally located (Minto Park) with amazing views of the city from the living room on the 7th floor, this well-furnished serviced apartment has a fully equipped kitchen, high ceilings, plenty of sunlight, and a large living room, that will leave you with a warm feeling of a quiet homestay in the heart of Kolkata.
Comments