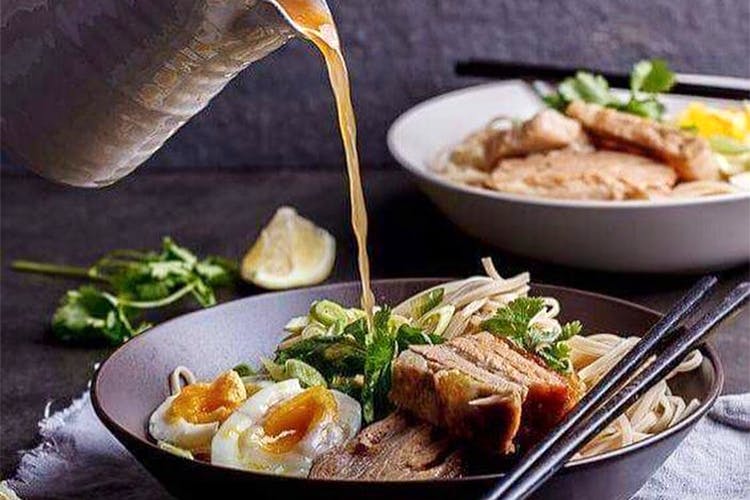 Price for two: ₹ 2000

Wi-Fi Available

Delivery Available
Yakitori, Pho & Dim Sum: Delhi's Favourite Place For Bangkok Street Food Is Coming To Kolkata And We Cannot Deal
Shortcut
Ping's Café Orient is Delhi's favourite new place to dig in to the best street food of South-East Asia and a little birdie told us they're coming to the Park Street neighbourhood by mid-Spetember.
Throwback To South East Asia
Missing your annual trip to Thailand? At least you won't be missing out on the food anymore. Ping's is all about hearty traditional street-style South and South-East Asian food with all the depth of flavour and bags of spices we love.
The food menu is a mix of not-so-known dishes along with popular favourites. The peeps at Ping's tell us the cafe is going to be classy, yet casual with a smattering of quirk.
High On Soul, Low On Calories
Their well thought-out menu is not just for cheat day. Probably the best way to describe Ping's is high on soul and low on calories. Except some of our forever favourites like chilli chicken, every dish is true to the orient.
Beef up on Beef Salad and Petaling Street's Charcoal Roasted Pork Skewers – they have incredible variety for all the carnivores out there. The Gangnum-style Tenderloin Bulgogi is a fave with Delhi regulars – the tender meat comes shredded on lettuce cups in a fantastic home-made Korean sauce with an onion base.
Even if you run a mile from greens, you won't be able to resist the creamy, smooth, protein-packed Spinach Gomai Salad. Don't miss out on the Sticky Banana Pudding with home-made coconut jaggery ice cream.
Sip On
Like its Delhi counterpart, we're all geared up for a stellar drinks menu. We can't wait for the extensive cocktail list comprising traditional classic cocktails infused with fresh Asian ingredients.
So, We're Saying…
Keep your fingers crossed, eyes open and bellies empty, they're going to be here really soon!
Also On Ping's Cafe Orient
More Information
Price for two: ₹ 2000

Wi-Fi Available

Delivery Available
Comments
Price for two: ₹ 2000

Wi-Fi Available

Delivery Available