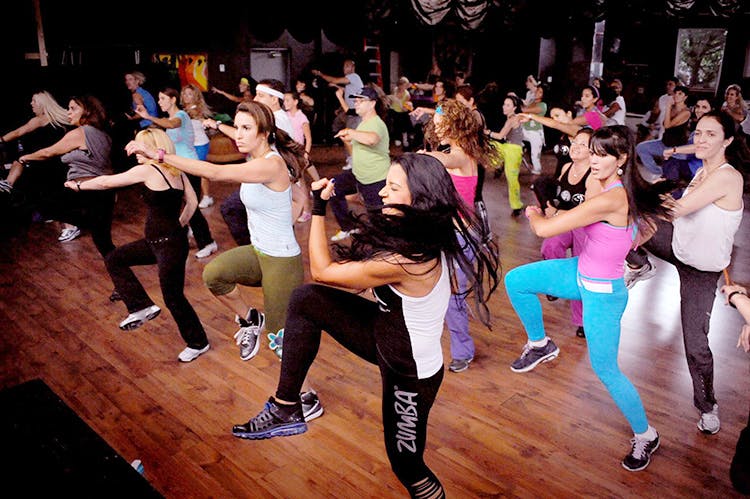 Five High-Energy Zumba Classes in Kolkata For Anyone Who Wants To Lose Weight
Stay in shape, look great and get your dose of fun at these Zumba classes. Shake those hips to some Latin American sounds – channel your inner Beyonce.
Poolside Zumba With Natalie
Enjoy a high-energy, hour-long session with one of the most qualified instructors in the city,  Work out to some of the latest tracks like Despacito and Shape of You while getting the total workout – cardio, muscle conditioning, balance and flexibility. Boost your energy and feel awesome every time you leave class. A plus is the incredible view of the infinity pool and planes flying in the distance.
Where: Swissotel
When: 6pm on Wednesdays and Saturdays
Aqua Zumba With Shakti
What better way to beat the heat than a workout in a pool? Get that fire burning, ditch the gym and head to Stadel for an awesome Aqua Zumba session with instructor Shakti Ghambir. Because it is water-based, it is a relatively low impact workout – a break for your joints.
Where: Stadel
When: 7:40 am – 8:30 am on Saturdays
Kids Zumba With Amit Shaw
One of the most experienced instructors on the block, Amit Shaw is ready to keep your little ones active and happy. Trained especially to conduct sessions with kids, his workouts are peppy and fun. Not just another dance class, let your kids be healthy and energetic too.
Where: Dew Drops Bhowanipore
When: Wednesday 6pm (Kids), Monday 5pm (Kids Junior)
Behnaz's Dance Party Sessions
Behnaz Dugar's classes are like one giant party – you won't even realise that you are working out. Feel and look healthier, and be stronger, fitter and more toned when you're done with a session.
Where: Flash Fitness
When: Multiple
Rush Of Energy With Ryan
Nothing beats instructor Ryan when it comes to energy. The session which lasts an hour includes fun Bollywood, Latin and Dance tracks. Full of encouragement and liveliness, you are will get your dose of excitement as well as a workout that will leave you feeling fit and ready to conquer the day.
Where: Rush Fitness, Salt Lake
When: 9 am Saturdays; 10 am Sundays
Comments