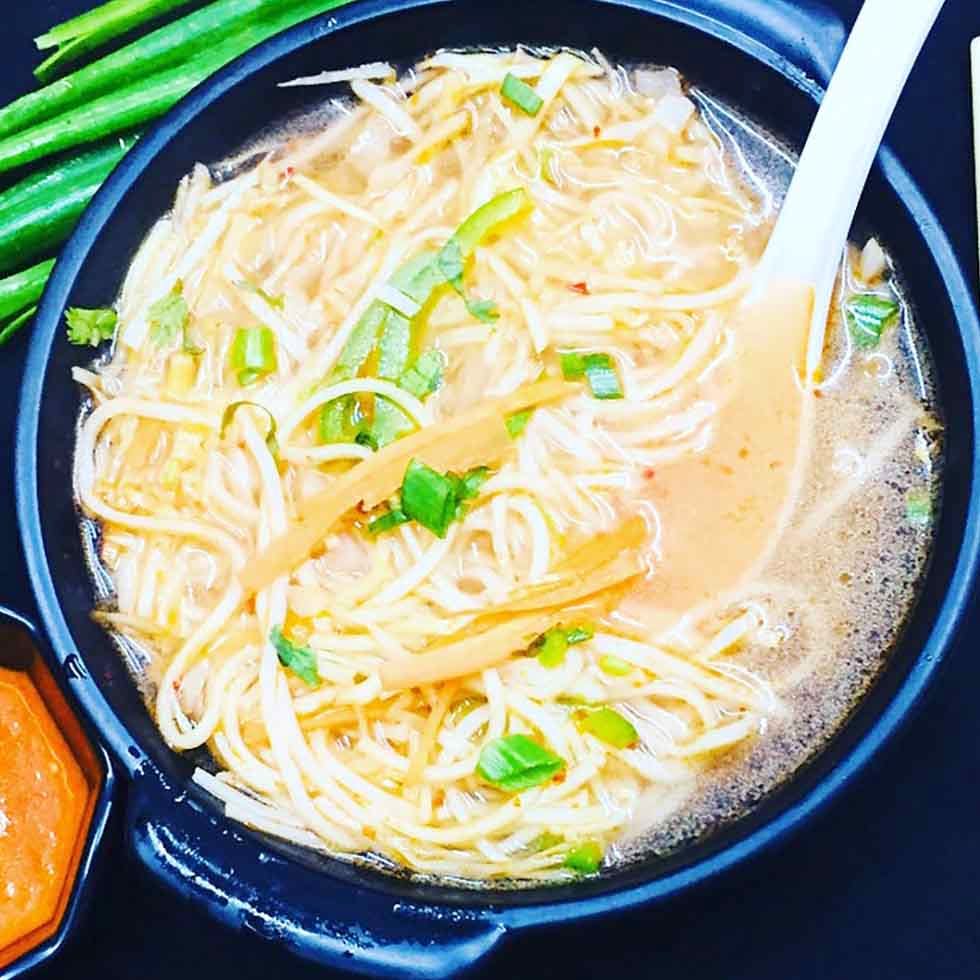 Where To Get North Eastern Cuisine In The City
The seven sisters have fascinated travellers since time immemorial, thanks to the beautiful lakes, waterfalls, forests and the mighty Himalayas that have provided the best of nature to all those who've visited. While we make our travel plans, it is the melange of flavours of the cuisine that has us excited already!
Want to get an experience of the food in North East India right here in Mumbai? Head to these North Eastern joints around town as those travel plans make you crave for some piping hot thukpas, momos, and more.
O'Tenga
Head over to relish a quintessential Assamese meal. They source their ingredients all the way from Assam, and even provide you with authentic khaar water.

#LBBTip: This is a delivery-only service.
New Sernyaa
This hole-in-the-wall joint is difficult to spot, but once you've eaten here we know you'd be going back for more (it happened to us!) This culinary joint brings to us the flavours of northeast India and Tibet right here in Oshiwara and is known for its pork dishes. The rice preparation made using bamboo comes highly recommended too.
King Chilli
Love spicy food? Then you absolutely must come down to King Chilli and be introduced to bhut jolokia, the hottest chili in the world. This eatery is run by members of a Manipur tribe, and the offerings on the menu are those from the cuisine of the Thangkul and Meitei tribes. Bhut jolokia is a common ingredient in all dishes, which kinda justifies the name. Come prepared with tissues!
Thotrin Café
This place is the perfect introduction to Naga and Manipuri food in Mumbai. It is run by a Naga family that has lived in Manipur, and has authentic, home-style meals being served to the guests. Visit for the uniqueness and freshness of the flavours, and of course, the comfort of those piping hot meals.
The Darjeeling
This Himalayan food hub offers Tibetan, Chinese, Nepalese and Bhutanese dishes that are super pocket-friendly. Pay them a visit when your soul is craving for some hot thukpas and momos, and don't leave without sipping on some authentic Darjeeling tea. Delish.
Kasos
This online delivery joint specializes in Assamese cuisine and if you're opting for it, don't forget to call for their smoked pork, Assamese mutton curry, and Boror tenga. They aren't on any food website as of now but you can place your orders on 9820627449.
#LBBTip: You have to place all your order one day in advance be it for one person or a group.
Dumpling Khang
A small hole-in-the-wall eatery, Dumpling Khang sits hidden in Santacruz East. They have over 12 types of momos and so many types of thukpas (go for their aloo thukpas.) What we found extremely innovative was their momo burgers, both in veg and non-veg options. Also, do anything but don't miss out on their Nutella momos.

Kepchaki Momos
If you're missing the Delhi experience of standing on the road and eating steaming hot momos, head to Kepchaki Momos in Khar. We tried their chicken momos and mushroom cheese momos, and surprisingly we liked the vegetarian ones more. They also serve prawn and pork momos.
#LBBTip: There is no seating place, so be ready to parcel it, or stand there and gorge on the awesomeness.

Mind Your Dimsums
Right beside Powai Lake, Mind Your Dimsums has around 34 options for momos and dimsums, which include your typical steamed and fried options, as well as others that go beyond this. They also have a 'crazy' section in their menu which includes selections such as cheesy chicken momos in devil's sauce, and chicken dragon noodles with red cooked momos, for those who are a little more experimental with their dumplings.

Comments