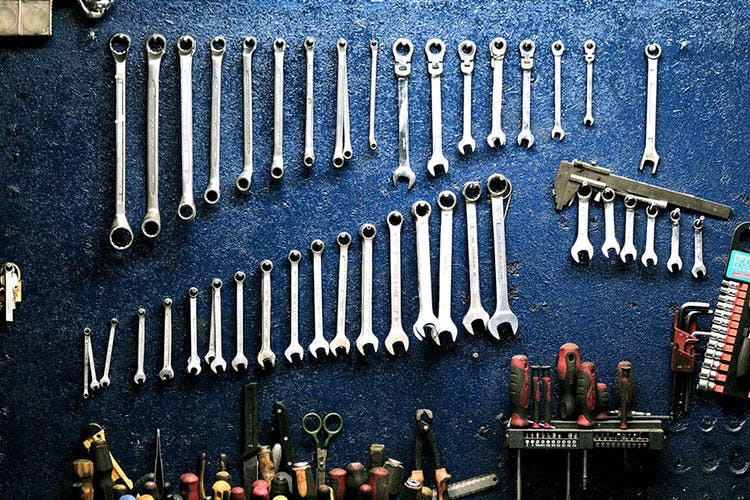 Bookmark This: 24×7 Two-Wheeler Repair Services That Are Just A Call Away
Ten-Second Takeaway
Stuck in the middle of the road with bike issue? If your bike is not working for any reason and you want assistance 24*7, here are details of five repair centers that can come very handy!
Ready Assist
If you are looking for instant and committed service, then this is the one to look out for. With an instant support for your roadside assistance, this is an online garage with expert technicians. From services like battery jump start, tyre puncture repair, key lockout repair to major bike problems, they have the solution for all your complications. With a minimalist average charge of INR 300, they provide the best possible service that you can imagine. Just give them a call at +91-7676852852.
Ekdanta Auto Care
Ekdanta is a car repairing center located in Yamuna Nagar Nigidi. It is one of the few shops that offer 24*7 service for two wheeler repairing. Be it a simple air fill, a puncture or even as big as tyre replacement. They do it all. For a bike puncture, they usually cost around INR 100. Their rates are very decent and every person who goes there has an excellent review for them. If you are having a problem in their nearby area do give them a visit or just give them a call: +918149988468/ +919898591177.
Car & Bike Point Garage
Having served for more than 4 years, this garage not only deals with the problem of two wheelers but also has included a four wheeler. Located in Hinjewadi and known for their two wheeler maintenance, this Garage has a mind blowing reputation. With decent charges for their service viz. Puncture INR 120, tyre tube change INR 300, this is a garage to call if you have any problem. Call them at 9922379775.
Rescue First
Rescue First is an online help portal for an all-around Emergency Vehicle assistance. Be it puncture, towing or any other vehicle recovery, this will do it all. With 100+ expert technicians and 30 min average each time, this is a service that gets you help onsite. With an average rate of INR 300, this will get you moving in no time. Call them anytime at +9180860501234.
Click Garage
Every problem has a solution and so goes the saying for this Garage.  Based out of New Delhi, and now available in Pune this is a service that is trusted by brands like Ola, Spinny etc. it is a workshop at your doorstep. One thing is for sure that you will have an amazing experience with them. Highly recommended service with the average pricing of INR 250. Give them a call on +919555950000 and just relax.
Comments