The information in this post might be outdated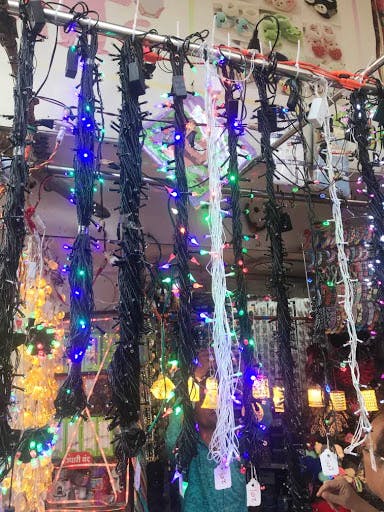 This Ganpati, Give Bappa A Grand Welcome! Here are 5 Things You Must Buy For Ganpati Decoration!
Bappa is all set to come into our homes so shouldn't we be ready to welcome him in the best way possible? We went around Raviwar Peth and Laxmi Road looking for some affordable yet beautiful decoration options. Here are 5 decorative things we found that are must haves this Ganpati:
Mandaps And Makhars
You obviously want a pretty place to put Bappa right? All over Raviwar Peth you will see plywood and eco-friendly mandaps starting at INR 500. You can either pick up a plain one and paint it yourself or go to one of the bigger vendors and pick up nicely decorated one. This year, many vendors are selling eco-friendly mandaps so pick wisely!
LED Lights and Dias
If ganpati celebrations are not lit then what the point? Head over to Raviwar Peth again and you'll be spoilt for choices when it comes to LED lights, Dias and other lighting products. Go simple or fancy, just make sure you bargain! You can find a chain of LED lights for INR 200.

Handmade Papers And Flowers
If you are the creative kind then you would want to check out the small stalls around Tara Mall that are selling beautiful handmade paper and flower chains for as cheap as INR 40. Pick up your favourite paper and turn them into beautiful wall hangings or accessories for the idol!
Door And Wall Hangings
On Laxmi road, you will see a line of silver jewellery stores. Head into one of these and pick beautiful silver and imitation jewellery for Bappa. You can find beaded crowns starting at INR 450 and necklaces, bracelets and naths starting at INR 400. Make sure you check out two three stores before making you decision. You'll get the right price that way.
Silver Crowns And Jewellery
Now when we talk about decorations, you can't miss out on colourful and shiny banteks and door hangings. Many stores all around Raviwar Peth are selling these for INR 100 each. You can pick ones with glitters or glass pieces or even colourful beads. Decorate Bappas mandap with these and see how your space lights up without much effort!