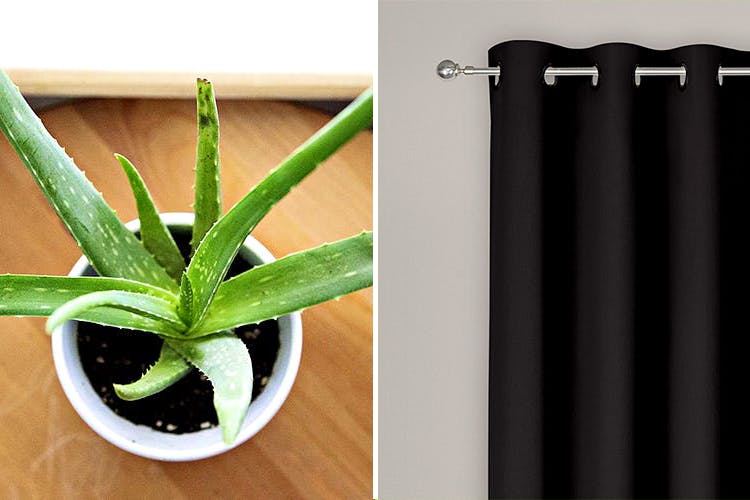 Who Needs An AC? 5 Affordable Ways To Keep The House Cool During Summer
Summer heat is driving you crazy and AC is not a feasible option? Fret not! Here are 5 low-tech, simple and affordable ways to keep your house cool without air conditioning.
Air-Purifying Indoor Plants
The best way to keep your house cool naturally without air conditioning is, of course, indoor plants. We recommend you keep air-purifying, oxygen enriching plants like aloe vera, areca palm tree, snake plant and golden pothos at every possible nook-and-corner of your house. Since these plants are not easy to find, you can get them from Rise N' Shine Botanical Boutique at Koregaon Park. This garden nursery has everything from orchids to bonsai and more. Read more about it here.
Blackout Curtains
Another easy hack to keep your rooms cool during summers is hang blackout curtains instead of see-through drapes. These curtains block the sunlight, thereby keeping the temperature inside the house low, quite naturally.
Price: INR 499
Buy here.
CFL Bulbs
When the temperature starts to rise, switch to CFL bulbs immediately. Not only it's better than incandescent bulbs (that use 90% more energy), CFLs help cool down your home whilst lowering your electricity bill. Pretty awesome, right?
Price: INR 435 for a pack of four
Buy it here.
Chillow (Cooling Pillow)
Ditch those pillows (for now) and go for chillows or chilling pillows for instant comfort on summer nights. We hear these pillows are great when you're suffering from fever, headaches, hot flashes and sunburns.
Price: INR 660 (approx.)
Buy here.
Heat Reflective Roof Coating
Invest in a heat reflective coating to keep your home cool during summers. It's non-toxic and helps reflect UV and infra-red rays, thus keep the room temperature effectively low for long-term.
Price: INR 3,800
Buy it here.
#LBBTip
This one might sound tad difficult to do at first, but it's definitely not impossible. It is advisable to cook food outside during summers to keep the temperature low inside the house. You can get a gas barbecue and grill meat or veggies outside. If not on a regular basis, you can always try and do this on weekends. We did it too!
Comments