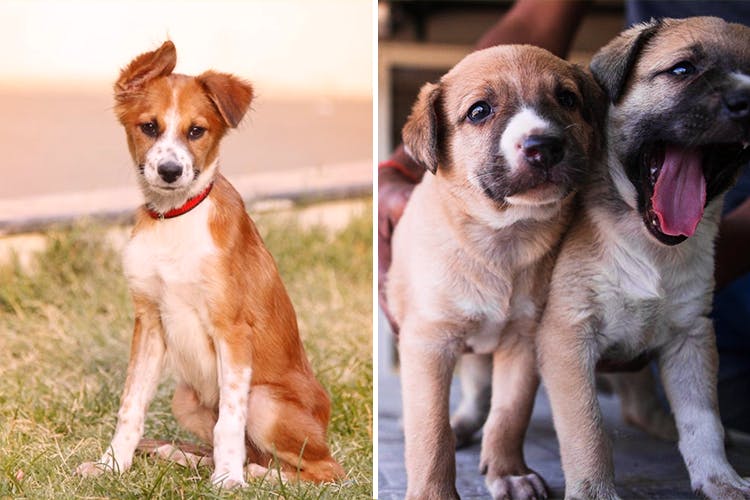 Adoption Alert: 7 Furry Cuties You Can Take Home Today
Adopting a dog is like adopting a child (albeit a furry, four-legged one). They need constant care, and attention – and will reward you with unconditional love, loyalty, and cuddles.Here are a handful of these adorable dogs who are in need of loving forever homes.
Venus
Venus is a 3-month old Indian mix breed puppy. She was found abandoned, suffering from gastro, and was sent to ResQ Charitable Trust for treatment. Having fully recovered, Venus is now vaccinated, living in foster care, and looking for a loving family to bring her home! Contact: Mojdeh +91 98235 91050
Isabella
Isabella is a 1yr old Indian mix breed, who has lived in foster care since she was a puppy. Found wandering alone on the streets as a puppy, she has lived in several foster homes and is awaiting the perfect family. Isabella has been vaccinated and sterilised. She is also super smart, playful, and intelligent. Bonus points: she's a very good swimmer and guard dog, as well. Contact: Mojdeh +91 98235 91050
Sibling Duo
This brother-sister duo is currently 1-month-old puppies and will be weaned before being handed over to their new home. Born to a pregnant stray Indian mix-breed dog rescued by NGO Tails 'N' Trees, they will be vaccinated in another month or so. Keep in mind that though they're cute and cuddly, they will require more time, care, training, and attention than older dogs. Contact them on their Facebook page, here.
Mocha
Mocha is a bubbly 6-month old Indian mix breed, currently in foster care at Wagholi. She was found lying on the side of the road as a pup, with a fractured skull and nerve compression, which caused temporary paralysis. After being rescued and receiving the correct treatment – she began to show signs of improvement, and can now stand up and walk on her own. She has completely healed and is ready to join a family that will accept her wholeheartedly. Mocha can understand basic commands, is extremely active, leash trained, potty trained, and gets along fabulously with other dogs of all sizes. Bonus points: she is chatty, and loves food. Mocha has been vaccinated 9-in-1 with boosters, is being de-wormed regularly and has been sterilised (because she came on heat prematurely, which happens sometimes in cases where the dog has been through trauma at a very young age). Contact: Pujitaa +91 95118 53721
Sheroo/Patch
Sheroo (who also responds to 'Patch') is a gorgeous, goofy, Indian mix breed dog. Known for his black and white 'patchwork' and big black 'bulls-eye' on his face, he is all of 2 years old. Sheroo was found wandering around his rescuer's house, and they suspected he had been abandoned – because he was very comfortable around people, and kept trying to enter the building. Since then, he has been cared for, vaccinated, and sterilised, and currently resides at a pet hostel where he awaits adoption. Sheroo is also very comfortable in cars – which gives his rescuers more reason to think he was once someone's house-dog, before being abandoned. He's a happy-go-lucky dog and is friendly with both adults and kids, and (some) other dogs. Contact: Shweta +91 98901 14700
Kama
Kama is a 5-month-old Indian mix breed pup, currently living with his siblings in a lane in Kalyani Nagar. Though they are being cared for, they have also faced mistreatment and brutality from local residents (some have been intentionally run over, others even poisoned). It's a heartbreaking situation, but Kama and some of his siblings remain friendly and loving little pups. Their caregiver is urgently looking for forever homes for them – since their lives are in immediate danger. If you can find it in your heart to bring one of these fur-babies homes, you'll be (literally) saving a life. Contact: Anuja +91 9850 824 640
Anything Else?
In case you haven't found the right doggo yet, or have rescued a stray and need help – get in touch with Bodhisattva, Tails 'N' Trees or ResQ Charitable Trust. They do excellent work with animals, and also welcome donations (monetary, and also food, medicines, etc.). Spread the good word, and remember – adopt, don't shop!
Comments