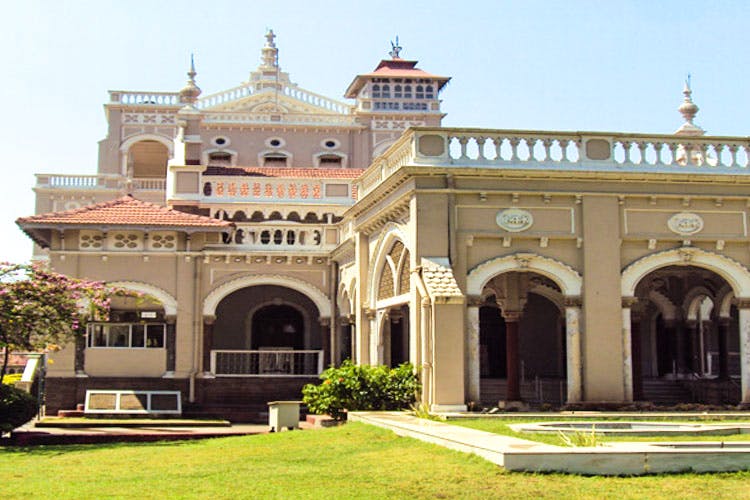 Visiting The Aga Khan Palace? Brush Up Your History With These Little-Known Facts About The Place
Planning to visit Pune's magnificent Aga Khan Palace? Apart from the beautiful architecture, here are five lesser known facts about the palace that you must know! So go ahead and show-off your knowledge to your friends or family.
Built For Employment
In the 1800s Pune and its neighbouring villages were suffering from a severe drought because of which there was no employment whatsoever. Thus, Sultan Muhammed Shah, Aga Khan III, commissioned the construction of the palace for people to be able to make some money at least.

Gandhi's Prison
When Gandhi was put under house arrest after he launched the 'Quit India' movement, he and his wife along with Sarojini Naidu and Mahadev Desai were put here. Kasturba Gandhi, breathed her last at the age of 74 and so did Gandhi's secretary Mahadev Desai.
Memorial For Gandhi
The room in which Gandhi had stayed, is still untouched. The room still has his pair of specks, writing desk, pens and possibly everything that he used during his arrest here. They have also kept things used by Sarojini Naidu and Kasturba Gandhi. The rooms also have photographs of the pre-independence period.
It Was Also A School
During the 1970s, the government of India had given this palace to the National Model School. This helped in encouraging more and more people to go and study.
Shop For Gandhi's Favourite Cloth
The palace also plays a host for Gandhi's favorite cloth i.e. khadi. They have a small gift shop here that deals in khadi garments. Along with khadi, there are also fabrics from other handlooms in India.

Comments