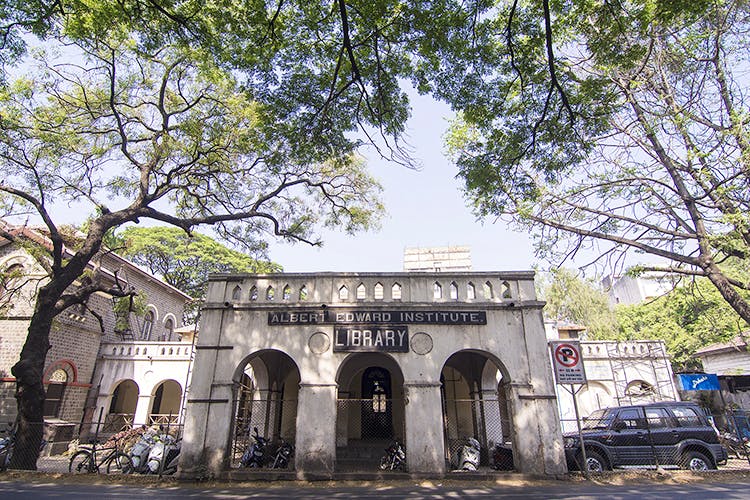 The Collection Of Books At This 143-Year-Old Library Is What A Bibliophile's Dreams Are Made Of
Shortcut
Arched entrances, quiet passageways, worn out wall paint, an enticing fragrance of vintage furniture and a myriad collection of books warmly welcome you as you step inside the 143-year-old Albert Edward Library on East Street, opposite Kayani Bakery.
Tell Me More
Originally established in the year 1875 as a small institution, Albert Edward Library shifted to its present location, which happened to be the former Cantonment Jail during the British rule. It is now taken care of by the Parsi residents of the area.
After many decades and renovations, this place is currently known as the library for senior citizens. Albeit the very culture of reading books is long lost, Albert Edward Library continues to preserve the charm through a massive collection of 20,000 books across categories such as history, fiction, non-fiction, art, culture and Marathi.
In fact, a tiny section inside in the library is dedicated solely to academic books for competitive examinations such as CAT, bank entrances, CET, civil services, engineering and more.
The adjacent reading room is considerably larger than the library and is only accessible to members. Piles of books and periodicals related to anthropology, philosophy, astronomy and meteorology, are stacked next to each other on the long wooden tables that are laid across the room. If you're a true book lover, it's safe to say you can spend hours out here, reading in leisure.
How Do I Become A Member?
All you have to do is fill a membership form with all the details. It's a nine-month membership system at Albert Edward Library, that costs about INR 3,630 and includes a deposit fee of INR 1,200 which is refundable. Members are allowed to borrow two books for a fortnight.
Anything Else?
The library is opened on all days of the week, between 8.00 am and 1.30 pm, and from 4.00 pm to 7.30 pm.
Comments