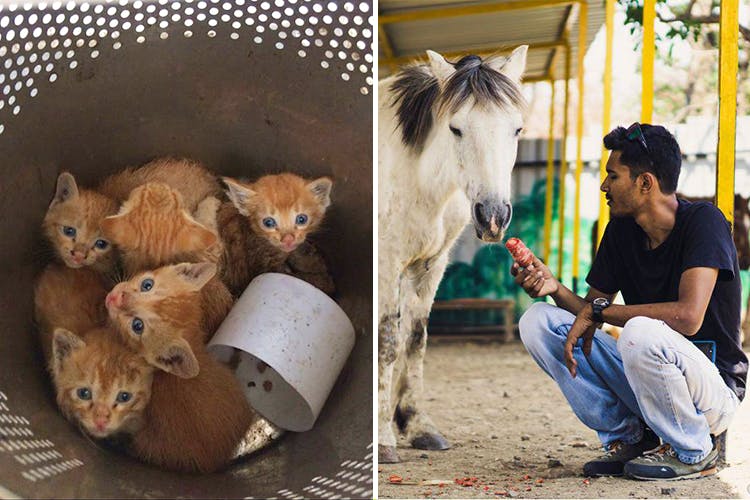 Bookmark These Animal Shelters In Pune To Help A Furry Friend
Shortcut
We all love animal, don't we? Animal shelters have played a vital role in helping out our friends in distress. The next time you see any animal injured, abused or neglected, feel free to contact these animal shelters:
Bodhisattva NGO
This dedicated NGO loves to keep a low-profile. Focusing on promoting animal safety and well-being, this NGO relentlessly works towards rescuing of animals and curbing the animal abuse. Call on their helpline number, in case you see a street dog that needs help. Apart from providing them with food, care, shelter, they also put these beings up for adoption. They also collaborate with other social organisations, hold charity events as well as fundraisers.
ResQ Charitable Trust
Next time you see a bird injured, a dog being tortured or any hapless animal in labour, don't waste a time and call this centre, which extensively works for animal protection and medical rehabilitation. Situated on Paud-Mulshi road near Chandni Chowk, ResQ Charitable Trust is one of the oldest and well-known animal shelter hubs of the city who foster care for sick and injured animals.
Mission Possible Pet Adoptions
This popular animal rescue and adoption agency is located opposite Kumar Pacific mall on Shankar Sheth Road. The non-profit organisation holds rescue and adoption drives across the city and reaches out immediately in case of any help needed for animal rescue. Refer to their social media pages for postings about adoptions.
IHS: Animal Rescue & Snack conservatoire
Indian Herpetological Society has its own animal rescue shelter as well as snake welfare park in Katraj. This social organisation has many rescue wings, out of which one is the Wild Animal Rescue & Rehabilitation Centre (WARRC), which has rescued around 20,000 birds and animals till date. The zoo, as well as snake park, are known for its modern zoo management.
Society For The Prevention Of Cruelty To Animals (Pune)
Situated at Katad Khana in Bhavanipeth, SPCA is one of the oldest non-profit animal welfare organisations and shelters. Apart from the usual rescue activities, this trust also provides vaccination, sterilisation and medical facilities to ailing birds and animals. It also teams up with colleges and provides an internship opportunity for aspiring veterinarian doctors. If you come across any news of animal abuse, we suggest, feel free to call these people up and seek immediate help.
Comments