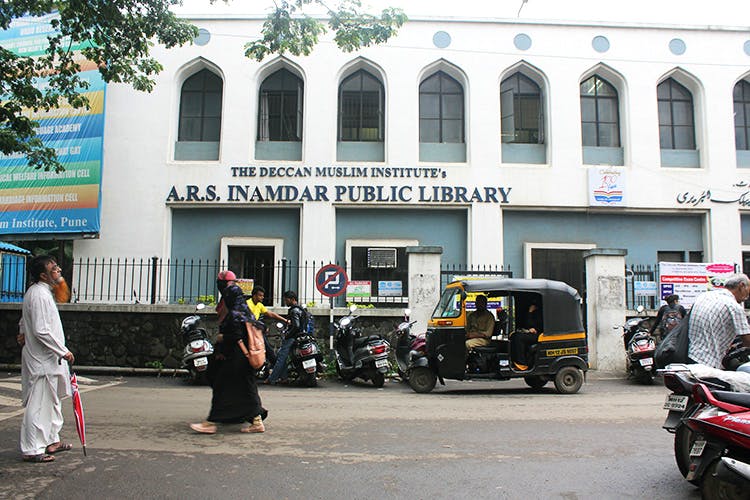 A Haven For Bibliophiles: Get A Lifetime Membership For INR 1,500 At This 102-Year-Old Library
Shortcut
Situated at Azam Campus, Deccan Muslim Institute's 102-year-old A.R.S. Inamdar Public Library is perhaps one of India's oldest reading rooms, housing over 40,000 books, including rare ancient scriptures, across various languages and genres.
Tell Me More
Compact yet well-maintained, Inamdar Public Library in its own way, is a bibliophile's safe haven. The library was established in 1915 in a quaint room on MG Road. Today, it is one of the largest Urdu libraries in Maharashtra.
Boasting of a brilliant collection, this library is known for timeless classic literature in English, Urdu, Hindi, Marathi, Arabic and Persian. There's a certain level of versatility in this place. We found Bhagwad Gita and Guru Granth Sahib in Urdu and Qur'an Sharif in Marathi. If you're into Urdu poetry, go through the works by Sardar Anjum and Faiz Ahmad Faiz. The collection of political non-fiction including Homage To Catalonia, Double Down and A Brief History Of Modern India, is simply beyond words. The library also has about 81 magazines, leading national periodicals and journals.
The best part about Inamdar Library is their subscription policy. Pay only INR 1,500 and get a membership of a lifetime! You can borrow two books within a span of 15 days. You can also sit in the library between 8.00 am and 8.00 pm and study in peace. If you're a student of Azam Campus, you can get a membership of three months for INR 465.
So, We're Saying...
The old-school experience of reading a classic novel or a contemporary literature book at a quiet corner in an old library is something we'll always love. Visit Inamdar Library today, get your lifetime membership card and read to your heart's content.
More Information
A.R.S. Inamdar Public Library
Comments